Maryland Democratic Party Secretary and Baltimore attorney Robbie Leonard went viral in February 2019.
Mr. Leonard, a longtime Maryland political activist, in February 2019, took to Facebook to blast Second Amendment supporters as "terrorists in the making."
The Federal Bureau of Investigation, Leonard says, should pay visits to law-abiding Marylanders peacefully exercising their Second Amendment rights on the streets of their state capital.
What's more, Mr. Leonard, who has a law license, rallied others to doxx the same peaceful Second Amendment activists he believes should be visited without cause by the F.B.I.
Robbie Leonard – the Baltimore attorney and a Maryland Democratic Party official – is rallying his friends and followers to engage in a criminal act and break Maryland law.
Doxxing is a form of online harassment – but Robbie Leonard is ready to break the law.
Robbie Leonard's Facebook post that went viral 
He published that of a Second Amendment activist standing on a street corner in Annapolis holding a sign that reads "We Will Not Comply," a slogan adopted by gun rights advocates to broadcast their frustration with restrictive gun laws.
"Time to dox some homegrown terrorists," Leonard published to Facebook.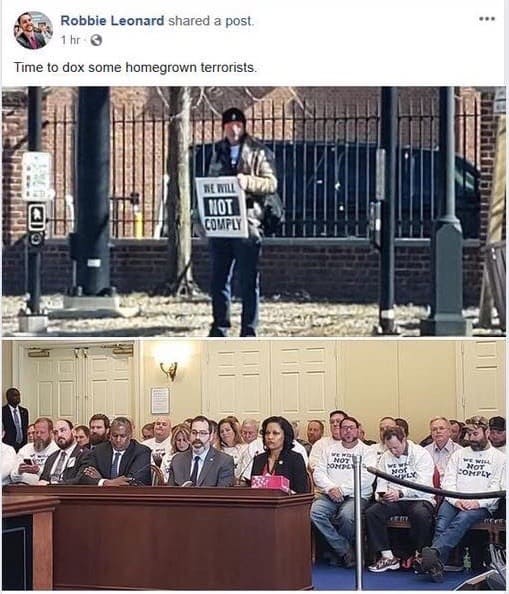 Doxing is the internet-based practice of researching and broadcasting private or identifiable information (especially personally identifiable information).
Second Amendment activists lined the Annapolis sidewalks with shirts that read "We Will Not Comply."
The shirts, Second Amendment Activists said, mean that "they have had enough."
"Gun Day in Annapolis" is an annual gathering of gun rights supporters and anti-gun activists.
Activists on opposing ends of the gun debate often meet with state lawmakers and testify at hearings when gun legislation is considered and heard before House and Senate committees.
State lawmakers often hear many hours of testimony from activists hoping to persuade lawmakers to support or oppose certain gun legislation before their respective committees.
Robbie Leonard goes viral 
Leonard's Facebook post quickly went viral on social media.
Intense backlash followed.
"We think it's disgusting," Paul Brockman, 52, said, referring to Leonard's post.
"He should apologize for it. An apology would be the compassionate thing to do."
But Leonard, often a social media rabble-rouser, refuses to apologize.
Brockman is a 2nd Amendment activist and captain" in the gun rights advocacy group The Patriot Picket, a Maryland-based First and Second Amendment advocacy group founded in 2013.
"I mean, anybody who would….and, unfortunately, we see it more and more on the Democratic side. They don't want people exercising their First Amendment rights. And that was their First Amendment right to go out there on the sidewalk and say whatever they want – pro-gun, anti-gun."
Brockman said he traveled to Annapolis Monday from Elkridge with fellow members of The Patriot Picket "to testify against a lot of the bad gun control legislation that's being proposed.
He said he testified in support of "a few good bills."
He said he heard legislative staffers told him that an estimated 1500 Second Amendment activists came to Annapolis to testify before the House Judiciary Committee.
Maryland Democrats refuse to condemn Leonard 
Maryland Democratic Party Executive Director Ben Smith was forced to release a statement soon after Leonard published his now-viral Facebook post.
Mr. Smith now serves as Peter Franchot's gubernatorial campaign manager.)
"When discussing firearm regulations, the specter of gun violence is always present," Smith's statement read.
"These fraught conversations require peace and healing, not escalated conflict."
Smith instead shifted the blame towards the peaceful gun rights activists.
"When activists wear shirts stating 'We will not comply with new firearm regulations, that action escalates the conflict and a willingness to flout the rule of law."
Smith, now a partner with Tidemore Strategies, lightly though indirectly condemned Leonard's call to doxx gun rights advocates.
But Smith's statement doesn't mention Leonard by name.
"Doxxing escalates the conflict and violates rights to privacy," Smith wrote.
"The Maryland Democratic Party respects the rule of law and peaceful participation in the legislative process. We ask that advocates on both sides do the same."
A Change.org petition calls on Leonard to resign from his elected Maryland Democratic Party position.
Robbie Leonard says gun rights advocates are terrorists in the making"
Leonard amped up his anti-gun rhetoric.
"I hope the FBI runs the name of every witness who is wearing a t-shirt that says 'We Will Not Comply' t-shirt, Lenoard wrote.
"They're a bunch of terrorists in the making."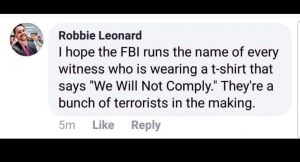 Patriot Picket founder Jeff Hulbert, 65, of Chester, Md., said Leonard's social media post is "a typical reaction from Democrats who want to feel first and then think later."
"Government can't operate when Democrats only navigate with their feelings," Hulbert said.
"We will not comply"
Hulbert said the group's slogan, "We Will Not Comply," is nothing more than a forecast.
"It's not a threat; it's a forecast."
"It says if they pass these tyrannical laws where they, say a class of rifle that they told us would not be restricted six years ago, now they're back to saying we want to take them away," Hulbert continued.
"They have violated a pledge. They've always said, 'we're not coming for your guns.' This is proof that they are coming for our guns no matter what."
Hulbert didn't limit his criticisms to Maryland Democrats.
He had a message for Maryland Gov. Larry Hogan (R).
"I wish he would stop running for president and focus on the number of times in Maryland that our rights are being violated and infringed upon."
Robbie Leonard's failed political campaigns 
Leonard ran unsuccessfully for the Maryland House of Delegates and the state Senate.
A separate online bio lists Leonard as a partner with Leonard & McCliggott Law Group, a general practice Baltimore law firm.
Ryan Miner is the Editor in Chief, Founder, Senior Political Reporter and Publisher of A Miner Detail. He is the host of A Miner Detail Podcast.