By Eric Beasley
There must be something in the water out here in Frederick County. First, we had Danny Farrar blowing away the elected representative stereotypes with a bunch of tattoo/beard wielding supporters. Next up on the agenda, throwing out the same stereotypes for the Republican Central Committee.
On Wednesday, the CC held their annual election of officers. The 9-member committee chose their Chairman, Vice-Chairman, Secretary, and Treasurer.
Chairman Darren Wigfield – Frederick County native, a two-term member of the Frederick County Republican Central Committee, member of the Maryland Public Information Act Compliance Board, and co-host on Frederick's Forum Saturdays on WFMD. Darren is a frequent advocate for preserving personal liberty through the reduction of government excess.
Vice-Chairman Jason Miller – Born and raise in central Indiana, Jason joined the Indiana National Guard in 1999 as a Fire Direction Specialist (Artillery). After 9/11, he switched to Active Duty as a Cryptologic Specialist and served in Korea, Afghanistan, Iraq, Fort Meade, and the Washington Navy Yard attached to Joint Special Operations Command (JSOC). He was honorably discharged in 2009. Between 2009 and 2015, he worked within the Department of Defense performing program management and intelligence analysis. Presently, he works as a research assistant at the McDaniel Department of Political Science and International Studies and lives in Mt Airy with his bride of 6 years.
Owe'Malley's 2013 gun grab bill (SB281) sparked a political interest for Miller. He volunteered to be the treasurer of the Frederick County Republican Central Committee in October 2014. In July 2015, he replaced Ted Dacey as a full member of the Central Committee.
Treasurer Brooke Winn – Presently serves as Hood College's Associate Director of Annual Giving and Alumni Engagement where she oversees all alumni communications to increase annual giving dollars and alumni participation. Prior to joining Hood, Brooke worked as a Development Associate at the Victims of Communism Memorial Foundation (VOC) in Washington, D.C. She has also served in fundraising capacities at Morton Blackwell's Leadership Institute, a District Assistant to former U.S. Rep. Roscoe Bartlett (R-MD), and interned at the Charles Koch Institute. Brooke received her bachelor's degree in history and political science in 2012 from the College of Charleston in Charleston, SC. Currently, she is continuing her education at Hood College working towards her MBA, with concentrations in both marketing and public administration. Over the past 6 years, Brooke has gained a variety of experience in both Maryland and South Carolina political campaigns. In July 2015, she was appointed to the Frederick County Republican Central Committee. Brooke is a 9th generation Marylander and avid bow hunter. She and her husband, Josh, reside in Point of Rocks, MD with their Labrador retriever, Lyla
Secretary Nathaniel Wilson – Currently serves as a supervisor for judicial security in local government for the last 11 years. Nate is a member of New Market District Volunteer Fire Company and formerly served as secretary and vice president. Nathaniel owns two small businesses in the software and e-commerce fields and assists with operations at his parents vineyard and winery, New Market Plains Vineyards, located on the family's 11th generation farm in New Market, MD. Nathaniel received a bachelor's degree in management from Hood College in 2005 and an associates degree in general studies from Frederick Community College in 2002. He is currently a member of the Hood College Alumni Executive Board. Nathaniel resides with his wife Ashley and their daughter Korinne in Jefferson, MD. He has been serving as public relations subcommittee chair for the Frederick County Republican Central Committee since July 2016.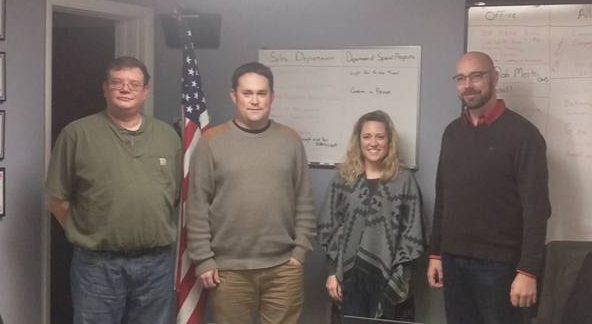 From left to right, Jason Miller, Nate Wilson, Brooke Winn, Darren Wigfield.
Normally, the changing of the guard is a regular occurrence in politics. Central Committees have a high turn-over rate. However, this bunch is unique. All four are under 40, falling into the Generation X or Millenial crowd. All four definitely have libertarian leanings. All four provide a stark contrast for Frederick County in comparison to their Democrat counterparts. Another interesting factoid, Darren, Brooke, and Nate all have generational ties to Frederick County going back into the 1800s.
You can see from their professional careers that all four also have a strong range of work experience that will help the Republican Party. Darren's IT abilities will directly benefit candidates starting up their campaign infrastructure. Jason's analysis abilities are on point, helping the party identify which candidates can win in which districts. Brooke's fundraising experience will help candidates get the fund they need to be competitive. Nate's management experience will prove helpful to organizing voter outreach, events, and effectively using the resources of the Central Committee.
I personally look forward to this next year of the Central Committee performing their primary function, getting Republicans elected. There will be a contentious primary season in 2018, as we have every State and County seat up for grabs, plus one Senate seat and our normal Congressional elections. I have heard rumors of the County Executive race in Frederick being a 3-way race, so at least you will have the option to pick the "lesser of two evils" there.