A Maryland Democratic Party official and former state Senate candidate has now deleted a controversial social media post that has sparked some to call for an apology – and even his resignation.
Maryland Democratic Party Secretary Robbie Leonard on Monday posted to his personal Facebook page a photograph of a Second Amendment activist standing on a street corner in Annapolis holding a sign that reads "We Will Not Comply," a slogan adopted by gun rights advocates to broadcast their frustration with restrictive gun laws.
"Time to dox some homegrown terrorists," wrote Leonard.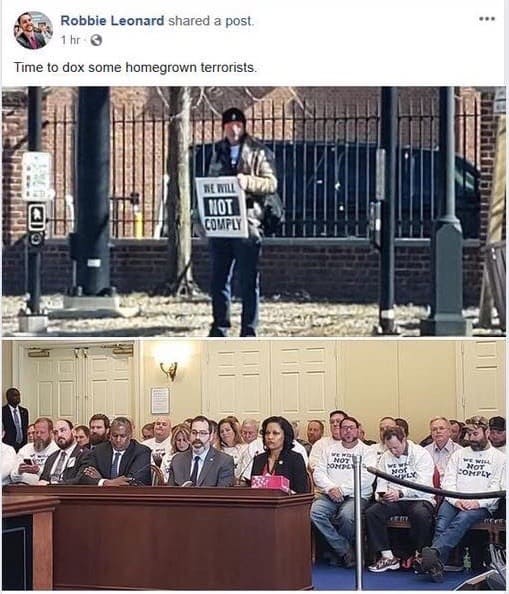 Doxing is the internet-based practice of researching and broadcasting private or identifiable information (especially personally identifiable information) about an individual or organization.
Leonard's Facebook post was likely sparked by the hundreds of gun rights and gun control advocates who traveled Monday to the state's capital to testify before lawmakers on the House Judiciary Committee on a day known as "gun day" in Annapolis.
In a days-long marathon that lasted well over 12 hours, state lawmakers heard testimony from Marylanders on a number of bills affecting the sale and transfer of rifles and shotguns, 3D-printed "ghost guns," and various other regulations that would affect gun ownership in Maryland.
Leonard's Facebook post quickly went viral on social media.
"We think it's disgusting," Paul Brockman said, referring to Leonard's Facebook post.
"He should apologize for it. An apology would be the compassionate thing to do."
Brockman, 52, is a "Captain" in the Second Amendment advocacy group The Patriot Picket, a Maryland-based First and Second Amendment advocacy group that was founded in 2013.
"I mean, anybody who would….and, unfortunately, we see it more and more on the Democratic side. They don't want people exercising their First Amendment rights. And that was there First Amendment right to go out there on the sidewalk and say whatever they want – pro-gun, anti-gun."
Brockman said he traveled to Annapolis on Monday from Elkridge with fellow members of The Patriot Picket "to testify against a lot of the bad gun control legislation that's being proposed," as well as testifying in support of "a few good bills."
He said he heard an estimate "from staffers" that at least 1500 Second Amendment activists showed up on Monday to testify before the House Judiciary Committee.
Hundreds of Second Amendment activists wore shirts (as seen in the Leonard's Facebook post) imprinted with "We Will Not Comply," which is The Patriot Picket's slogan, Brockman said.
"It's saying that as Marylanders, we have had enough."
Maryland Democratic Party Executive Director Ben Smith forwarded A Miner Detail a statement on Monday when asked to respond to Leonard's post.
"When discussing firearm regulations, the specter of gun violence is always present. These fraught conversations require peace and healing, not escalated conflict. When activists wear shirts stating "We will not comply" with new firearm regulations, that action escalates the conflict and a willingness to flout the rule of law. Doxxing escalates the conflict, and violates rights to privacy. The Maryland Democratic Party respects the rule of law, and peaceful participation in the legislative process. We ask that advocates on both sides do the same."
Leonard also wrote that he hopes "the FBI runs the name of every witness who is wearing the "We Will Not Comply" t-shirt, calling them "terrorists in the making."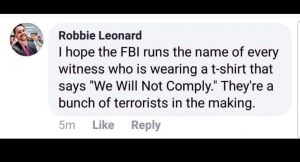 The Patriot Picket founder Jeff Hulbert, 65, of Chester, Md. told A Miner Detail on Monday evening that Leonard's social media post is "a typical reaction from Democrats who want to feel first and then think later."
"Government can't operate when Democrats only navigate with their feelings," Hulbert said.
Hulbert said the group's slogan "We Will Not Comply" is a "forecast."
"It's not a threat, it's a forecast. It says if they pass these tyrannical laws where they, say a class of rifle that they told us would not be restricted six years ago, now they're back to saying we want to take them away."
"They have violated a pledge. They've always said, 'we're not coming for your guns.' This is proof that they are coming for our guns no matter what," Hulbert said.
Hulbert did not just limit his criticisms to Maryland Democratic lawmakers.
He had a message for Republican Gov. Larry Hogan: "I wish he would stop running for president and focus on the amount of times in Maryland that our rights are being violated and infringed upon."
Leonard's online bio states that he's an attorney at the Law Offices of Evan K. Thalenberg, P.A. and serves as an Adjunct Faculty in the Legal Studies Department at the Community College of Baltimore County.
Leonard ran unsuccessfully in 2018 for the Maryland Senate.
Ryan Miner is the Editor in Chief, Founder, Senior Political Reporter and Publisher of A Miner Detail. He is the host of A Miner Detail Podcast.