By Ryan Miner 
Maryland Delegate Kirill Reznik of District 39 announced today that he will not run for Congress in 2018 in Maryland's 6th Congressional District.
A progressive favorite among Montgomery County Democrats, Reznik released a statement today on his personal Facebook page, acknowledging that he has been "contemplating a run for Congressional District 6 if Congressman Delaney chooses not to run for that seat again."
Here's Reznik's announcement: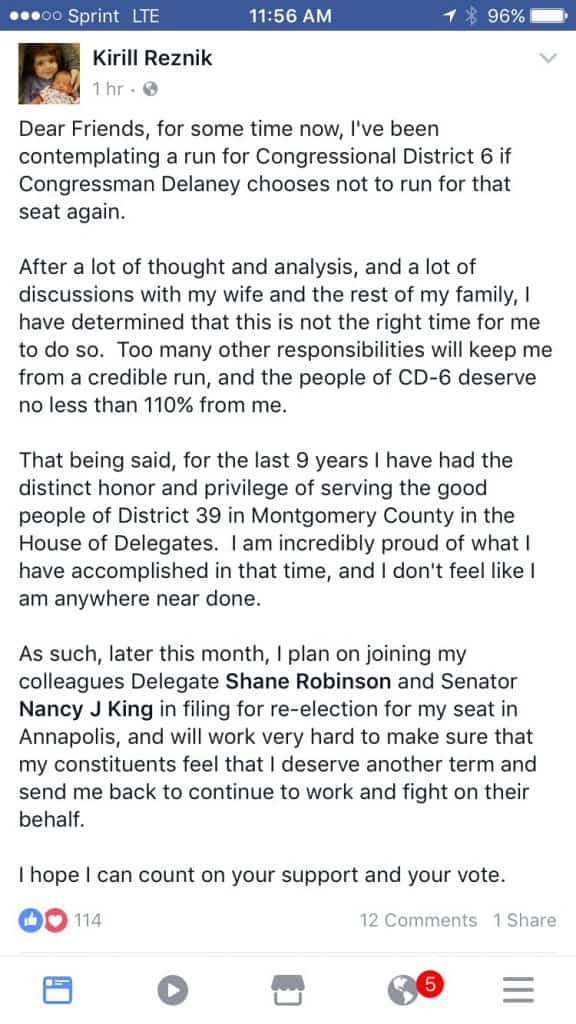 Delaney, who is serving his third term in the U.S. House of Representatives, has held his political cards close to his chest and has kept mum on his future political ambitions.
Delaney has indicated that he will announce sometime in June whether he'll run for governor, Congress or, as it has been rumored, president of the United States.
However, when asked last week by Montgomery County reporter Doug Tallman if he was running for president, Delaney squashed the rumors, saying, "it was as ridiculous then as it is now" followed up with a definitive, "I'm not running for president."
Here's a clip of the exchange:
Reznik, had he opted to run in the CD-6 Democratic primary, would have likely faced off with Maryland House Majority Leader Bill Frick, state Senator Roger Manno, Delegate Aruna Miller and Andrew Duck. David Trone, the wealthy owner of Total Wine and More and a former CD-8 congressional candidate, has also indicated that if Delaney does not run again for CD-6 in 2018, he'll likely jump into the Democratic primary.
On the Republican side, Amie Hoeber, the 2016 Republican nominee who was defeated by Delaney in last year's November general election, has indicated that she is seriously considering a second congressional bid.
It was reported to me second-hand today that Republican state Senator Michael Hough of Frederick County is considering tossing his name into the Republican primary if Delaney chooses not to run again in the district.
A Miner Detail is your go-to source for all your CD-6 campaign news.