The Maryland Board of Public Works will decide whether to approve Maryland Gov. Larry Hogan's (R) $11 billion traffic mitigation plan in less than 48 hours.
But area leaders aren't buying what Hogan is selling.
More than a dozen area county and state officials came together over a last-minute press conference Monday at Indian Spring Terrace Local Park in Silver Spring.
There, county officials from Montgomery, Prince George's and Frederick introduced an alternative traffic relief plan that prioritizes reversible lanes and managed demand.
The county leaders' plan coincidentally arrives two days before the Maryland Board of Public Works takes a significant step that would allow companies to bid on Mr. Hogan's P3 proposal.
The governor said he intends to finance his managed toll lanes plan with the help of the private sector, using a public-private partnership.
The upgrades won't cost Maryland taxpayers a dime, Hogan says.
Mr. Hogan's P3 plan has garnered widespread support across the region, with a recent poll indicating that 61 percent of D.C.-area residents favor adding toll roads and widening the Beltway and I-270, according to a Washington Post-Schar School poll.
Mr. Hucker's last-minute press conference is an all-out effort to convince a seemingly undecided Peter Franchot (D), Maryland's comptroller, to vote against the plan on Wednesday, when the Board of Public Works meets in Annapolis.
Multimodal, 7-point alternative plan
Area leaders are calling their alternative plan a "Locally-Supported Congestion Relief Plan"
Hucker, who chairs the Council's Transportation, Infrastructure, Energy and Environmental Committee, unfurled in order the following infrastructure overhaul plan:
POINT 1: PRIORITIZING THE VIRGINIA TO FREDERICK CORRIDOR
Subpoints:
Improve the American Legion Memorial Bridge;
Run new managed lanes to Frederick;
Bring Northern Montgomery County and Frederick County residents relief immediately.
POINT 2: MAKE IMPROVEMENTS ON THE BELTWAY EAST OF I-270
Subpoints: 
Make improvements within the current right-of-way, including lane metering;
Ensure that cars enter the beltway at the optimum frequency;
Use the left shoulder during peak periods.
POINT 3: RUN MANAGED LANES UP I-95 TO MARYLAND ROUTE 200 (ICC)
Subpoints: 
Direct southbound traffic on I-95 to take the ICC to get to Virginia;
Keep drivers off the beltway and raise revenue for MDOT.
POINT 4: ADD REVERSIBLE LANES NORTH OF I-37O, UP TO FREDERICK COUNTY
Subpoints: 
Immediate relief for commuters from Frederick County and north of Clarksburg
POINT 5: DEDICATE SOME OF THE TOLL REVENUE TO TRANSIT
POINT 6: TRANSPORTATION DEMAND MANAGEMENT (TDM)
Subpoints:
The alternative plan will manage demand rather than just increasing capacity;
Encourages transit use by connecting commuters to locally-serving transit, including the MARC Train, Bus Rapid Transit;
Improve area Park-N-Rides;
Encourage carpooling (more people can then use the HOV lanes);
Encourage electric vehicles;
Encourage telecommuting.
POINT 7: ECONOMIC DEVELOPMENT
Subpoints:
Use the managed lanes to connect to local priorities;
Run down to National Harbor and connect to transit over the Wilson Bridge to Alexandria and upriver to Amazon's second headquarters and National Landing.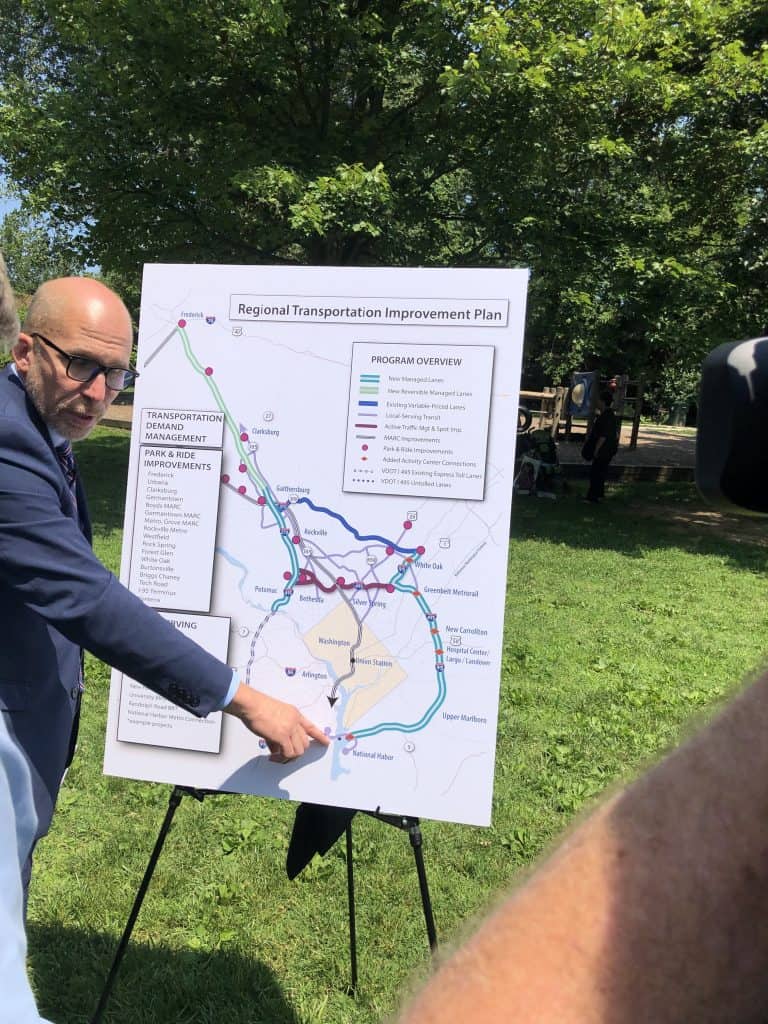 Hucker said many of the ideas released in the alternative plan are "not new ideas."
"They have the support of our local officials who were behind me and dozens that are not here today, "Hucker said.
"It's a balanced plan, not a hundred percent highway plan."
SUMMARY OF THE ALTERNATIVE PLAN:
Increases transit use;
No roads will be widened;
Employs "Transportation Demand Management;"
Encourages ridesharing and telecommuting;
Consistent with local master plans;
Does not displace residents;
It does not take large swaths of parklands;
Provides immediate relief for Montgomery County residents north of Clarksburg and Frederick County commuters;
Drives economic growth by connecting to economic development priorities (e.g., National Harbor).
Mr. Hucker's press conference concluded with a call-to-action:
Mr. Franchot and State Treasurer Nancy Kopp (D) should remand the pre-solicitation request report back to MDOT and direct the agency to adopt their plan instead.
Doing so, Hucker said, will win his support for traffic congestion relief.
Officials who attended Monday's press conference include:
Montgomery County
Marc Elrich, Montgomery County Executive
Nancy Navarro, President, Montgomery County Council
Sidney Katz, Vice President, Montgomery County Council
Tom Hucker, Transportation Chair, Montgomery County Council
Evan Glass, Montgomery County Councilman
Jared Solomon, State Delegate, Montgomery County
Bridget Newton, Rockville mayor
Prince George's County
Todd Turner, Chair, Prince George's County Council
Tom Dernoga, Prince George's County Councilman
Jolene Ivey, Prince George's County Councilwoman
Mary Lehman, State Delegate, Prince George's and Anne Arundel Counties
Jazz Lewis, State Delegate, Prince George's County
Fazlul Kabir, College Park City Councilperson
Fredrick County
Kai Hagen, Fredrick County Councilman
---
Ryan Miner is the Editor, Founder, and Publisher of A Miner Detail, a leading Maryland politics blog featuring Maryland political news, political commentary, and opinion. 
Listen & Subscribe to A Miner Detail Podcast on: