From Co-Editor Eric Beasley:
I opted to let Ryan write a bulk of this article. As I've already discussed right here on this blog, certain extremist and fringe elements of the Republican Party have opted to not debate me on issues or policy. Instead, they are digging into my past and making false and defamatory statements against me. It's not just limited to the Theocratic Cult of Red Maryland, this radical sect has a new member, Robin Ficker. 
By Ryan Miner
Robin Ficker is apparently preparing to grace his Facebook friends with some citizen journalism, pledging to "cover" the upcoming City of Brunswick elections. How will Mr. Ficker ever find the time to hone his new hobby in between losing elections, heckling professional sports teams and scouring the wreckage of the once-standing Frostburg Courthouse?
The self-anointed "Western Maryland attorney" recently suffered a devastatingly obvious setback when he was beaten handily by Amie Hoeber in Maryland's 6th Congressional District Republican primary. Of course, Ficker's defeat was predictable: he hasn't won an election in over thirty years. Taking responsibility isn't Ficker's strong suit; instead, he's looking for someone – anyone, really –  to blame for a political loss that was so easily predicted from the moment he decided to run in CD-6.
A Miner Detail took Ficker head on in the lead up to the CD-6 Republican primary. We didn't shy away from challenging his incorrigibly clownish shenanigans. We didn't excuse his deplorable behavior; nor did we shrug our shoulders and chalk it up as "typical Robin," as so many in the Republican Party often do. We asked Mr. Ficker tough questions about his past, and we challenged him on his political positions. We questioned his temperament and demanded answers beneath the surface. More often than not, he responded like a petulant child.
In return, Mr. Ficker resorted to his standard MO: he tried bullying Eric and me. He failed miserably. We didn't stand down to his aggressive personal attacks. We didn't relent in our questioning. We didn't take him at face value. And we didn't allow him to push us into submission. We took him on strong. Perhaps Mr. Ficker finally met his match when he crossed paths with Eric and me. We reveled in standing up against Ficker. We successfully fought back. We don't look for fights with bullies, but when challenged, we rise to the occasion.
Ficker didn't lose the primary because A Miner Detail unspooled his checkered political past in a series of published articles; we aren't haughty enough to believe that we had any dramatic effect on the voting patterns of primary voters.
But subsequent his primary defeat, Mr. Ficker has disgruntedly turned to social media, angrily lashing out at Eric and me, casting blame on us for his pitiful loss. The only person Mr. Ficker should blame for his tragic defeat is himself. Voters once again saw Mr. Ficker for what he is: an unscrupulous gadfly of a codger who has run his course and lost – hopefully for the last time (we wish).
Now, Ficker has turned his political vengeance towards Eric Beasley. It's no secret that Beasley, an Iraq War veteran honorably discharged from the U.S. Army, is stepping up once again to serve, offering Brunswick the opportunity to elect him to the Brunswick City Council in its upcoming August election. A first-time candidate for public office, Beasley is readying to present his platform to Brunswick voters. Forgive my prejudice, but I could think of no better person than Eric Beasley to serve his community.
But the bitter and resentful Ficker resorted to the equivalent of political harassment and blackmail when he took to Facebook earlier this morning, private messaging Mr. Beasley, saying,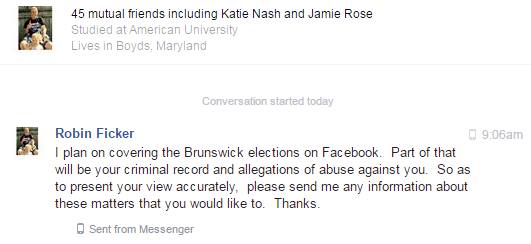 Should Mr. Ficker actually follow through on his pledged "coverage," we surely expect the same caliber of journalism that Edward R. Murrow would noddingly approve of. Who are we kidding? We won't hold our breath. Unfortunately, however, we don't expect Mr. Ficker to offer his Facebook followers even a semblance of journalism when covering the City of Brunswick elections, so we'll go ahead and do his job for him, hopefully helping him to avoid any future embarrassment.
Eric Beasley has no criminal record. Any so-called allegations of "abuse" that Mr. Ficker refers to was explained and covered by Mr. Beasley himself in a March 7 article published on A Miner Detail. There was no abuse. Period.
We don't expect Mr. Ficker to act responsibly with facts. But "responsibility" is a word fallen long ago from Mr. Ficker's vocabulary. From his untimely departure from West Point to his law license suspensions, it is widely known that Ficker's perpetual character flaws (we all have them) place him a strategic disadvantage when casting his stone.
We won't take seriously Mr. Ficker's newfound desire to practice journalism, but undoubtedly, we will take serious any attempts by him to blackmail or impugn Mr. Beasley with false allegations or innuendo.
We say this firmly, Mr. Ficker:
You will not impugn, attack or attempt to discredit Mr. Bealsey, his family or his record with patently false lies and misinformation.
I dare you to print just_one_sentence that contains lies about Mr. Beasley. You won't be calling our bluff when you find yourself on the defense in a libel suit. This isn't a game, Mr. Ficker. It would be interesting to record your reaction when your law license is suspended not once, not twice, but three times. I've taken you on before and I'll do it again with equal vigor and gusto for a second round. Don't think you're going bully Mr. Beasley. Your silly games have come to an uncinematic conclusion.
If Mr. Ficker wants a character debate, he should think twice –  Eric Beasley is way out of his league.
Eric is a former officer in the Republican Club of Frederick County and Frederick County Republican Central Committee between 2015 and 2018. Former guest host on WFMD and showrunner on WTHU. Avid gardener and food preserver. Graduated from Libertarianism to Anarchism as the corruption level in the state requires us to start over from scratch.