Stuart, Iowa is a small city located in Lincoln Township in Adair County. According to the U.S. Census Bureau, the city has a total area of 2.58 square miles. As of 2017, the city's population hovers at 1,589 residents.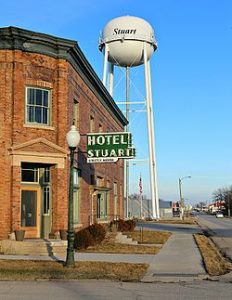 Today, Baltimore County Executive Kevin Kamenetz announced he is running for governor of Maryland…. from Stuart, Iowa – at least that's what his Facebook page says. Whether this is a staffing error or just a careless oversight, optics matter in gubernatorial rollouts.
Let's face it: A staffer using County email to invite County employees to Kamenetz's kickoff doesn't look good, either. In fact, that particular mistake may cost Kamenetz and his campaign big in the future – as it should. Using County email for campaign purposes is a big no-no in politics. And it's a completely avoidable mistake.
Kamenetz is a seasoned politician. Why is a guy who is looking to enter the major leagues making minor league mistakes? Kamenetz's rookie blunders certainly raise questions about his ability to inspire confidence – especially given his incessant criticisms of Larry Hogan.
The Baltimore County Executive would do well to issue a public mea culpa and begin anew, hiring a fresh team of consultants and staffers who don't make him look like a complete ass.