By Ryan Miner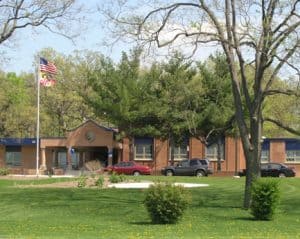 Multiple Williamsport Elementary School parents have recently taken to social media to express collective outrage and profound concern over the school's physical education teacher, Andrew Bokman.
The same parents whose children attend Williamsport Elementary School have expressed anger at Bokman, alleging that his aggressive behavior towards their children has now gone too far.
Parents have had enough, and they are taking to social media as well as reporting Bokman's alleged behavior to the school's principal.
One Williamsport Elementary School parent wrote on Facebook that Bokman, who has been teaching physical education in Washington County Public Schools for at least ten years, has repeatedly incited fear in her child, causing her child to cry when she comes home from school. Another mother wrote on the same Facebook thread that her daughter's asthma problem was ignored by Bokman.
Several other Williamsport Elementary parents have reached out to A Miner Detail with similar complaints against Bokman. The most repeated allegations aimed at Bokman by parents is that he bullies students and is "intentionally cruel to the kids" when they are unable to perform certain physical fitness activities.
Other Williamsport Elementary School parents, however, are defending Bokman on social media, saying that "he's a nice guy on a personal level" and "pleasant." One former Williamsport Elementary School parent whose children were taught by Bokman wrote that Bokman may simply be "misinterpreted" and encouraged parents to contact the school's principal, Dr. Jana Palmer.
If these incidents prove to be true, A Miner Detail fully supports and respects the due process afforded to teachers. We also understand and respect the sensitivity of the accusations made. A Miner Detail fundamentally believes that parents must be heard and that all accusations must be taken seriously by administrators. We have the utmost faith in Washington County Public Schools to handle this situation methodically and professionally.
A Miner Detail did contact the school's principal via email yesterday afternoon asking for comment by noon today. Given that Washington County Public Schools are closed today due to inclement weather, we certainly understand why we haven't received a response. Perhaps in retrospect, our deadline should have been a bit longer, so we are fully prepared to receive some flak. If A Miner Detail receives a response from Dr. Palmer or any other official in the school's administration, we'll print the full response unabridged.
A Miner Detail sent the following email yesterday afternoon to Williamsport High School principal, Dr. Palmer:
Good Afternoon, Principal Palmer, 

My name is Ryan Miner. I am an Editor-in-Chief with AMinerDetail.com, a local news and commentary blog that covers Maryland news, education issues, politics and various school board issues. 

A Miner Detail is investigating a series of social media complaints aimed at Williamsport Elementary School physical education teacher Andrew Bokman. Several Williamsport Elementary School parents have taken to Facebook in protest against Mr. Bokman, specifically claiming that he's a bully to their children and shows extreme prejudice against certain elementary students. Several examples have been listed on social media that point to a pattern of poor behavior on behalf of Mr. Bokman. 

I am writing a story to be published on AMinerDetail.com on this particular teacher and am requesting comment from you or any other administrative official. 

A few questions: 

1) How many parents, to your best estimate, have issued complaints against Mr. Bokman? 

2) Have you, or any other administrative official at Williamsport Elementary School, addressed Mr. Bokman specifically about any parental complaints? 

3) Is Mr. Bokman's class regularly monitored by your administrative team? 

4) Has Mr. Bokman been previously disciplined for any inappropriate conduct inside of his classroom? 

5) What do you intend to do to address parental concerns regarding Mr. Bokman? 

6) Is Mr. Bokman a dues-paying member of the Washington County Teachers' Association? 

Our deadline for comment is noon tomorrow, March 14. 

Thank you, 

Ryan Miner
AMinerDetail.com
Editor-in-Chief 
Ryan Miner is the Editor & Founder of A Miner Detail.