By Ryan Miner 
Yesterday a Smithsburg High School English teacher landed himself in hot water after his anti-Trump Facebook comments went viral.
Joshua Cramer, who is a member of the Frederick County Democratic Central Committee and vocal opponent of President Donald J. Trump, took to Facebook to call the president "a symbol of racism and bigotry" and said he asks students "wearing Trump or MAGA (Make America Great Again) apparel to leave," ostensibly referring to his high school classroom.
But what really tormented parents, Trump supporters, students and members of the community wasn't necessarily Cramer's opposition to Trump. Rather, Cramer mounted a challenge, asking people to take him on for apparently asking students to leave for wearing Trump paraphernalia.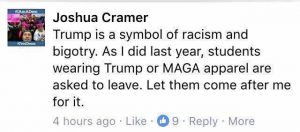 And come after him they did.
Cramer's social media comments have been shared upward of a thousand times. And some have even called on Cramer to be disciplined by his supervisors and worse – fired.
Smithsburg High School Principal Michael Chilcutt responded to a concerned citizen's email about Cramer's comments, writing,
Thank you for contacting me and I appreciate your concerns.  I have been in contact with central office on this issue and I have addressed it with Mr. Cramer. It is against our policy and my personal values to restrict any students access from the classroom for exercising his or her first amendment right.

M
Michael Chilcutt, Principal

Smithsburg High School
Joshua Cramer has not responded to A Miner Detail's request for comment. If Cramer does respond, A Miner Detail will run Cramer's unabridged response.
Ryan Miner is the Editor in Chief, Founder, Senior Political Reporter and Publisher of A Miner Detail. He is the host of A Miner Detail Podcast.