Despite a statewide stay-at-home executive order issued Monday by Maryland Gov. Larry Hogan (R) amid the COVID-19 outbreak, one Maryland congressional candidate appears ready to stand in violation of the law.
Republican congressional candidate Kimberly Klacik in a Wednesday email blast to supporters wrote that "during this time our campaign will continue to drop off signs. If you would like to send your address to kimklacik@gmail.com, we will get it to your front porch."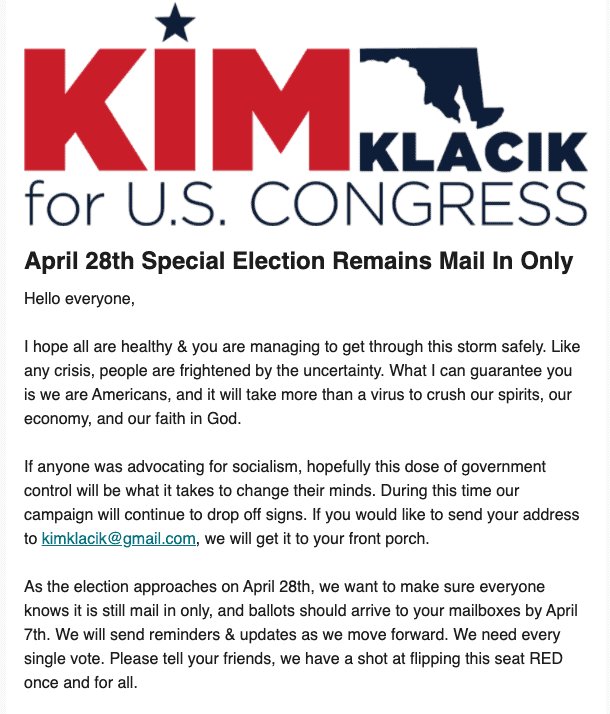 Hogan's order took effect at 8 p.m Monday.
The order states that Marylanders may leave their homes only for essential work, trips to the grocery store or trips to the pharmacy, or for urgent medical care.
"No Marylander shall be leaving their home unless it is for an essential job or an essential reason such as obtaining food or medicine, seeking urgent medical attention or for other necessary purposes," Hogan said Monday during his press conference.
Any person who knowingly and willfully violates the order is guilty of a misdemeanor and a fine, Hogan said. Maryland State Police are actively enforcing the governor's executive order and have already made arrests.
Read Hogan's full order here.
Campaigning and sign distribution are not listed as essential travel in Hogan's latest order.
Maryland's official coronavirus website reports that as of April 1, there are 1,985 confirmed coronavirus cases in Maryland.
31 Maryland deaths are attributed to the coronavirus, as of Wednesday.
Klacik, 38, faces off against Democrat Kweisi Mfume, 71, in the April 28 special election to fill the vacancy left by the late Rep. Elijah Cummings in Maryland's 7th Congressional District.
Cummings died last October.
The April 28 special election will be mail-in voting only.
On March 17, Hogan announced that he decided to postpone Maryland's April 28 primary due to the coronavirus pandemic.
The new primary is scheduled for June 2. Early voting will be held from May 21 to May 28.
---
Feedback/Questions? Ryan@AMinerDetail.com.
Ryan Miner is the Editor & Founder of A Miner Detail.