Do you remember Anthony Brennan?
He made international news in June 2020.
Anthony Brennan III is the Kensington man who assaulted three young people along the Capital Cresent Trail in June 2020.
Brennan was arrested and charged in June 2020 with three counts of second-degree assault.
A cell phone video captured Brennan grabbing one woman and assaulting two other people.
Brennan pleaded guilty on Dec. 16, 2020, to three charges of second-degree assault.
Why did Anthony Brennan assault three people?
Anthony Brennan was riding his bicycle along the Capital Cresent Trail in Bethesda, Md., on June 1, 2020.
Brenna spotted three young adults posting flyers supporting the Black Lives Matter movement.
Seeing this, Brennan became inexplicably enraged.
The young adults at the time were protesting the murder of George Floyd, which occurred a week prior in Minneapolis.
Brennan ripped down the posters and proceeded to accost and eventually assault the three young adults posting the flyers.
When Brennan saw a young woman filming him, he attempted to grab her and forcibly snatch her cell phone.
Then Brennan attempted to push his bicycle into a male victim, causing him to fall to the ground.
The video of Brennan assaulting the young victims went viral worldwide and was played millions of times on the internet.
Brennan pleaded guilty to three charges of second-degree assault in December 2020.
1) Anthony Brennan was represented by the Law Offices of Jezic & Moyse, LLC, Montgomery County, Md. 
Brennan has retained Montgomery County criminal defense attorneys Andrew Jezic and David H. Moyse.
2) Brennan admitted to assaulting victims after his arrest
Brennan's attorneys released a statement on Anthony Brenna's behalf in which Brennan apologized to his victims.
"Anthony Brennan recognizes that his outrageous behavior toward the young adult victims on the Crescent Trail was unacceptable and wrong. The outrage felt in our community and across our country is completely justified."
"Mr. Brennan understands that his apology will not be enough to right his wrongs:"
Brennan expressed remorse for his actions and directly addressed his victims.
"I am sick with remorse for the pain and fear I caused the victims on the trail and online."
Brennan said he is "cooperating fully with authorities and is committed to making amends" by addressing "the underlying issues" that led to his "abhorrent behavior."
He said he would seek counseling.
Brennan said at the time that he was "dedicated to working with the Montgomery County State Attorney's Office to provide peace to our community and justice to the victims in the video and all victims of racism and police brutality."
Bethesda Magazine was the first media outlet to report Brennan's statement.
3) Brennan terminated from MadeToOrder, Inc.
A LinkedIn profile listed under "Tony Brennan" was deleted before Anthony Brennan's June 2020 arrest.
Brennan's LinkedIn profile listed him as an "Executive VP" with MadeToOrder, a California-based company specializing in the "creative sourcing and sales of branded products through the development of long-term customer relationships," according to the company's website.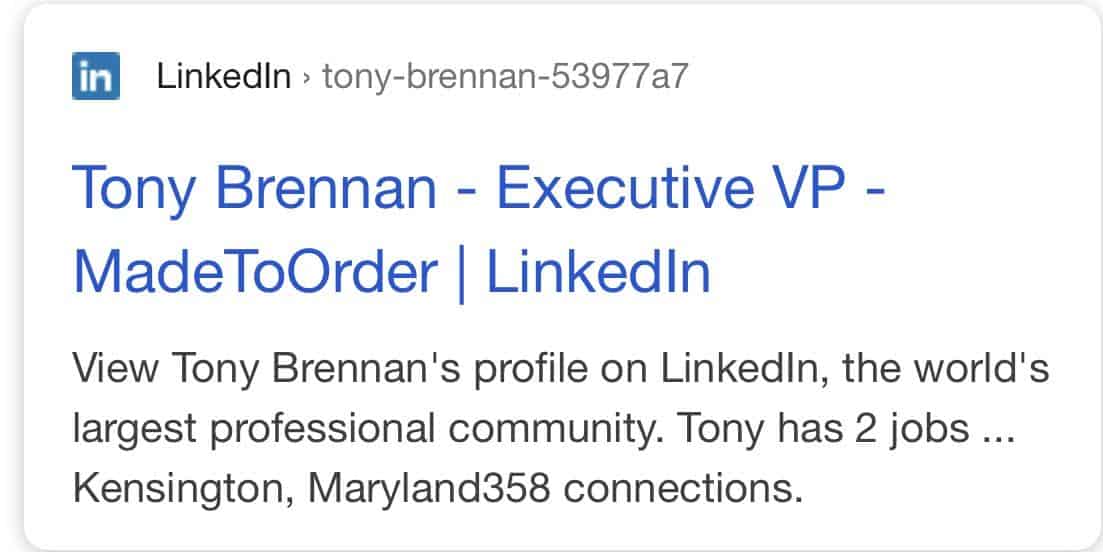 Upon learning that Brennan was responsible for the Bethesda assault, MadeToOrder immediately terminated him.
"MadeToOrder has zero tolerance for this behavior, and we took immediate and decisive action, terminating the employee. This behavior does not, in any way, reflect our company's commitment to acting with respect and compassion to everyone without our company and those in our communities," the state read, in part.
The company released a statement through its Twitter account, not mentioning Brennan's name.
4) Brennan had a few past brushes with the law 
Brennan was criminally charged in Montgomery County, Md., in Dec. 1992  for possession of marijuana, though he was not prosecuted or convicted for the offense.
This case was listed as "Nolle Prosequi" and was disposed of in Feb. 1993.
In Maryland, a state's attorney may decline to prosecute a criminal charge and dismiss it, entering a nolle prosequi on the record in open court.
Brennan was charged with an offense in Aug. 1990 in Benton County, Oregon, according to a background check conducted by A Miner Detail late Friday.
The case was disposed of in August 1993.
5) Montgomery County Police searched Brennan's Kensington home, which led to his arrest 
According to WTOP, the Maryland National Capital Park Police contacted Brennan through his lawyer and arranged for him to turn himself in Friday.
"With consent, Brennan allowed his home to be searched, and investigators seized a bicycle and bicycling clothes as evidence.
A consensual search of Brennan's home and other locations turned up his bicycle, helmet, and other items seen in the video.
"A search warrant was executed, and items were found consistent with what was seen on the video," said Ramon Korionoff, a spokesman for Montgomery County States Attorney John McCarthy.
Brennan was released on a $5000 unsecured personal bond.
The Latest on Anthony Brennan 
In February 2021, a Montgomery County judge sentenced Brennan to one year of supervised probation, followed by two additional years of unsupervised probation.
After his June 2020 arrest, Brennan spent almost a month in a Florida rehabilitation center.
He then stayed at the Oxford House, a Mayland-based halfway recovery, from July 2020 until Christmas Eve that year.
In addition, Brennan attends regular Alcoholics Anonymous meetings.
Brennan's sentencing judge told him that he's not allowed to have any contact with his victims.
Who are Anthony Brennan's Victims
Callan Daniel
Sarah Daniel 
Isaac Hillman 
Ms. Daniel read a statement during Brennan's February 2021 virtual sentencing.
"You turned away from me, but to my horror, you charged at my sister; you loomed over her, ripping things from her hands, tearing at her wrists, screaming as you backed her against a fence," she said.
"All the momentary strength I thought I had drained away, and the realization set in that even between the two of us, we would likely be overpowered. The only thing I could do was get in between you and scream, so I did."
Issac Hillman is Anthony Brennan's third victim from the June 2020 attack.
During Brennan's virtual sentencing hearing, Hillman said that he could not forgive Brennan for a "long, long time.
Anthony Brennan apologized to his victims
Brennan apologized during his February 2021 sentencing.
"I'm just so very sorry," Brenna said.
"I'm sorry about what happened that day in June. I never meant to harm anyone. I'm so filled with deep, deep remorse."
Brennan said he was in a "bad, fragile state of mind" but should have better controlled himself.
"To me, it seems that God was sending me a message to change," Brennan said.
"I got that message. I'm doing all the things I can to make changes. I cannot defend my actions that day; I can only apologize, try to change, and move on."
He added that "we can all agree my behavior was wrong."
"Again, I'm very, very sorry for what I've done to these young people."