By Ryan Miner 
Acting Republican Washington County Commissioner Vincent G. "Woody" Spong, who was appointed last year by the Washington County Republican Central Committee to fill the vacant seat on the BOCC, created when William J. Wivell was selected by said committee to fill a legislative vacancy in the Maryland House of Delegates, shared the following meme yesterday (Jan. 17) on his personal Facebook page: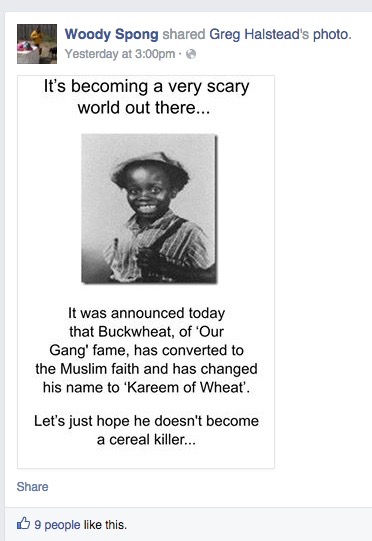 The Maryland Senate Executive Nominations committee is expected to address Spong's appointment during this legislative session.
According to The Herald-Mail, Spong's nomination is under fire from two Maryland women's advocacy groups.
Herald-Mail reporter CJ Lovelace wrote,
"In a letter dated Dec. 15, the directors of the Maryland Coalition Against Sexual Assault and Women's Law Center of Maryland urge the Senate Nominations Committee to consider Spong's "grossly inappropriate statement" to Washington County Board of Education President Donna Brightman after a joint meeting between the two elected boards."
The letter opposing Spong's appointment, written by the above-referenced Maryland women's advocacy groups and sent to Jamie Raskin (the chairman of the Senate Executive Nominations committee), can be found below.
Letter opposing Woody Spong's nomination by Ryan Miner
Ryan Miner is the Editor in Chief, Founder, Senior Political Reporter and Publisher of A Miner Detail. He is the host of A Miner Detail Podcast.