By Ryan Miner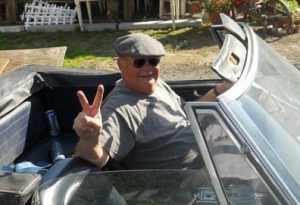 Remember Woody Spong? Yes, Vincent G. "Woody" Spong, formally known as acting Commissioner Spong. The disgraced former acting county commissioner is funding Melissa Williams' school board campaign in a big way. In September, Spong donated $50.00 to Williams' campaign – and she accepted without hesitation. As you can see below from the Maryland campaign finance system, Spong went further and donated $100.00 to Linda Murray's Board of Education campaign.

Spong resigned in disgrace earlier this year after Gov. Larry Hogan, a Republican, requested Maryland's Senate Executive Nominations Committee reject Spong's nomination – for obvious reasons.
Spong, a Tea Party right-wing Republican, got himself into hot water for sharing an inherently racist meme on his personal Facebook page. After Spong's social media faux pas went viral he, as mentioned above, was forced to resign his commissioner post.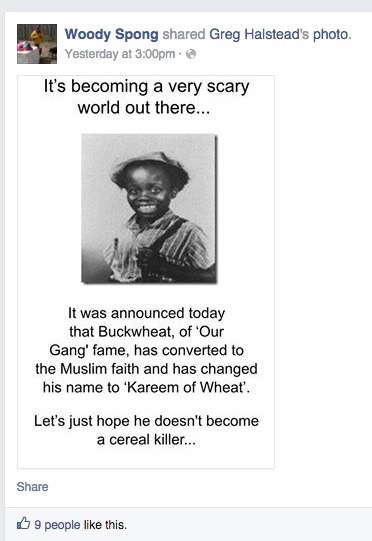 Last year, Spong uttered abhorrent comments about women after a joint meeting concluded between the county commissioners and the Board of Education in front of Board of Education President Donna Brightman. Subsequently, in a public letter, Brightman said Spong made an inappropriate comment comparing "facts" of the school system's budget to "whores."
Spong issued a statement denying using the word "whore" but admitted to making a similar analogy. Spongs misdeeds prompted a complaint in December from the Maryland Coalition Against Sexual Assault and Women's Law Center of Maryland that urged the Senate committee to consider rejecting him.
Sens. Andrew Serafini and George Edwards, two Republicans who represent Washington County, released a joint statement questioning Spong's conduct:
"While Mr. Spong has made valuable contributions to Washington County as an educator and community leader, his course of conduct over the past eight months raises concerns that will be considered by the Senate Executive Nominations Committee. We will continue to respect the authority of the committee to independently evaluate nominees and make recommendations to the Senate of Maryland."
Since Spong's resignation from the commissioner board, he's working in concert with the Washington County Republican Club (Jerry DeWolf and Ginger Bigelow) to exact revenge on Brightman. Spong's main toady, Jerry Dewolf, an alt-right Republican, created and now operates a hate-filled Facebook page dedicated to spreading malicious lies about Donna Brightman.  The obsessed DeWolf is also entrenched in Melissa Williams' campaign.
Given Spong's unrepentance for his very public indiscretions  – sharing a racist Facebook meme as well as his sexist comments made in the company of the school board president – will Melissa Williams do the right thing and return Spong's donation and renounce his support?
Ryan Miner is the Editor in Chief, Founder, Senior Political Reporter and Publisher of A Miner Detail. He is the host of A Miner Detail Podcast.