By Ryan Miner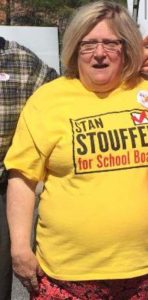 Disgraced former acting Washington County commissioner Vincent G. "Woody" Spong weighed in on the fiasco that was created by Karen Harshman when Harshman rushed to Facebook last Monday, making wild and unsubstantiated accusations that she is aware of certain teachers in Washington County Public Schools who are preying on their students. Harshman even went so far as to accuse her follow Board of Education colleague, Jackie Fischer, of being a sexual predator and a threat to WCPS students.
Harshman's allegations turned out to be categorically false. Moreover, she abused the power of her elected office to settle some longstanding grudge she harbors against Jackie Fischer. To think for a moment that a Washington County Board of Education member made false allegations against active school teachers, refused to provide the names of said teachers when asked by the superintendent of schools, used her elected office in an attempt to settle a political grudge and – most abhorrently – failed to immediately report the alleged teacher-student sexual abuse to school authorities after she first was made aware of the situation is, to say the least, a clear manifestation of abject misconduct.
As I wrote on Friday evening, given the severity of Harshman's misdeeds, she has limited herself to only two plausible outcomes – she'll either be removed by Maryland's state Board of Education or, like her close ally and friend, Woody Spong, she'll resign from the Board of Education in disgrace. The latter option would be less costly and quicker. I only hope she realizes that no matter what happens moving forward, things will not end well for her.
Karen Harshman has completely lost the trust and confidence of the public and can no longer represent the school system with any credibility. But to add fuel to this burning dumpster fire, enter Woody Spong.
Remember Woody Spong? Yes, that Woody Spong – the formerly appointed county commissioner who resigned in disgrace earlier this year in January after Gov. Hogan wanted his nomination nixed by the Senate executive nominations committee? Remember now? I'll catch you up to speed. Spong is the guy who cornered Washington County's much-respected female school board president after a joint meeting between the BOE and the county commissioners and compared facts with "whores." Some analogy. Thank you, Roger Sterling. Is your memory up to speed now? Oh, wait: The same guy who shared an inherently racist meme on his personal Facebook page and was blasted statewide by elected leaders? Ah, yes, you remember now: that Woody Spong.
Spong and Karen Harshman are close friends and political allies. Both are retired WCPS employees; Spong – a school administrator and Harshman and former teacher.
But first, some mundane background:
Jerry DeWolf, Terry Baker's failed campaign manager and an alt-right Republican hack who sits on the Washington County Republican Central Committee, created an anti-Brightman, Bickford and Ridenour Facebook page: "Liberate Washington County Board of Education Ed." The Facebook page now has a whopping 23 likes and is frequented by local hayseeds like Todd Roberts and the very creepy and socially inept Rob Bowman – another inscrutable quack who, in October 2014, staked out one of my campaign events, sat at an adjacent restaurant table and creepily stared at my mother and Kim for over an hour, saying nothing and only glaring. Then he left in his beat-up pickup. Yeah, it was beyond creepy.
Last Wednesday Spong weighed in on Karen Harshman's epic screw-up, using his favorite social media venue – Facebook – writing,

Where to start?
My name is so easy to spell. Replace the letter o with an e and we're in business. Following in Harshman's footsteps, Spong calls out Jackie Fischer because, 47 years ago when Fischer was a 22-year-old Washington County Public School teacher, she married, with the blessing of both families, her 17-year-old sweetheart.
Let's put this situation into the proper perspective:
Jackie Fischer, in the 60's, as a 22-year-old school teacher, married her 17-year-old sweetheart after seeking and receiving the blessing from her husband's parents and her own parents.
Jackie Ficher never taught her future husband and had no relationship under the guise of teacher-student.
Fischer broke no laws, and no WCPS policy existed at that time that would have addressed or prevented Fischer's marriage to a WCPS student.
Fischer has been happily married to the same man after 47 years; they have a child together.
Jackie Fischer is universally beloved by her former students, colleagues and administrators. She is hailed as one of the finest English and journalism teachers ever to teach in Washington County.
Jackie Ficher's policy work on the Board is widely respected.
Just for kicks, I'll add some further perspective into the mix: I should mention that after my grandfather returned to Hagerstown in the late 40's after serving three years overseas in the United States Army during World War II, he found the sweetest little gal from the West End, my grandmother, Maureen Martin. Pap married Memaw, who at the time was 19, in 1951; after 65 happy years of matrimony, Pap and Memaw still live in the same house on Glenside Ave they bought in 1955. Pap is 91 and my grandmother is 84.
For Harshman and disgraced Woody Spong to claim that Fischer poses a threat to school students is, well, just beyond ironic and disgusting.
Perhaps Spong and Harshman missed the October 21, 2014 joint letter to the Herald-Mail editor, written by Paul Bailey, Ed Forrest, former state delegate and current Washington County Commissioner LeRoy Myers, Board member Wayne Ridenour, then Delegate and now state Senator Andrew Serafini, and then state Senator Christopher Shank, that read:
One candidate and current school board member has quietly, diligently and passionately worked to serve the students and citizens of this county. Jackie Fischer stands out as hard-working, fiscally responsible and effective. She has our full support for re-election.

Jackie has chaired the school board's policy committee for the last four years. As chair, she has fought for local control and led a comprehensive review of the school system's policies. She has eliminated dozens of unnecessary policies. For students, staff and stakeholders, her work has meant smaller government, reduced regulation, less bureaucracy, greater efficiency and a more transparent school system.
It must tough for Woody Spong these days. None of the above community leaders – rightly so – defended him during his epic fall from grace. Ironically, most of the elected officials who wrote Fischer's glowing endorsement are Republicans – the same political party of which Mr. Spong himself identifies.
We all have our skeletons. I sure do. People call out my indiscretions – mostly when they can't make a logical argument. With that said, Mr. Spong should consider his own skeletons as a former administrator in Washington County Public Schools when hypocritically attacking Jackie Fischer. The dozens or more off-the-record conversations I've had with former teachers who worked with Spong and told horror stories are just aching to be told. Does Spong really want to go there? We don't need to go there.
Even worse, Jerry DeWolf, who was Woody Spong's chief social media defender during Spong's fall from grace, is working behind the scenes on behalf of Karen Harshman (a liberal Democrat), Melissa Williams, Linda Murray, Stan Stouffer and ethically-challenged Mike Guessford, in a stunningly blatant, albeit tactically unsound, move to defeat Donna Brightman from the Board of Education.
I'll have more on DeWolf in a later post.
Doesn't it seem indecently inevitable that Woody Spong and Karen Harshman would defend one another? Certain people with similar characteristic traits always find a way to magnetically connect.
Ryan Miner is the Editor in Chief, Founder, Senior Political Reporter and Publisher of A Miner Detail. He is the host of A Miner Detail Podcast.