By Ryan Miner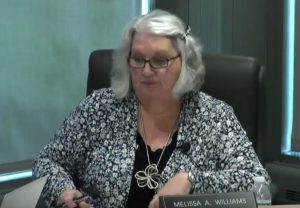 Dear Mrs. Williams,
It should come as no surprise that two of your Washington County Board of Education colleagues voted Tuesday against your nomination to serve on the Maryland Association of Boards of Education's board of directors, effectively shutting down the possibility that you infect an upstanding statewide education entity with the same invective that is indicative of your obstructionist behavior on the board of which you currently serve.
I am profoundly grateful to Mrs. Fischer and Dr. Hartings who, without hesitation, voted against your nomination to be sent to MABE's nomination's committee. Dr. Hartings and Mrs. Fischer ensured that my children, two Montgomery County Public School students, will not suffer any fallout from having such an unqualified and manifestly incorrigible, refractory and obstinate member on a statewide education entity's board of directors, whose decisions have pervasive consequences for all of Maryland's public school students.
Please understand that your nomination failed to advance to MABE because of your inability to work collaboratively with your colleagues. For example, during Tuesday's Board of Education meeting, you intentionally failed to prepare for a meeting (as you usually do) in a brazen attempt to embarrass the superintendent and catch staff off guard. Whatever your intentions were, your pettiness clouded your ability to function as a board member. You owe staff and the superintendent an apology for your behavior.
I've watched several board meetings where you show no compunction for the way you disrespect both staff and the superintendent. You are often unkind and nasty. You are inexorably cruel to the superintendent. You make unreasonable and outrageous demands of staff but expect their full support. You often demand tutelage over operational responsibilities where your position as a board member is limited. You demean school system employees in a way that is inexcusable. And you undermine your board colleagues with whom you disagree.
Your nomination failed to advance to MABE because you are seemingly more interested in settling political vendettas by using the power of your position as a school board member versus that of working on behalf of the nearly 24,000 public school students. From my perspective, you are virtually incapable of building relationships and consensus – two key responsibilities of MABE members.
Word has traveled far and wide around the state that you bad mouth Dr. Clayton Wilcox without restraint or respect to his position. Moreover, the MABE members that I know find you to be disreputable and, quite frankly, uncouth.
Your close association with both Karen Harshman and Michael Guessford, number two and three of your board of education slate, raise serious questions about your own judgment. You, Mrs. Harshman and Mr. Guessford have turned obstructionism into an art form. I have never seen three members of any body work so diligently to undermine almost every board action – and for what? Your cabal often meets together – in secret and behind closed doors. Your slate is the object of ridicule and derision around the state. And worst of all, you've allowed politics to define your course of action as a board member.
As Mrs. Fischer stated in the Herald-Mail article regarding your nomination failure, you are certainly not ready to serve on a board such as the Maryland Association of Boards of Education – a venerable education body held in high esteem and regard by educational professionals around the state. In fact, your dismal performance as a Washington County Board of Education member should eliminate you in the November general election.
Incumbent board members typically tout their accomplishments when running for re-election. Unfortunately, and sadly, you have little to none to enumerate.
My hope is that you take the time to reflect on why your nomination failed to advance. Perhaps you should speak directly to your colleagues and ask how you can improve as a board member. It never hurts to ask for feedback.
Until then, I have little faith in your ability to serve the students of Washington Couty Public Schools. In short, you have lost my confidence and the confidence of your colleagues to serve as a serious representative of students and teachers.
Washington County Public Schools deserve better.
Ryan Miner is the Editor in Chief, Founder, Senior Political Reporter and Publisher of A Miner Detail. He is the host of A Miner Detail Podcast.