By Ryan Miner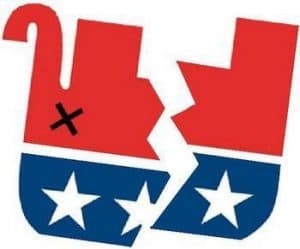 Washington County Republicans are riding high these days – and for good reason. The county's entire state delegation to Annapolis are all Republican; all five of the elected county commissioners are Republicans; although a nonpartisan office, Hagerstown's mayor is a Republican; a majority of the county's elected town/municipal officials are registered Republicans; and both the president and vice president of the county's school board are, you guessed it, Republicans.
Washington County is fertile ground for anyone who endeavors to be elected as a self-pronounced Trump supportin' right-wing gun-toting populist conservative with a seething hatred for Democrats, Hillary Clinton and a free press.
Some moderate Republicans do exist in Washington County to the chagrin of the right-wingers, but most of the moderates (somehow that word has been turned into a pejorative) are much too busy to be bothered with real-life issues that affect their community. Imagine that. They, instead, are busy serving Washington County's community under the radar. These folks populate our Rotary groups. They serve on various community boards that actually help multiple community organizations, and you'll find these same people raising money for various charitable organizations that directly benefit Washington County. These good folks, the moderate Republicans, do all of this quietly and without the right-wing invective that you'll find in some of Trump's most fervent Washington County supporters.
I'm never hard-pressed to find hardcore, right-wing Republicans like Neil Parrott and his merry band of Tea Party followers to shout at the rain about some fiscal impropriety caused at the behest of government officials or the county's school board, or, what these nice folks particularly love to complain about, Democrats. Ah, those pesky, irascible evil liberal Dems! Bummer! Or, O'Bummer!
In Karen Harshman, Washington County Republicans could have plenty to shout about: she's a government official, a school board member, oh, and, wait for it – she's a registered Democrat and a self-described Hillary Clinton supportin' liberal. "Glass of water for Mr. Grainger!
Allow me to add the little cherry to the top of the Republican's banana split: Karen Harshman has, so far, and the number is expected to rise precipitously, wasted thousands of Washington County taxpayer dollars in defending her indefensible Facebook tirade. You remember; it was the thread where she accused teachers (in the present) of sexually preying on students inside Washington County Public Schools' classrooms. She did it with a straight face and without a single fact to support her egregious claim.
Harshman's allegations were so unfounded and so disgusting that one actual brave Republican, former school board member, Dr. Justin Hartings, introduced a resolution last November that would support removing Harshman from the Washington County Board of Education. All seven of Washington County's school board members voted for Harshman's removal, including Harshman herself.
After the motion passed in a public vote, Harshman's removal process was initiated, and the Maryland State Board of Education then reviewed the case. Harshman opted for an administrative judge to review the facts and determine if said facts warrant her removal from Washington County's school board.
That was easy.
As the Herald-Mail reported,
In a 40-page decision dated Thursday, Administrative Law Judge Michael J. Wallace granted a motion for summary decision against Harshman, adopting the school board's statement of charges and agreeing that her actions constitute grounds for possible removal by the Maryland State Board of Education.

Wallace's ruling found "no material facts in dispute" as to whether the school board acted lawfully in its request to remove Harshman on charges of misconduct in office and willful neglect of duty.
Of course, Harshman and her crank attorney, Ira Cooke, filed an exception to the judge's ruling, thus wasting more of the taxpayers' hard-earned dollars. And the case drags and Karen Harshman is still on the school board, voting on important education decisions that affect thousands of people inside the school system. The proverbial writing is on the wall: Harshman's time is limited as a board member; she'll inevitably be tossed out of her school board seat by Maryland's state board of education for misconduct in office and willful neglect of duty. Harshman delaying the inevitable is selfish at best. I can't even come up with a word that describes the worst of Harshman's actions.
Harshman's epic waste of taxpayer dollars should be a rallying cry for Washington County's most ardent fiscal watchdogs. You would think that a group who uses the acronym TEA, as in taxed enough already, would be jumping at the bit at taking on Harshman's taxpayer follies.
Hello darkness, my old friend
I've come to talk with you again
Because a vision softly creeping
Left its seeds while I was sleeping
And the vision that was planted in my brain
Still remains
Within the sound of silence
For months, the Washington County Republican Central Committee, now led by an arguably alt-righter named Jerry DeWolf, has been sending one of its most loyal lackeys to the school board meetings to presumably keep an eye on those Democrats on the school board – well, excluding, of course, Karen Harshman. Yet, not once has a Republican Central Committee member spoke up during a school board's public comments portion of a meeting. You've never seen one letter to the editor from a Republican Central Committee member on Harshman's gross abuses of taxpayer dollars. And you haven't seen one planned rally asking Harshman to resign to save taxpayer dollars.
Cowards – all of them. Where is Jerry DeWolf when you really need him to defend the taxpayer? Why haven't we heard a peep out of Neil Parrott or Bill Wivell, two self-described taxpayer champions? Where are the real taxpayer heroes when you need them? Neil Parrott wouldn't know the first thing about public education, but it does behoove him to take a stand against Harshman, at least politically. But he's silent.
Where are Donny Ravis' public comments, critical of Harshman's epic waste of taxpayer dollars? Ravis, if you didn't already know, is the president of the Hagerstown Tea Party. Have we heard from ANY member of the Tea Party's executive board?
And what about Ginger Bigelow, the president of Washington County's Republican Club; where has she been on Karen Harshman? Bigelow is infamous for showing up on Facebook and incessantly droning on and on about fiscal improprieties; but when it comes to Harshman, where, exactly, has she been? She hasn't been to speak at one single school board meeting about Harshman wasting taxpayer dollars. She hasn't written one single letter to the editor. And she hasn't generated one single petition calling for Harshman's resignation.
And where has Terry Baker been on Harshman? You would think that the leader of the Washington County commissioners and a former teacher himself, Baker would be standing in downtown Hagerstown calling on Harshman to resign for the sake of the taxpayers, or, perhaps, for the sake of the kids. Not a peep from Baker.
For a bunch of so-called fiscal conservatives (I guess we can call them "Republicans") who endlessly spend their days kvetching over the price tag of a technology plan and a promising downtown academic hub – you know, two local education initiatives that would dramatically and empirically improve the quality of education in Washington County – their silence on Harshman's taxpayer waste seems a bit, oh, I don't know, hypocritical?
I've grown to vehemently despise the na-na na-na boo-boo politics that define our current political culture. I'm exhausted calling out Republicans who proclaim loudly to support fiscally conservative principles but don't know the first damn thing about economics. And I'm tired of cowardly Republicans whose idea of political activism is keyboard warrioring on Facebook and subsequently bragging to family members that they won a Facebook "debate."
And most of all, I'm tired of partisan cowards.
Ryan Miner is the Editor in Chief, Founder, Senior Political Reporter and Publisher of A Miner Detail. He is the host of A Miner Detail Podcast.