By Ryan Miner 
Washington County Public Schools issued a statement today on its website in response to a Smithsburg High School teacher's anti-Trump Facebook comments that have now gone viral.
Joshua Cramer, who is a member of the Frederick County Democratic Central Committee and a vocal opponent of President Donald J. Trump, took to Facebook yesterday to call the president "a symbol of racism and bigotry. Going further, he said he asks students "wearing Trump or MAGA (Make America Great Again) apparel to leave," ostensibly referring to his high school classroom.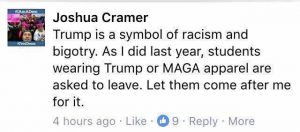 Washington County Public Schools had this to say about Cramer's Facebook comments:
WCPS Statement on Social Media Use Among Staff Members
Posted 

August 24, 2017
Hagerstown, MD (August 24, 2017) – Recently it was brought to the school system's attention that a staff member made social media comments regarding the removal of students from a classroom because of their political beliefs.

First and foremost, the school system is not aware of any student(s) having been removed from a WCPS classroom or any school property for expressing political beliefs. Further, this type of action is not in accordance with Washington County Board of Education (BOE) Policy or Administrative Regulation, and is not and will not be condoned in any way.

Regarding the use of social media for WCPS employees, the BOE has very specific language governing the application of these online tools, and appropriate action will be taken in cases when misuse is reported. A full description of the BOE Policy, GBEE, can be viewed online at  http://www.boarddocs.com/mabe/wcps/Board.nsf/files/9KCHMV48FDBE/$file/GBEE%20(final)%2020May14.pdf and a full description of the BOE Administrative Regulation, GBEE-R, can be viewed online at http://www.boarddocs.com/mabe/wcps/Board.nsf/files/9MQS8J6E8B92/$file/GBEE-R%20signed%2030Jul14.pdf.
Cramer's viral Facebook comments have sparked intense debate in the Washington County community, including calls for him to be disciplined – and even fired. While several community members are outraged, some former students and fellow public school teachers have defended Cramer.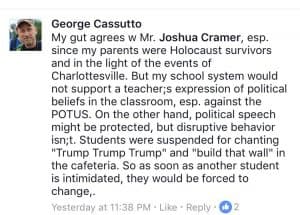 Smithsburg High School principal Michael Chillcut responded to Cramer's comments, writing the following to a concerned citizen:
Thank you for contacting me and I appreciate your concerns.  I have been in contact with central office on this issue and I have addressed it with Mr. Cramer. It is against our policy and my personal values to restrict any students access from the classroom for exercising his or her first amendment right.

M
Michael Chilcutt, Principal

Smithsburg High School
Joshua Cramer has not responded to A Miner Detail's request for comment. If Cramer does respond, A Miner Detail will run Cramer's unabridged response.
Ryan Miner is the Editor & Founder of A Miner Detail.