By Ryan Miner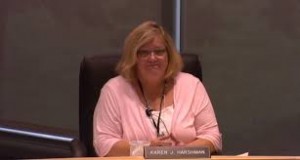 You remember Karen Harshman? She's the Washington County Board of Education member who cannot list a single accomplishment to her name since taking office in 2010. In the unforgettable haze that was 2014 Board of Education race, Harshman was one of five opponents I faced off with in a general election campaign.
I ferociously opposed Harshman and her loyal beehive of anti-intellectuals – Stan Stouffer, and Mike Guessford – on policy issues. I don't apologize for taking Harshman to task in the manner in which I did it. Most, if not all, of my warnings about Harshman materialized into an ominous reality. I did my part to warn the community that by re-electing Harshman, the students would be getting a raw deal.
I lost the election. Karen claims that I'm bitter over my defeat – I'm not, at all. But since the election, I created my own forum – this blog – to discuss policy issues. Karen is a frequent flyer on A Miner Detail. We read the analytics. We know who reads our website.
After the 2014 election ended, Karen Harshman has done virtually everything – including falsely filing a peace order with the Washington County District Court full anecdotal lies – within her very limited grasp to thwart me from speaking out against her behavior as a Board member.
Incidentally, Harshman broke her record last month for reaching her lowest point when she took to Facebook to contact one of her former students, claiming she was in the process of "suing Ryan Miner for libel and slander." As ridiculous as it sounds (and it is ridiculous), Harshman was – and maybe still is – inexorably serious. Of course, for Harshman to prove defamation, she would need to meet the legal burden of showing that I committed "actual malice" against her. I suspect any attorney worth their snuff would have explained to Harshman that she would be wasting her time and money pursuing such a frivolous case against me.
The backstory of Karen Harshman's zany behavior is entirely too tedious to include in one article; however, since the 2014 election, Harshman's erratic behavior, often seen publicly during board meetings, has created an unworkable and hostile environment for her fellow colleagues on the Washington County Board of Education.
Harshman is verbally abusive to Superintendent Clayton Wilcox and members of his staff. Her hatred of Donna Brightman and Wayne Ridenour is becoming more than a problem; she's created a hostile work environment that has become an impediment to doing her job as an elected official. Her frequent emotional outbursts and vicious attacks on her colleagues and Dr. Wilcox cannot go without notice.
Here's a recent email exchange between Harshman and Dr. Wilcox after the Board's June 7th business meeting. You'll see in the exchange that Harshman accused Dr. Wilcox of bringing in a "puppet" [me] to run for the Board of Education in 2014. There are many other exchanges like the one below, but this a keen example of Harshman's opprobrious demeanor.
Karen Harshman email to Dr. Wilcox
If you want the real story on Karen Harshman, I implore you to ask around town. Ask the WCBOE administrative staff about Harshman's intemperate decorum. Ask Harshman's former principals about her classroom behaviors. And if you really endeavor to be shocked, just ask Harshman's former students what they think of her and her shoddy teaching methods.
Ask the reputable members of the Washington County Board of Education – Justin Hartings, Donna Brightman, Wayne Ridenour and Jackie Fischer – what it's like to work with Harshman on a bi-weekly basis. Ask former Board of Education member Paul Bailey his thoughts on Harshman. And ask former Washington County superintendent Dr. Betty Morgan what she thinks about Harshman.
Washington County is fed up with Harshman's behavior. So am I. I wrote the following email to the Board last week, urging them to put a stop to Harshman's incorrigible shenanigans and get back to work, doing what it is the people elected them to do – serve the needs of the students.
On Wednesday, June 8, I submitted a Maryland Public Information Request with Richard Wright. Mr. Wright today returned my request filled. I requested emails from Board member email accounts sent to Dr. Wilcox from June 7 to June 8 (11:509 p.m). (I always appreciate how quickly Mr. Wright returns my MPIA requests.)

I reviewed the email conversations between Karen Harshman and Dr. Wilcox in which Mr. Harshman accused Dr. Wilcox and the Board majority of bringing in a "puppet" to "run for the board" to attack her, Mike Guessford and Melissa Williams. 

I am happy to correct Mrs. Harshman's misconceptions: I decided to run for the Washington County Board of Education in January 2014 without any goading, coaching or outside encouragement. I decided to run because I value public education and firmly believe that without a progressive vision and longterm plan for success, Washington County Public Schools would be at a disadvantage in comparison to other communities in the four-state region. I ran because I believed – and still do – I had something positive (and different) to offer. I ran because I was anxious to work on behalf of all students to close the achievement gap whiling being a watchdog for the taxpayers. I ran because I endeavored to give back to a community that has given so much to me, including a world-class education in Washington County Public Schools from 1989 to 2003. I ran because I hoped to work together with a team of professionals to advance the school system in a direction that Washington County citizens could be proud of. I ran because I believe in public service. My motivations for running, often questioned by Mrs. Harshman and her cabal of detractors, were pure and authentic. Education is and has always been my passion. I can think of no better way to exercise my love for our education system than to be part of a body that inspires curiosity, creativity and achievement among the future leaders of our country. 

I don't often understand Mrs. Harshman's logic. There is no grand conspiracy to "attack" certain Board members. I have serious policy differences with Mrs. Harshman. I have expressed my opinions publicly via my own website. I am happy with some of Mrs. Harshman's votes and with others, not so much. As an outside observer, I have a right to question Mrs. Harshman's votes, and I have a right to critique her behavior as a Washington County Board of Education member. It isn't personal – but apparently Mrs. Harshman is too thin-skinned to take any reasonable criticism or suggestions. Mrs. Harshman should understand by now that I am my own person. Nobody is my master and I am a puppet to no one. I think it's pretty obvious that I'm fiercely independent and can think for myself. 

Unfortunately, I lost the election in 2014 – but the fight to advance education continues. 

When Mrs. Harshman claims in her email to Dr. Wilcox that I have no "vested interest in 'our county [Washington County]," I have to remember the source of the comment, and ignore the accusation. Of course I have a "vested interest in the county." I may no longer live in Washington County, but how many Washington County teachers live outside of Washington County? How many WCPS staff members live outside of Washington County? My family, friends and everything I know is …. Washington County. Mrs. Harshman is seriously misinformed. 

After viewing Mrs. Harshman's unconscionable emails to Superintendent Wilcox, words elude me. Her ongoing behavior has become a frequent distraction from doing her job. In the last year, Mrs. Harshman has repeated factually incorrect statements during Board business meetings. Mrs. Harshman is prone to turbulent outbursts during Board meetings, often attacking members of the audience and even her own colleagues. Her emotional state has led her to make outlandish accusations against other Board members, including the accusations made within the latest email chain. Mrs. Harshman went so far as to walk out of a Board meeting where hundreds of parents and students came to express their concerns about BISFA.  And her immaturity was on full display it was reported by the Herald-Mail that she had hung up on Hagerstown Mayor David Gysberts during a private phone conversation regarding issues relating to downtown safety. This is not the behavior we should expect or tolerate from our elected officials. 

I can only imagine the hostility certain Board members and Superintendent Wilcox must feel in the presence of Karen Harshman. Her behavior is atrocious. She creates a hostile work environment – an impediment to the education process in Washington County. 

Therefore, I ask that the Washington County Board of Education vote to publicly censure Karen Harshman for creating a hostile work environment, impeding the work of the Board and creating an unworkable environment. I am in contact with Maryland's state board of education and will be in contact with the state superintendent regarding Mrs. Harshman's ongoing hostility. The Board should not have to endure Mrs. Harshman's petulance and abject unprofessionalism. Mrs. Harshman's outrageous behavior cannot be accepted or normalized; her behavior cannot become mainstream. Her continued actions do not reflect a functional Board, and she must be held publicly accountable. 

I respectfully ask that the Board heed my concerns and take the necessary action(s) to return to a normalized work environment. 

Washington County Public Schools deserve better. 

Best regards, 

Ryan R. Miner 
For the sake of the kids who attend Washington County Public Schools, something has got to give.
Karen Harshman needs to be held accountable for her deplorable actions and behaviors. It's time to finally put a stop to Karen Harshman's bullying.
Censure her. If that doesn't work, take it a step further and have her removed from the Board.
Ryan Miner is the Editor in Chief, Founder, Senior Political Reporter and Publisher of A Miner Detail. He is the host of A Miner Detail Podcast.