By Ryan Miner
If I had known in advance that last night's joint public negotiations between Washington County Public Schools and the Washington County Teachers' Association (the union) would be a colossal waste of my time, I would have gladly sat at home on my back porch and enjoyed the unseasonably warm weather while sipping an 18 year Glenlivet single malt, indulging on a fresh Montecristo and listening to some Dean Martin.
Regrettably, I witnessed instead a Neville Chamberlain incarnate (Neil Becker) prove just how weak and monumentally ineffective he was. Becker's performance compared to Washington County Public School's intrepid and relentless negotiation team, well… there is no comparison. I'll have a full story on Becker's truly weak performance in an upcoming article, but for now, I want to discuss another incredulity I bore witness to.
I sat on the window sill (the right side of the auditorium) westwardly facing the negotiation team who were stationed in the middle of the room. Obviously not planned, but I had the distinct pleasure of sitting adjacent to Karen Harshman, Mike Guessford and Melissa and Dave Williams. In between Karen Harshman taking pictures of me for her dart board and Melissa William's dirty looks and audible snarling (I think the smell of sulfur was present) I witnessed something  unfold that I probably shouldn't have witnessed.
Henrietta Hoffman, (seen below) a teachers union mid-level cog and Paraprofessional at Springfield Middle School, shifted rightwards in her chair and leaned her head back to speak to Washington County Board of Education member Melissa Williams.
Williams was sitting directly behind Hoffman.
See below:
What started as a barely audible and private conversation between Hoffman and Williams turned into something much, much more.
I distinctly overheard Henrietta Hoffman ask Melissa Williams what questions she should ask Williams during her upcoming interview with the Washington County Teachers Association. A Washington County Board of Education member with close ties to the teachers' union colluding with union members in advance of their WCTA interview? No, it can't be.
Hoffman is very close friends with Karen Harshman, Mike Guessford and Melissa Williams (union puppets). The photo below shows Hoffman (seen toasting) zealously ringing in the new year with her BFF's. And behind Guessford's hat and slippery smile, you'll see Melissa Williams ducking the camera. Take notice also of Stan Stouffer, another union hack running again for the Board of Education.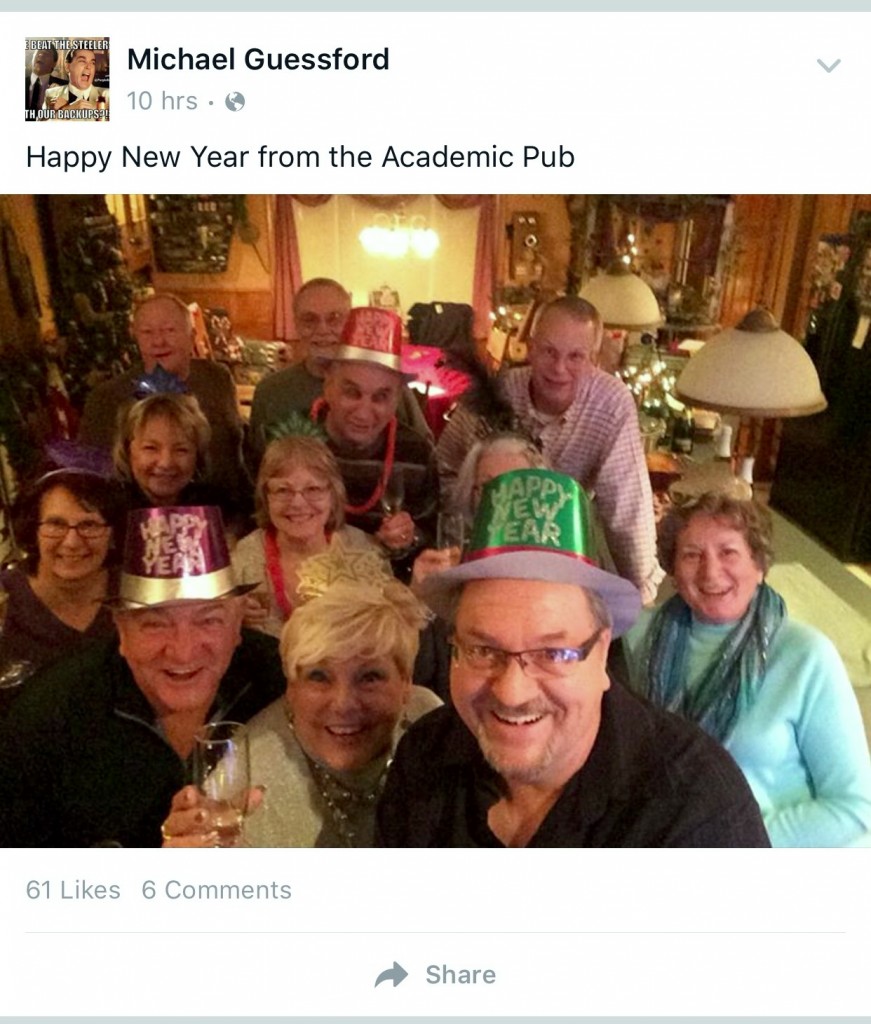 During each election cycle, WCTA historically invites all Board of Education candidates to fill out a WCTA candidate questionnaire. It's not mandatory for candidates to complete the interview packet; however, most candidates do so. BOE candidates submit their packets and are subsequently invited to meet with the top brass of WCTA for an interview. After candidates finish their interviews, the union decides who it will endorse. After the determination is made, the union supports their endorsees during the election cycle.
Except some Board of Education candidates are given special treatment by certain members of the union. Of course union members would collude with Melissa Williams: she's their personal puppet.
I don't remember any union member asking me in advance what questions I think they should ask me during my interview.
It's no secret that Melissa Williams is a union favorite. She's likely to earn the union endorsement again this time around. It's just interesting that Ms. Hoffman would ask Williams – in public nonetheless – what questions she should ask of her during the interview process. I mean, I'm literally within earshot with easy listening access.
If Hoffman was planning to collude in advance with Williams, maybe find a broom closet or a conference room to speak privately? I don't know. Williams laughed and smiled during her sidebar conversation with Ms. Hoffman. I'm sure they already have their questions drafted and ready to go. Do you think Donna Brightman, Al Martin or Pieter Bickford will be given the same advanced courtesy by Ms. Hoffman? You already know the answer to my rhetorical question.
This is the exact cronyism we have grown hate, especially in this election cycle.
Melissa Williams is just another puppet of the teachers' union.
Sad, isn't it?
Ryan Miner is the Editor in Chief, Founder, Senior Political Reporter and Publisher of A Miner Detail. He is the host of A Miner Detail Podcast.