By Ryan Miner 
Mounting pressure is growing daily for Karen Harshman to resign from the Washington County Board of Education. On Monday, Harshman shocked the community when she alleged in a Facebook post that she is aware of sexual predators teaching in Washington County Public Schools while further accusing her Board colleague, Jackie Fischer, as posing a threat to students.
Of course, after school system authorities and police investigated Harshman's allegations, spending hundreds of cumulative hours tracking down teachers and wasting precious taxpayer resources, they found Harshman's claims were categorically bunk.
Rightfully so, parents, teachers, school system officials and community members are calling on Harshman to immediately resign. Instead, Harshman is, incredulously, doubling down, but not in the way you would think.
Thinking, perhaps, Harshman may issue a public apology for her false allegations, she went back to Facebook to endorse and encourage the public to vote for her chosen three Board of Education candidates in the upcoming election – the same three candidates who march in cadence with her agenda and limited vision of the school system:

Child focused? Does that include failing to report teacher-student sexual abuse? Is child focused a euphemism for making false allegations against teachers without a single shred of fact, embarrassing yourself and the school system and causing parents shock and outrage?
In 2014, Karen Harshman, ethically-challenged Mike Guessford and second-time candidate Stan Stouffer formed a Board of Education candidate slate.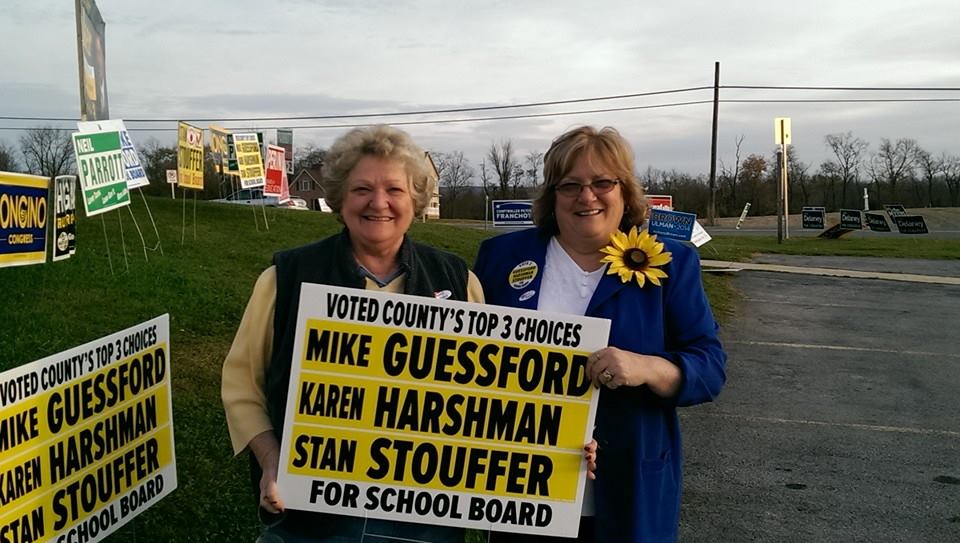 Since Harshman is not up for reelection this cycle, Stan Stouffer, Melissa Williams and Linda Murray are meeting regularly and appearing with Harshman for tactical campaign advice and strategy sessions.
Melissa Williams is Harshman's closest ally on the Board of Education, and she will almost assuredly lead Harshman's public relations campaign to keep Harshman on the Board of Education when, in the near future, Harshman will likely be brought up on misconduct charges and expelled from the local Board of Education for her latest faux pas.
You won't find statements from Stan Stouffer, Melissa Williams and Linda Murray denouncing Harshman. Instead, you'll continue to see them each hold campaign events with Harshman and hope her "star power" elects them to the Board of Education.
I need to give credit where it is due: Neil Becker, the president of the Washington County Teachers' Association, was quoted yesterday in a Herald-Mail Media article, written by reporter CJ Lovelace, saying,
"The bottom line is, student safety and security is paramount in what we do every day. "Allegations of misconduct and cover-ups, they're unfounded. There's nobody looking away. "
In the same article, Lovelace reported that Becker sent an email to Board of Education President Donna Brightman on Tuesday night, writing,
"he's never experienced a situation in which teachers, administrators or board members covered up allegations of misconduct. School system personnel are fully aware of the reporting requirements. While management and the association may not always see eye-to-eye on every issue related to the school system, we are always on the same page when it comes to ensuring the safety of our students."
Lovelace followed up with Becker on Friday in a phone interview. Becker had this to say:
"The entire episode tarnishes the reputation of the school system, the Board and the employees and is just not good for kids. The association and the school system agree on one thing across the board — the safety and security of kids. "This is definitely not, this kind of action, behavior, is not good for kids. Any person who has any inkling that kids are in danger should report it immediately. A social media post is not in the best interest of children and their security."
Even Neil Becker, who leads the Association that endorsed Harshman in 2014, was intensely critical of Harshman's outlandish misconduct. Becker and I do not always agree on the issues, however; his public denunciation of Harshman shows real leadership.
Just remember: Karen Harshman's three picks for school board this year are Stan Stouffer, Melissa Williams and Linda Murray.
Ryan Miner is the Editor in Chief, Founder, Senior Political Reporter and Publisher of A Miner Detail. He is the host of A Miner Detail Podcast.