By Ryan Miner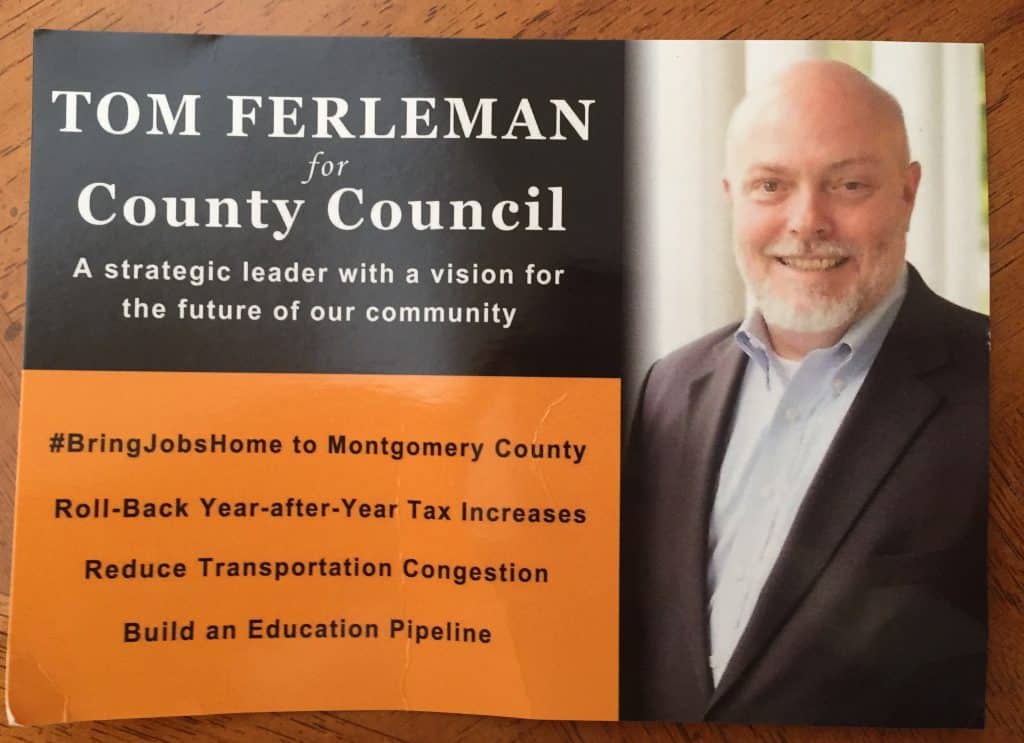 Standing before a large group of friends, family members and Montgomery County citizens, packed snugly together in a hotel suite at the Gaithersburg Hilton, Dr. Thomas Ferleman – a lifelong Montgomery County resident, community activist, Strategic Innovation and Change Consultant, college professor, social entrepreneur, husband, father and military veteran – on Friday evening announced with gusto his 2018 candidacy for Montgomery County Council in District 2.
Ferleman, 50, is a lifelong Montgomery County resident who lives in Germantown with his wife, Becky.
In his announcement video that broadcasted live on Facebook, Ferleman expressed his "concern about our community [Montgomery County]" and described the crawl of traffic as Montgomery County residents leave Maryland for "jobs in Virginia and D.C."
Ferleman continued his opening salvo, posing an existential question to Montgomery County residents: "How does the County Council respond? What do they do when thousands of jobs are lost in Germantown, Montgomery Village, Clarksburg, Damascus, Barnesville, Boyds, and even Gaithersburg?"
Ferleman's answer: The Council responds by raising taxes. "The last thing you want to do when people are struggling is to take more money away from them," exclaimed Ferleman.
Ferleman said he is personally committed to bringing jobs home to Montgomery County; he will fight to "roll back the year-after-year tax increases," and "will work tirelessly to reduce congestion" and fund a "robust education pipeline" that ensures jobs will be available for Montgomery County Public Schools graduates.
Ferleman ended his kickoff speech vowing to bring common sense to the Montgomery County Council and change Montgomery County for the better.
Montgomery County's Republican Party is hosting its annual spring convention (technically it's still winter) this weekend; Ferleman's Friday-night hospitality suite coincided with the Republican's weekend Gaithersburg convention.
I generally find little pleasure in attending political hospitality suites: the food typically is dull and the suite conversation is a revolving cycle of mindless political blather. I've been party to enough of these Friday evening extravaganzas to know that I don't enjoy going; but Ferleman's suite was much different – it was refreshing, uplifting, positive, congenial, and my conversations with several suite attendees focused on Ferleman's #BringJobsHome message. I was finally able to talk policy, and I love talking policy!
Unlike the many other boring Republican hospitality suites I've attended with cold pizza, stale chips and cheap libations, Ferleman's hospitality suite actually served decent food, and the inside conversations were more squarely focused on policy, jobs, taxes, education, transportation, etc. rather than nauseating political drivel.
Of course, the candidate – not the food – should invariably be the sell; in Ferleman's case, his message, resume, and political execution is easily marketable to Montgomery County District 2 residents.
I would be remiss if I failed to mention that Ferleman's hospitality suite was jam-packed with people I have never seen before at Republican events. That's a good sign – in that it shows Ferleman will have plenty of auxiliary campaign help outside of Montgomery County's Republican apparatus.
And let's face it: Ferleman has the daunting task to recruit plenty of Democrats to his campaign. With his message, I assure you he can – and will.
I do not, however, see Ferleman running as a Republican in the standard Republican sense. He is a lifelong Montgomery County resident who has a far-reaching nexus of support and community involvement that transcends politics in every way. I suspect Ferleman will turn his campaign into a serious movement to change Montgomery County versus running a traditional Republican campaign. Traditional Republicans cannot win in Montgomery County in this era; Tom Ferleman shouldn't run as one, either.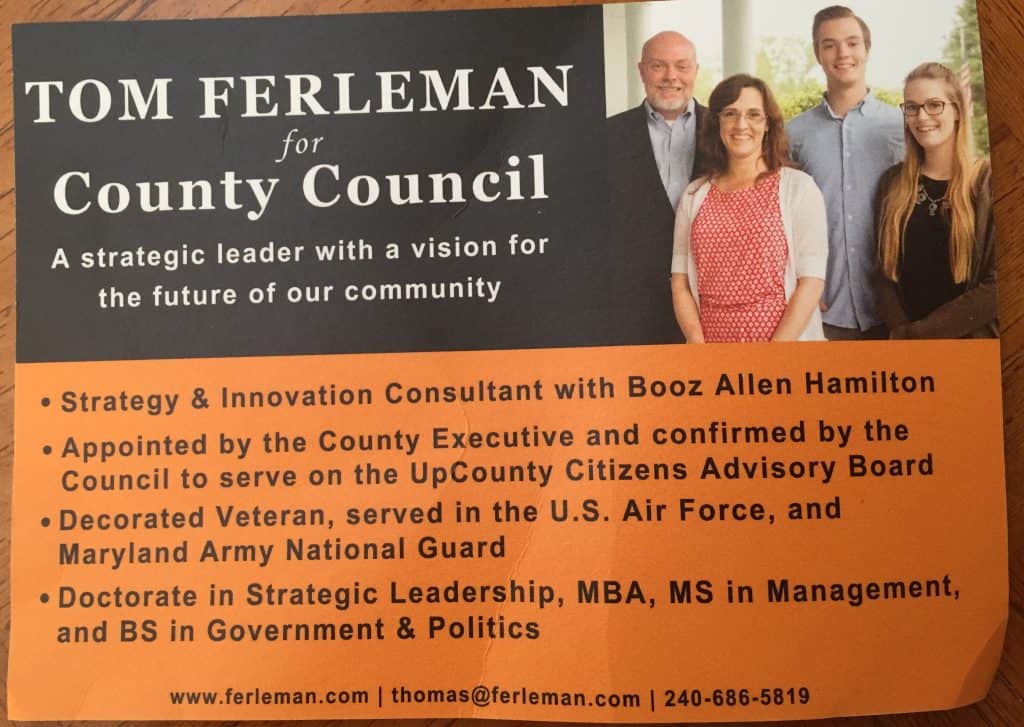 Also spotted in Ferleman's hospitality suite: Amie Hoeber, the 2016 Republican nominee for Maryland's 6th Congressional District, and her husband, Mark Epstein; Ed Amatetti, a former Montgomery County Board of Education candidate and unannounced candidate for District 2; and the indubitably talented Len Lazarick, the editor and publisher of MarylandReporter.com.
Two final bits of news: According to Dave Drake, the MDGOP District 15 chairman, at least six Republican candidates in total are expected to run for the District 2 Council seat. According to several of the attendees, Republican Robin Ficker, a perennial political candidate from Boyds, has recently announced he is running for Montgomery County Executive.
Craig Rice, a Democrat, is currently representing Montgomery County's District 2 on the Montgomery County Council.
Ryan Miner is the Editor in Chief, Founder, Senior Political Reporter and Publisher of A Miner Detail. He is the host of A Miner Detail Podcast.