Multiple media outlets reported last week that state Del. Richard "Rick" K. Impallaria's (R-Harford County) top aide was fired by Democratic House Speaker Michael E. Busch after State Prosecutor Emmet C Davitt indicted him on two state campaign violations.
Tyler Carleton Walch, 27, of Edgewood, Md. could be facing a year in jail and fines up to $1,000 for allegedly orchestrating a robocall targeting House Minority Whip Kathy Szelgia.
The day before Maryland's June primary, Walch, Impallaria's former "chief of staff" (Walch was Impallaria's only staffer), is said to have masterminded a deceptive robocall that claimed Szeliga "was a true friend of the transgender community" and supported legislation from 2016 "making it illegal to discriminate against transgendered persons."
All campaign-related robocalls in Maryland require a "paid for by" authority line, which is mandatory according to state election laws.
The problem: The call Walch is purported to record did not include the necessary authority line, rendering the call illegal.
The primary-eve robocall was voiced by Salisbury University graduate Alison Porter, a former Impallaria intern.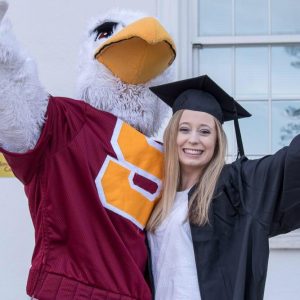 Sources close to the House Republican Caucus who spoke to A Miner Detail on background said Walch took Porter to The Cheesecake Factory and footed the bill for the alcoholic beverages which "ultimately got her drunk." 
Porter did not respond to a request for comment.
With Impallaria's consent, sources say, Walch released the robocall on June 25.
Going by "Ali," Porter claimed she was a donor to the National Center for Transgender Equality, urging listeners to vote for Kathy Szeliga in the Republican primary election.
Porter described Szeliga as a "true friend of the transgender community" for voting for House Bill 1003, legislation from 2016 "making it illegal to discriminate against transgendered persons in the workplace."
The call misleads voters into believing that Szeliga co-authored the legislation related to transgender bathroom usage, when, in fact, she did not.
Here's the call in full.
Porter was working as a part-time finance assistant for Republican Craig Wolf's attorney general campaign when Walch approached her to voice the robocall.
Once the call was released and Wolf's campaign confirmed that it was Porter's voice on the call, Wolf's campaign manager immediately terminated Porter, sources close to Wolf's campaign told A Miner Detail.
Impallaria is defending his fired aide, calling Walch an "outstanding chief of staff" and dismissing the absence of an authority line as a "minor offense."
Republican state lawmakers and staffers who spoke to A Miner Detail on background said Walsh has a poor reputation in Annapolis and was not well-regarded.
"Tyler is extremely confrontational and unprofessional," a Republican lawmaker told A Miner Detail who represents Harford County.
"He's a bully,  indicative of the kind of people Impallaria hires."
Last April, A Miner Detail reached out to Walch via Facebook Messanger concerning his interaction with another District 7 Republican candidate.
Walch responded, calling A Miner Detail editor in chief Ryan Miner an "asshole."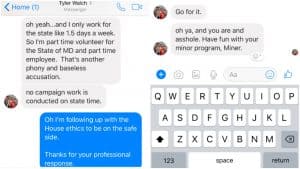 Walch was stopped by Maryland State Police on May 10, 2015, in Bel Air, Md. and was cited for driving a vehicle under the influence of alcohol. Walch pleaded not guilty and was sentenced to supervised probation in July 2015, according to court records.
Impallaria emailed the Republican House Caucus last July noting that several of his colleagues informed him that Szeliga "intends to file criminal charges against" again him for "campaign violations."
"I'm really not sure what these charges are, but does it really matter?" Impallaria wrote.
Impallaria's July 22, 2018 email is screenshotted below.

Both Walch and Impallaria did not respond to a request for comment.
District 7 is represented by an all-Republican delegation, including Sen. J.B. Jennings and Delegates Kathy Szeliga, freshman Lauren Arikan and Rick Impallaria. Szeliga won the most number of votes in the November general amid the three-way delegation.
Walch is scheduled to be in Baltimore County District Court on March 12.
Ryan Miner is the Editor in Chief, Founder, Senior Political Reporter and Publisher of A Miner Detail. He is the host of A Miner Detail Podcast.