By Ryan Miner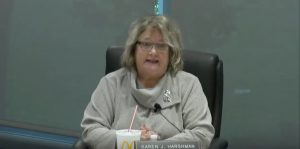 Multiple sources in Washington County are reporting that embattled Washington County Board of Education member Karen Harshman has retained Ira Cooke as legal counsel to represent her as the Maryland State Board of Education considers Harshman's removal from the Washington County Board of Education.
Cooke, a former high-powered Annapolis lobbyist, was disbarred from legal practice by Maryland's highest because of a conviction in an embezzlement case in California. However, a few years later, California's state Supreme Court reversed the conviction and prosecutors decided against a retrial.
Read more about Ira Cooke's past legal issues:
Disbarment
Reinstatement 
Once disgraced former Annapolis lobbyist
Harshman is facing expulsion by Maryland's State Board of Education for wilful neglect of duty and misconduct after she falsely promulgated rumors of teacher-student sexual abuse using her personal Facebook page, accusing teachers and her fellow Board of Education colleague of sexually preying on students. After an exhaustive investigation conducted by the school administration and local police, Harshman's allegations proved to be categorically false.
Read Dr. Justin Hartings' full letter/resolution that calls on Harshman to be removed from the Washington County Board of Education:
Justin Hartings letter to remove Karen Harshman from Washington County BOE by Ryan Miner on Scribd
During the November 1 Board of Education business meeting, Harshman voted to remove herself from the Washington County Board of Education, sending the decision to the state Board of Education. During the same meeting, she refused to apologize for her actions and referred to herself as a "statesman."
I'll have more updates as my sources continue to provide more information into Harshman's removal and legal challenge.
Ryan Miner is the Editor in Chief, Founder, Senior Political Reporter and Publisher of A Miner Detail. He is the host of A Miner Detail Podcast.