By Ryan Miner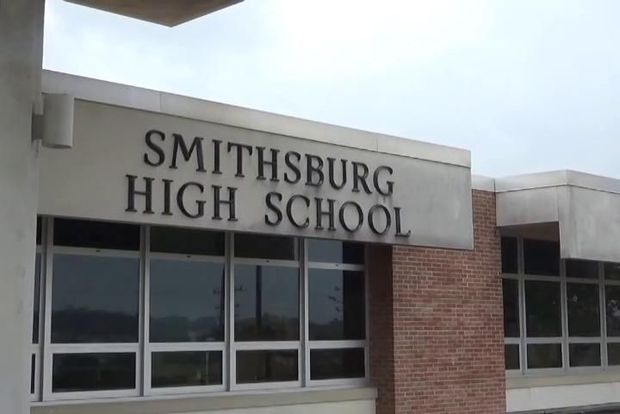 According to multiple Smithsburg High School students and parents who spoke to me on a condition of anonymity, a Smithsburg High School teacher with a history of aggressive behavior and a quick temper was recently seen grabbing a high school student's backpack and proceeded to pull out a clump of said student's hair.
Parents of Smithsburg High School students have also contacted me with information about the incident, describing the teacher as "unhinged" and demanding strict and immediate consequences from the high school.
It's important to ascertain all the facts when any situation such as this occurs. Parents and students are outraged, as you can imagine.
Smithsburg High School parents are concerned for the personal safety of their children. No student should ever endure any type of bullying, especially from a teacher! Teachers are supposed to set the example for their students. A zero tolerance policy must be in place.
I sent an email last evening to Washington County Public Schools' Superintendent Dr. Clayton Wilcox and all seven members of the Washington County Board of Education expressing my concern about the event that was reported to me.
My email is below:
Mr. Chilcutt – 

Multiple parents and students within the Smithsburg community have brought to my attention that a Smithsburg High School teacher was recently involved in a bullying incident that led to a physical altercation with a Smithsburg High Schools student. Typically when I hear rumors from one individual I ignore the rumor; however, several parents, students and members of the Smithsburg community have written to me in private to express their profound concern about said teacher's personal conduct. 

As I understand personnel issues are exclusively private, it is my intention to approach this situation with deference to the privacy of the teacher (and student) and with increased sensitivity. 

With that, it is my duty, nonetheless, as an investigative blogger to discern fact from fiction and determine how to best approach the information I receive. It is my prerogative to better understand how the alleged said incident occurred and learn the facts surrounding the alleged incident. 

Our public schools must protect our children. Bullying has become a major issue within our public schools – a distraction that often deprives students of receiving the valuable education in which they are unquestionably entitled to receive. My understanding is that Washington County Public Schools implemented a strict policy and a clear set of consequences to address bullying. I believe the same should set of standards should be applied to teachers. 

If students are being placed in danger by any individual employed by Washington County Public Schools, quite frankly, I look to the Board of Education and administrative officials to quickly address the problem and ensure that  a student is free from danger. 

What precautions and policies are in place to address a physical and possibly violent altercation initiated by a teacher that results in a student being harmed? What specific policies address a teacher who is alleged to have physically harmed a student, and what subsequent events will follow to ensure that the appropriate consequences will be applied fairly? 

No student should fear to come to school. And no student should ever fear a teacher – for any reason. 

Mr. Wright: 

This email serves as a MPIA request. I respectfully request all board policy that addresses the proper steps taken when a teacher is subjected to disciplinary measures due conduct unbecoming of a teacher, including bullying a student or any physical harm perpetrated against a student. I also request any public documents within the last 90 days, if accessible to the public (considering the sensitivity of personnel) that directly relates to a Smithsburg High School teacher who may have received disciplinary action by WCPS in accordance with Board policy. 

Thank you, 

Ryan R. Miner 
I don't always agree with WC Parents founder Dottie Gruhler but credit should be given where it is due. Mrs. Gruhler is a tremendous advocate for combatting bullying that occurs in our public schools. Gruhler's WC Parents Facebook page often discusses issues related to bullying and how to stop it. I personally witnessed many meaningful Facebook threads addressing the issue of bullying on Mrs. Gruhler's WC Parents.
I vividly remember a Facebook post from last year that Dottie Gruhler shared on WC Parents in which a Boonsboro Middle School mother posted a picture of her daughter who was being bullied; a serious and honest discussion occurred under said Facebook thread.
Despite my policy disagreements with Mrs. Gruhler, she is well known in the Smithsburg community and would be an important voice in addressing this incident. Moreover, her public Facebook page could serve as a platform for parents to discuss how to halt bullying in Washington County Public Schools.
I will be following this incident carefully and with sensitivity to all parties involved. I will post more information about the incident after my MPIA request is returned completed.
If Smithsburg High School parents or students have further information about the incident I listed above, please feel free to contact me at (301) 991-4220 or email at RyanRMiner@gmail.com. We can speak off-the-record and on the condition of anonymity. I always protect my sources, and more importantly, I will work tirelessly with parents to protect students from teacher bullying.
Our children cannot learn in an atmosphere where they feel unsafe. And our children should never be made to fear their teachers. Period.
*** UPDATE ***
Listen to an audio update.
About Ryan
Ryan Miner is Editor in Chief, Founder and Publisher of AMinerDetail.com. Miner is the sole reporter and columnist at AMinerDetail.com, covering Maryland news, politics, business, education, national, state and local government. Miner is the host of A Miner Detail Podcast.
Sign up for the Daily Briefing