By Ryan Miner

Washington County Board of Education vice president Dr. Justin Hartings addressed claims of sexual abuse in Washington County Public Schools tonight at the conclusion of the Board of Education's business meeting.
Hartings somberly – and times emotionally – addressed his Board colleagues in a nearly nine-minute speech, reacting strongly and sometimes incredulously to Karen Harshman's, his Board colleague, remarks she wrote recently on her personal Facebook page that claimed students in Washington County Public Schools may be endangered by a sexual predator working in the school system – or worse, by someone who sits on the school board.
Referring to Harshman's comments, Hartings said,
"it's never a matter for joking and it's never a matter for being taken lightly. Safety is all of our responsibilities. So when someone – anyone – goes to social media and suggests that there is a threat against our students, that there is some kind of negligence going on our schools that puts the community's students are risk, I think we all have to take it seriously – certainly I take it seriously."
Hartings went on to read Harshman's Facebook post (seen below):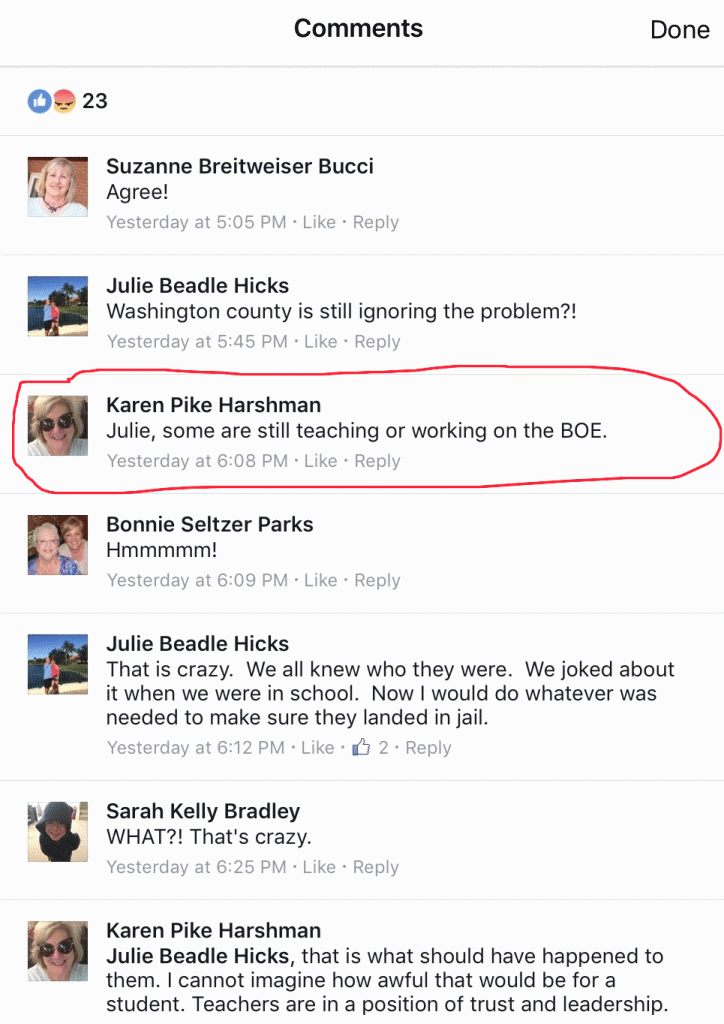 Hartings said, emphatically,
"I don't see any other way to read this [Harshman's] comments other than that, we, today, as a suggestion, that we have an institutional practice of employing sexual predators, looking the other way, shuffling them between schools, and wilfully and intentionally putting our 22,000 students at risk."
Hartings went on to say that Harshman's allegations on social media deserve a public response and the "last place anybody should be trafficking in these kinds of rumors is social media." According to Hartings, a number of parents forwarded him Harshman's Facebook thread, asking him if Harshman's claims have any validity, and if it's happening at their child's school.
Harting's then blasted Harshman, exclaiming,
It is irresponsible for someone holding an office of public trust to make these kinds of allegations, incite fear in our students and families without evidence to support those claims.
Hartings urged Harshman to "file the appropriate paperwork and reports, as required by law and policy," if indeed she does have evidence to substantiate the claims she alleged on her social media post, otherwise, Hartings urged, Harshman should apologize to staff members, teachers, principals, the safety office, guidance counselors, school resource officers, the human resources department who work every day to ensure that students are safe when they are in our care."
Hartings went further, imploring Harshman to apologize to the "many students and parents out there who are frightened by the suggestion that has been made."
Finishing his remarks, Hartings spoke directly the public, ensuring us that he knows of no case or any allegations being alleged by Harshman that are true. He concluded saying that he has "absolute confidence in Dr. Wilcox, in Wilcox's human resources team, in guidance counselors, school principals, and the staff that teach students each day.
Here's video of Hartings full remarks addressing Harshman's allegations:
https://www.youtube.com/watch?v=uvPBkXiOZd4&feature=youtu.be
About Ryan
Ryan Miner is Editor in Chief, Founder and Publisher of AMinerDetail.com. Miner is the sole reporter and columnist at AMinerDetail.com, covering Maryland news, politics, business, education, national, state and local government. Miner is the host of A Miner Detail Podcast.
Sign up for the Daily Briefing