By Ryan Miner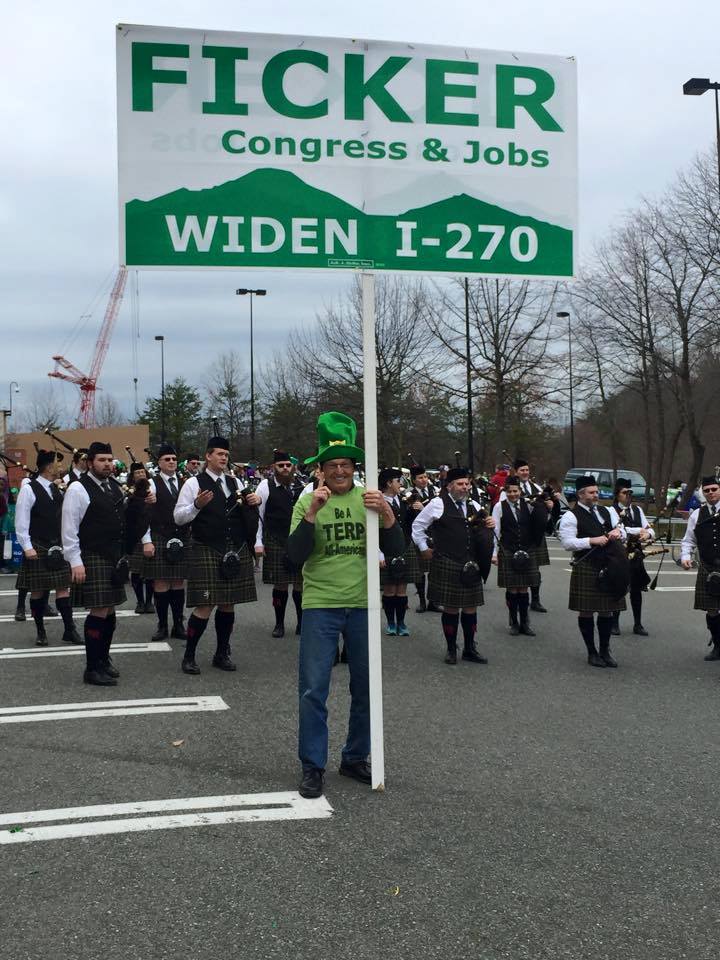 I presume you've been driving, minding your own business, and somewhere in Maryland's 6th congressional district – maybe on I-270, the Dual Highway in Hagerstown, or maybe you were in Frederick near the FSK Mall – and then, suddenly, you see some God-awful-looking green monstrosity.
You just saw Robin Ficker's 4×8 campaign sign – illegally placed.
Oh, those signs…Yes, the same signs that typically rest on vacant commercial properties throughout the 6th congressional district. But you never see Robin Ficker's tawdry and quite frankly, ugly, 4×8 campaign signs stationed on residential properties.
Why is that?
If Ficker's campaign signs sat on residential properties, he would have needed to ask permission from actual property owners. But as the ol' Grace Hopper saying goes, "it's easier to ask for forgiveness than it is to get permission."
To answer your question, yes:
Several of Robin Ficker's campaign signs are illegally placed.
Let's first begin in Allegany County.
Allegany County resident Mark Greenwald, a Bongino campaign alumni and the go-to expert for all things political in Mountain Country, has reported that many of Ficker's campaign signs near Cumberland and elsewhere are illegally placed. Greenwald has called out Ficker on multiple occasions using Facebook and has asked him to remove his illegal campaign signs from a few properties.
Now head east to Washington County.
A few months ago, I saw Ficker's campaign signs sitting on commercial properties owned by Bowman Development (Don Bowman's properties). I also saw Ficker's campaign signs situated on a commercial property owned by the Fulton Family (they own a chain of AC&T convenience stores).
I contacted Bowman Development to inquire whether or not Robin Ficker was granted permission to place his hideous sign on their commercial properties. Turns out, Bowman Development has never heard of Robin Ficker and did NOT grant Ficker permission to use said properties to place his campaign signs. 
Don Bowman, the owner of Bowman Development and D.M. Bowman, Inc., is a well-known and immensely respected businessman in the Washington County community. Mr. Bowman will occasionally offer his explicit consent to allow only certain political candidates to use his various properties in Washington County to place campaign signs.
Political candidates almost always seek out Mr. Bowman to earn his support. Then, and only then, does Mr. Bowman allow political candidates to use his commercial properties to place campaign signs.
A few weeks later, I contacted The Fulton family to inquire whether Ficker received permission to place signs on their property locations. Once again, they never even heard of Robin Ficker or his "campaign" for Congress. Shortly after I made the phone call to inquire about Ficker's illegally placed sign, Ficker's sign was removed from the Halfway Blvd. property that sits across the street from the Western Sizzlin.
In Washington County, currently, Robin Ficker has a sign placed on another vacant property on the Dual Highway. The property where Ficker's sign sits is owned by the Shaool family (they own a construction and development company). Once again, Robin Ficker was never given permission to place his sign at the location.
Ficker also has a sign placed near the Valley Mall. The sign is in question. I will be in contact with Washington County officials to confirm whether Mr. Ficker has permission to use county property to place his campaign sign.
Now drive east on I-70 to Frederick County.
According to multiple Frederick County residents who contacted me, many of Ficker's campaign signs sit on abandoned commercial properties. Of course, Ficker was never granted permission to use the properties to place his signs. Ficker's signs that sit near the FSK mall…. no permission was granted.
About a month ago I contacted the property owner who owns a commercial property just off the Middletown/Myersville exit (Maryland Route 17). I spoke directly to the property owner who said Ficker was NOT granted permission to use his property to place his sign.
Another of Ficker's campaign signs sits just off the I-70/270 spur. I also contacted that property owner who said he has never heard of Robin Ficker, and he said that Ficker was NOT given permission to use said property to place a campaign sign.
Drive down I-270 south into Montgomery County.
Several of the locations where Ficker has his signs placed along 270 are in question. For example, Ficker is using an abandoned property just off 270 north to place his signs, just slightly past the Boyds exit. I am currently in contact with the owners of the property to confirm whether Ficker has permission to use the space to place his signs. Can you guess what the property owner(s) will probably tell me?
Several of Ficker's signs in Gaithersburg are illegally placed. One of Ficker's signs was removed from a Travilah Road commercial property near Travilah Elementary School. We contacted the Travilah Road property owner; Ficker was NOT granted permission to use the property to place his sign.
You'll see several of Ficker's 4×8 campaign signs sitting on Montgomery County property. I've been in contact with Montgomery County officials to confirm whether Ficker was granted permission to use county property to place his campaign signs. Once again, you know the answer.
You would think that after running (and losing) elections since the 1970's, Robin Ficker would know where to legally place his campaign signs. 
Political candidates who run for public office go to great lengths to lock down LEGAL sign locations among various residential and commercial property owners. Placing a campaign sign on a vacant property without the property owner's permission is unethical.
But do you really expect Robin Ficker to maintain even a modicum of ethics?
Just remember who Robin Ficker is:
He's run and lost for office since the 1970's
 He changed his party affiliation multiple times
As a lawyer and someone who has run for office every election cycle, Robin Ficker should know better. He should know the law.
Now for a little history:
Ficker started a "Robin Realty" brokerage after his law license was suspended. Do you remember? Apparently that was just a front for placing his notorious "Save Our Homes" signs – without permission from property owners!
Read an entire court case about Robin Ficker placing his campaign signs illegally.
It was only eight years ago that Ficker was called out for placing his signs illegally.
The Washington Examiner has the story:
Ficker, a former state assembly member and county executive candidate, and a perennial tax foe, said he knows the business of yard signs and there were no problems with their dimensions.

Susan Scala-Demby, county zoning manager, confirmed the county had taken the signs but said problems stemmed from where the signs were placed, not their size.

"From our perspective, they were illegally placed," Scala-Demby said. "The county is pretty specific and says you can't have a yard sign within five feet of the private property line, and those signs were in the public right of way."

Ficker contests that assessment.
In 2004, a Montgomery County Gazette columnist wrote about Ficker's illegal campaign signs.
The only thing consistent about Robin over all these decades is his campaign style — lots and lots of signs, often posted illegally. During one election he scaled hundreds and hundreds of roadside telephone poles at night to place his bright orange ''Your Friend Ficker" signs out of reach of the road crews who remove illegal election paraphernalia. After Ficker's defeat, the county was blighted for months by those orange signs that Ficker never bothered to remove.
The Washington Post wrote a long story about Ficker's brash personal style in 1982, highlighting his penchant for placing campaign signs illegally.
Here's a snippet from the Post story.
That was after he was convicted of illegally posting campaign signs that said My Friend Ficker.
I could list a dozen or more stories about gadfly Robin Ficker's immutable style of campaigning. I could post several more articles that will detail Robin Ficker's inability to follow the law.
You know how this story is going to end on April 26.
*** If you have further information about Robin Ficker's campaign signs being placed illegally, contact me at (301) 991-4220.***
Ryan Miner is the Editor in Chief, Founder, Senior Political Reporter and Publisher of A Miner Detail. He is the host of A Miner Detail Podcast.