By Ryan Miner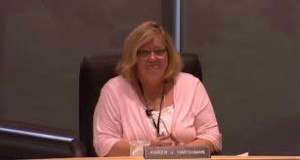 An unprecedented movement is currently afoot in Washington County to remove Karen Harshman from the Washington County Board of Education after she alleged earlier this week in a series of Facebook posts that Washington County Public Schools currently employs and has employed teachers who have and had sexual relations with students.
After an exhaustive investigation that required thousands of taxpayer dollars and hundreds of school administrative hours, the Washington County Sheriff's Department and Washington County school authorities determined that absolutely no threat exists against students, as Harshman claimed.
There is no way to sugar coat Harshman's egregious behavior: she publicly accused Washington County school teachers, without a single shred of fact, of engaging in inappropriate sexual relations with students. And she went ever further: she accused her fellow Board colleague of being an active threat to students, providing Jackie Fischer's name to a sheriff's deputy, besmirching Fischer's unimpeachable reputation in the community and bringing embarrassment and shame to the entire school system.
Moreover, Harshman publicly admitted to not reporting what she believed to be and know as teacher-student sexual abuse. In fact, she breached her contract as a Washington County Public Schools employee. Harshman has a moral, legal, contractual, and ethical obligation to report any possible student-teacher sexual relations within a narrow window of time. Any kind of abuse or inappropriate behavior must be reported immediately to school authorities.
Harshman's behavior overwhelmingly qualifies as abject misconduct. She flagrantly failed to execute her duties as both a Board of Education member and a school system employee. And she executed a personal and political vendetta while abusing the power of her elected office.
She has only two options moving forward: resign from the Washington County Board of Education or be removed by Maryland's State Board of Education.
According to State Board of Education law:
The State Board has sole authority to decide whether to remove most elected local board members from office. [See, e.g.,}y'rd. Code, Educ. S3-10-A-01.] Although the removal statutes are set forth in the laws that govern each specific board, the process and grounds for removal are essentially the same in each statute.
What are the grounds for removal of a board of education member?
There are four primary grounds for the removal of a member of an elected board: immorality, misconduct in office, incompetence, or willful neglect of duty.
In addition, in Calvert, Cecil, Dorchester, Talbot, and Worcester County, a member may also be removed for failing, without good cause, to attend at least 75 percent of the scheduled meetings of the county board in any one calendar year, and/or missing three consecutive scheduled meetings. The same four primary grounds for removal also apply to appointed boards and a fifth is added, that of failure to attend without good cause, at least half of the scheduled meetings of the board in any one calendar year.
What is the process for removing a board of education member?
Regardless of whether a board member serves on an elected or appointed board, and regardless of where the authority for removal rests before being removed, a local board member must receive essentially the same due process. The entity with removal authority is required to send the member a copy of the charges against them and give the member an opportunity within 10 days to request a hearing before said entity. If the member requests a hearing, one must be held before the entity with removal authority with an opportunity to be heard publicly in the member's own defense, either in person or by counsel. A member so removed also has the right of an appeal to the Circuit Court of their county (Md. Code Ann., Ed. Art., Title 3).
Moreover, according to precedent, "the State Board has received a single request for removal containing all of the allegations against a local board member. The local board member in question has generally responded to the allegations. Based on these materials, the State Board decides whether to issue charges and initiate the removal process."
Whether to Inítíate the Removal Process?
The State Board, by statute, "may" remove a local board member. The use of the word "may" in the removal statute indicates that the State Board has discretion in deciding whether to remove a local board member from office. This discretion naturally would extend to the initial decision on whether to issue charges against a local board member in the first place. See Heckler v. Chaney,47O U.S. 821,831 (1985) (decision whether to prosecute or enforce an action is committed to an agency's "absolute discretion"); District of Columbia v. Sieta Club,670 A.2d 354,360 (D.C. 1996) ("The determination whether and when to institute enforcement proceedings against a specific individual is a core executive responsibility which may reasonably be viewed as having been committed to agency discretion so as to preclude substantive judicial review.").
In order to initiate the removal process, the State must determine whether there is probable cause to issue charges.
Based upon state law, Karen Harshman could be reasonably removed from her position as a Board of Education member for "misconduct in office," defined as encompassing malfeasance, doing an act that is legally wrongful in itself, and misfeasance, doing an otherwise lawful act in a wrongful manner. See Dyer v. Howard County Bd. of Educ., MSBE Op. No. 13-30 (2013) (citing Resetarv. State Bd. of Educ.,284 Md.537,560-61 (1979)). It includes "a transgression of some established and definite rule of action, a forbidden act, a dereliction of duty, [and] improper or wrong behavior" Id.
I have no doubt that the majority of Harshman's colleagues on the Washington County Board of Education will move swiftly against her, providing transparent due process, and making the case that she is guilty of serious misconduct.
The case is black and white: Karen Harshman's egregious behavior cannot go without punitive action. She violated her oath of office and cannot continue to serve in a position that requires the trust of the public. Most importantly and sadly, she has demonstrated that she cannot be trusted to make decisions on behalf of the nearly 22,000 students she represents as a Board of Education member.
Would you trust your child under the behest of Karen Harshman?
Harshman could do the right thing and immediately resign from office. Essentially, she could save face and not subject herself and the community to a protracted and expensive legal fight. But should she be subjected to punitive action and brought up on misconduct charges, the school system will expend thousands of dollars in resources, and Harshman will bring further shame and embarrassment to what was once considered Washington County's most venerable and respected entity – the Board of Education.
There is no doubt that the case against Karen Harshman will be prosecuted if, of course, she chooses not to resign. Once the State Board begins its removal proceedings, I have no doubt that her removal and subsequent expulsion from the Washington County Board of Education will not be a matter of if, but when.
Do Washington County a favor, Karen Harshman: resign.
Ryan Miner is the Editor in Chief, Founder, Senior Political Reporter and Publisher of A Miner Detail. He is the host of A Miner Detail Podcast.