By Ryan Miner 
To some, this article might be received as petty – perhaps even naggy. This isn't a disclaimer, nonetheless; but I can certainly understand if you think I'm harping on Maryland Delegate Neil Parrott. I promise I'm not, but Parrott is viewed as a shrewdly seasoned politician, immune from making amateur mistakes.
That's why his latest email blast is so inescapably important.
Neil Parrott fired off an email blast this afternoon, at 1:50 p.m., that invited his subscribers to join him tonight at the Washington County Ag Expo. Also joining Parrott this evening is Maryland's Republican U.S. Senate candidate Kathy S-Z-E-L-I-G-A.
Except that Parrott, who describes Szeliga as a "good friend," cannot spell the Senate hopeful's name correctly to save his life.
Take a look for yourself at Parrott's excruciating email blast: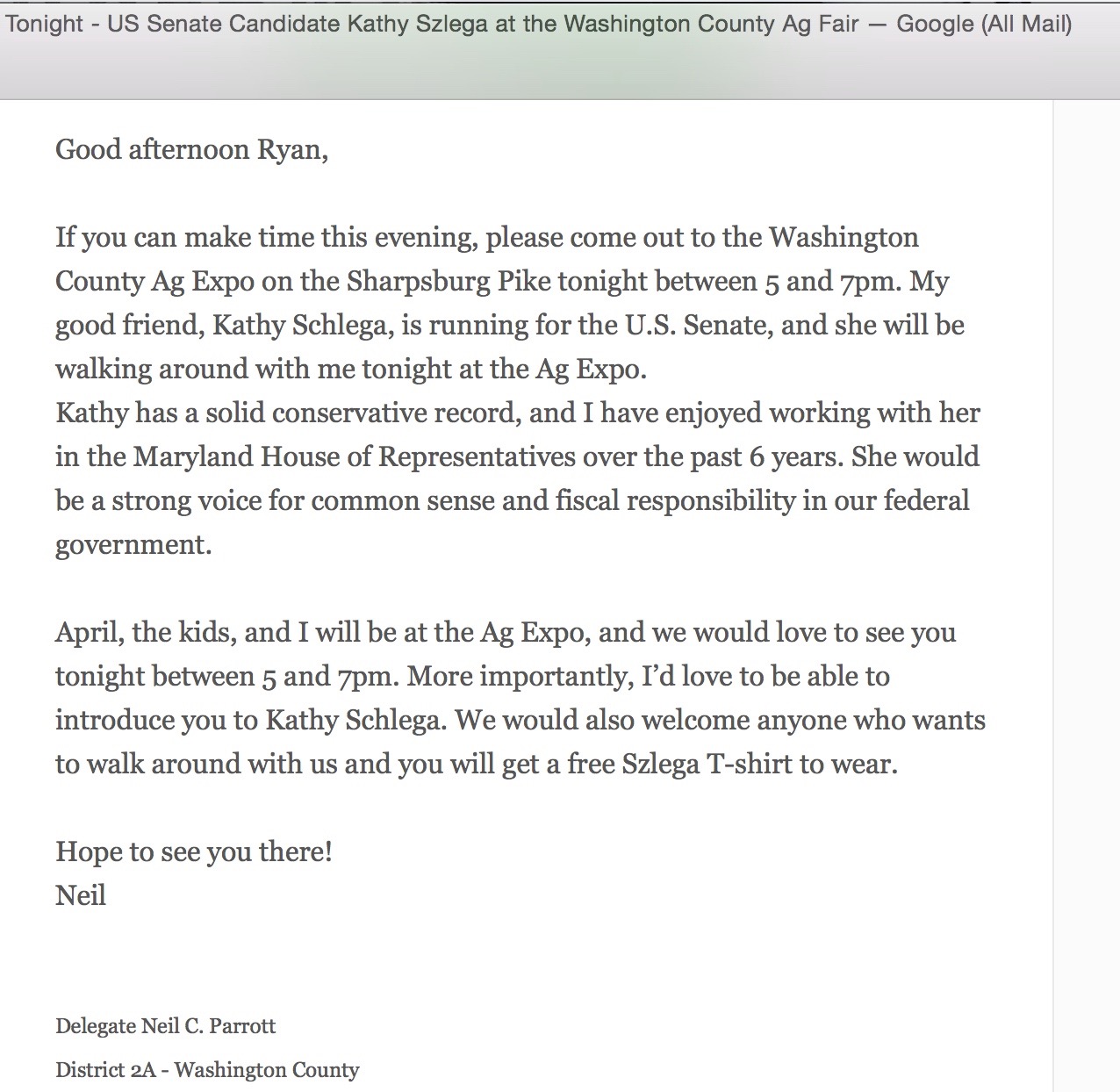 Two separate versions of Szeliga's name appear in Parrott's unpolished email to supporters: Szlega and Schlega.
To the undiscerning eye, Parrot's spelling errors can be chalked up to an innocuous mistake. Or maybe it was a staff member who wrote the email and Parrott didn't have time to review it before it hit our inboxes. I'll give Parrott the benefit of the doubt: after all, Szeliga's last name isn't a common name, and it's easy to misspell. However, Parrott has worked with Szeliga in the House of Delegates for, as he wrote, "6 years." Sloppy, no, or am I being overly picky? You decide.
For Parrott – a political expert, apparently – this release is shoddy and low grade. The right-wing delegate's constituents laud him as a "political guru" of some kind, but this email blast certainly doesn't reflect the professionalism of a sitting member of the Maryland House of Delegates.
For a guy who is itching to take on an incumbent Republican state senator in 2018, he can't afford another amateur email blast like this.
Despite the spelling error, I emphatically encourage all Marylanders to support Kathy Szeliga this November! We need Kathy in the U.S. Senate.
Ryan Miner is the Editor in Chief, Founder, Senior Political Reporter and Publisher of A Miner Detail. He is the host of A Miner Detail Podcast.