Dr. Thomas Ferleman is a Republican candidate running for Council District 2 in Montgomery County.
A Booz Allen Hamilton strategic advisor, the first-time County Council candidate in 2015 flirted briefly with a congressional bid but eventually decided against seeking the 6th Congressional District Republican nomination.
Ferleman, a Germantown resident and self-proclaimed evangelical Christan who attends Covenant Life Church in Gaithersburg, is known for his inflammatory, over-the-top social media rhetoric and rampant attacks against sitting Montgomery County Council members, frequently targeting Democrat Craig Rice, whom he hopes to face off with after the June 26th primary.
Ferleman posted yesterday on his Facebook page that if elected to the County Council, he'll "personally invite Immigration And Customs Enforcement (ICE) to remove undocumented immigrants residing in Montgomery County.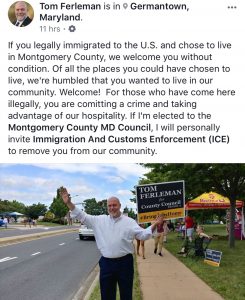 Montgomery County has a policy requiring ICE to obtain a warrant before they will hold an undocumented immigrant longer than a legal resident. Additionally, Montgomery County police typically will not ask individuals to confirm their immigration status and have been reluctant to assist federal agencies with tracking down undocumented immigrants.
Montgomery County is not a sanctuary county, say county officials, because it cooperates with ICE and honors ICE detainers issued by a judge; however, county officials are prepared to fight the Trump administration's policies over the withholding of federal funds to jurisdictions deemed "sanctuary counties" or "cities."
In January, Ferleman took to Facebook to ask rhetorically if the Department of Justice will "arrest the Montgomery County Council for fostering a sanctuary city."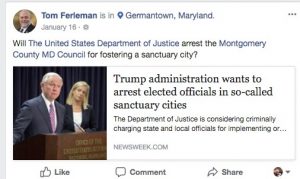 Ferleman, in Trump-like fashion, a day prior lashed out on Facebook at Maryland U.S. Senate candidate Chelsea Manning (D), writing that he will "explore ways to prevent convicted traitors from running for political office."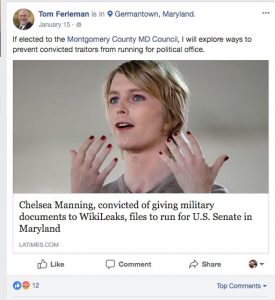 Ryan Miner is the Editor in Chief, Founder, Senior Political Reporter and Publisher of A Miner Detail. He is the host of A Miner Detail Podcast.