By Ryan Miner 
One Montgomery County Council candidate has implemented a social media policy for his campaign Facebook page, and if you violate his rules, your Facebook comments may end up being deleted.
Dr. Thomas Ferleman, a Republican candidate in Montgomery County's District 2, released a post on his campaign Facebook page last evening claiming that he "made a hard decision to block two Facebook accounts and delete their posts from our campaign page."
Here's his post: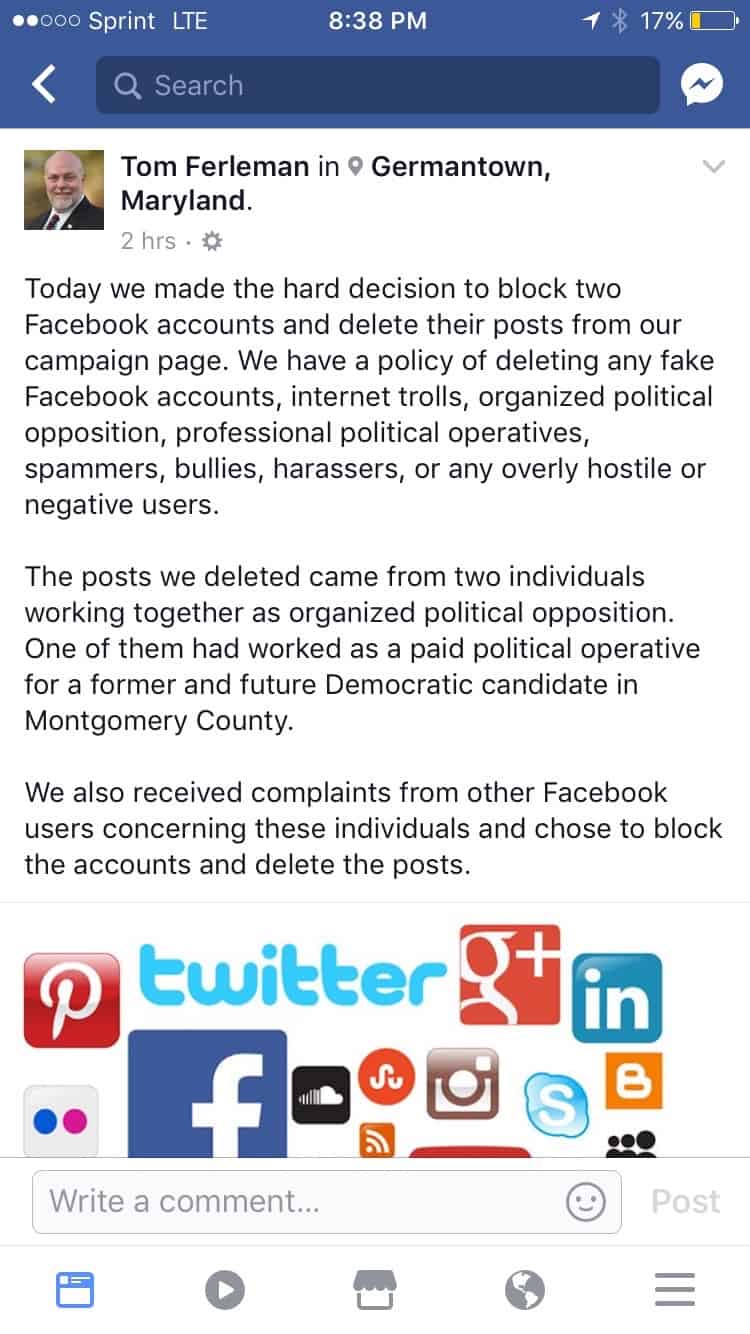 Ferleman's new social media policy was ostensibly released in response to two individuals who published comments under a Facebook post he published about a day ago regarding the two Montgomery County high school students who were shot dead the night before their high school graduation.
Ferleman's original post: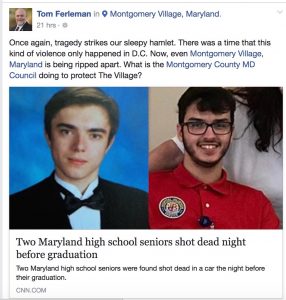 The following comments were subsequently published under Ferleman's post but were quickly deleted by Ferleman himself:

One Ferleman Facebook follower quickly noticed that Ferleman had deleted two comments on the same thread.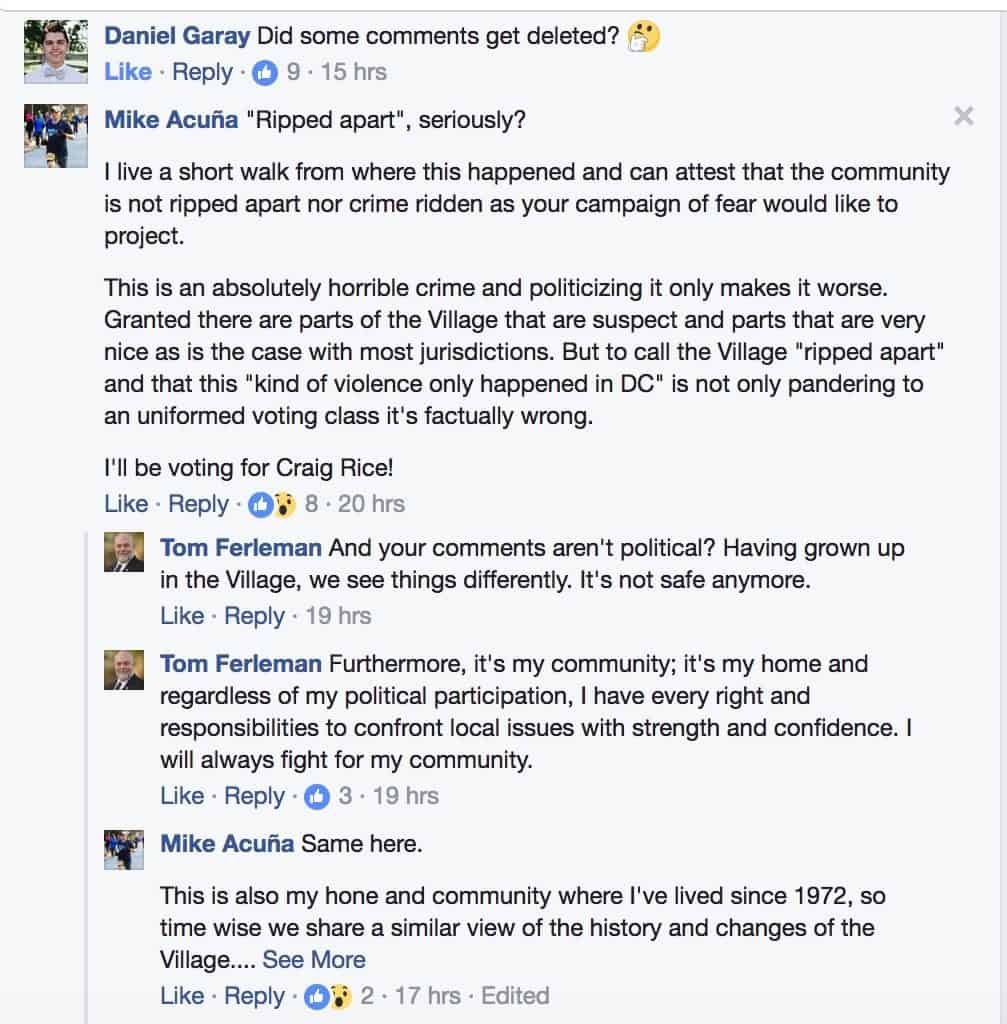 I sent Ferleman a message via Facebook Messanger asking for comment on why he deleted the two seemingly innocuous Facebook comments. He directed me to his new Facebook policy – a post that was published on his Facebook timeline within minutes of me reaching out to him.
Ferleman claimed that one of the individuals who was deleted from his Facebook post is a "paid employee for Trone's [David Trone] campaign."
For the record, David Trone has not committed to any campaign for the 2018 political cycle. To my knowledge, he has no paid political employees at this time, aside from his pollster, Harrison Hickman. Trone did, however, wage an unsuccessful campaign for the Democratic nomination in Maryland's 8th Congressional District in 2016, losing to now-Congressman Jamie Raskin in the primary.
Trone's campaign used Craigslist to hire hundreds of paid canvassers to knock doors on his behalf and hand out his campaign literature to voters residing inside the 8th Congressional District boundaries.
I pressed Ferleman on whether he would issue an official comment, writing to him, "Do you have any comment about deleting the two individuals' comments from your public Facebook campaign page?"
Ferleman responded to my question and wrote that if I am planning to write something, he has no comment. Following up a second time, I asked Ferleman if he is sure he doesn't want to issue a comment, to which he responded, "no."
Ferleman claims that the two individuals whom he deleted from his public campaign Facebook page "are working together as organized political opposition. One of them had worked as a paid political operative for a former and future Democratic candidate in Montgomery County. "
Soon after Ferleman published his Facebook post, he drew further ire from some of his Facebook followers for deleting comments on a previous post: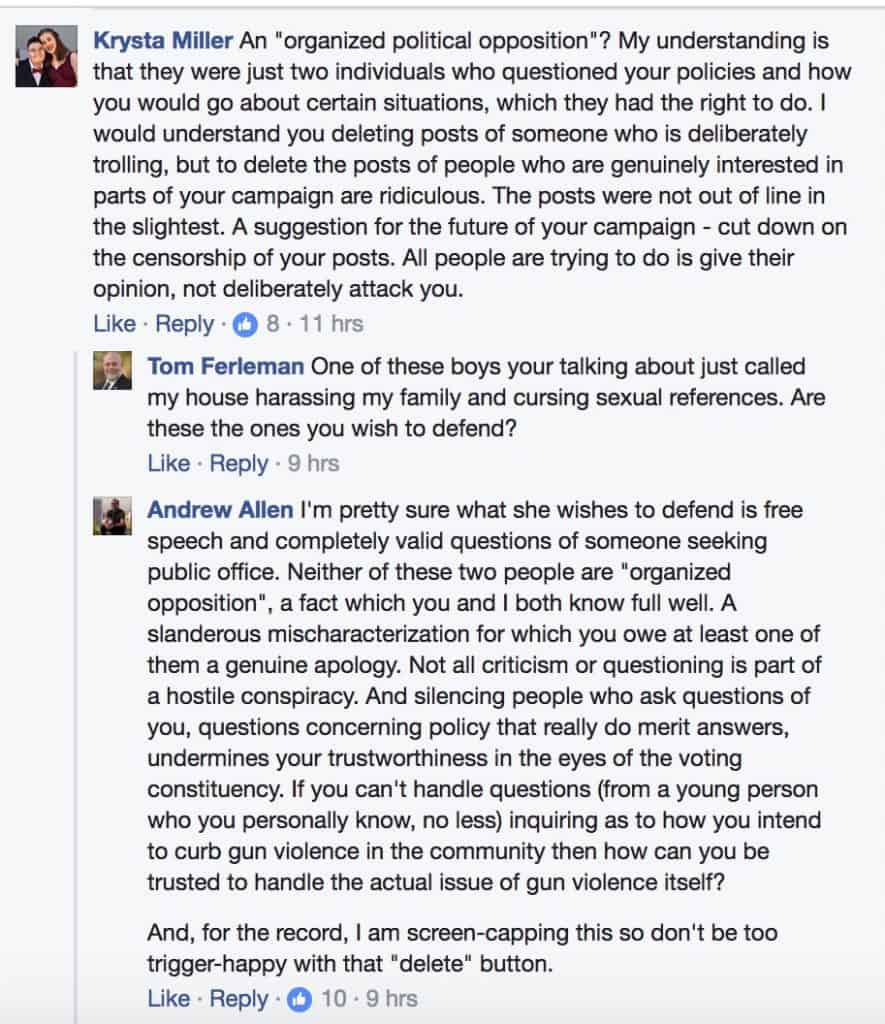 Please continue to follow AMinerDetail.com for information about the upcoming Montgomery County Council races.
Ryan Miner is the Editor in Chief, Founder, Senior Political Reporter and Publisher of A Miner Detail. He is the host of A Miner Detail Podcast.