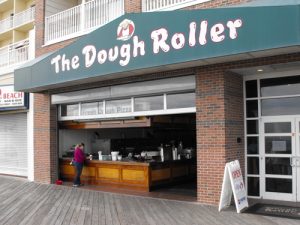 Governor Hogan last week issued an executive order mandating that Maryland public schools begin after Labor Day beginning next school calendar year in 2017. But Washington County Board of Education freshman Mike Guessford got a head start, taking full advantage of Gov. Hogan's executive directive, extending his Ocean City vacation one day longer – after Labor Day – and decided to skip out on today's scheduled Board of Education meeting.
Guessford certainly didn't attempt to hide his extended weekend whereabouts. All you need to do is take a look at his personal Facebook page.
Around 1:00 p.m. today, Guessford used his personal Facebook account to "check-in" at the Chesapeake Bay Bridge, presumably en route back to Washington County from Ocean City. I'm guessing he didn't stop at Harris Crab House in Grasonville for a bushel of Maryland's finest crabs to share with his colleagues on the Board.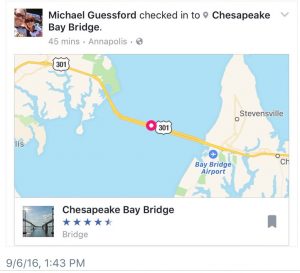 And just this morning, Guessford decided to indulge himself with an extra pancake at the iconic Ocean City Dough Roller restaurant. Same MO: he "checked in" at the location using his personal Facebook account.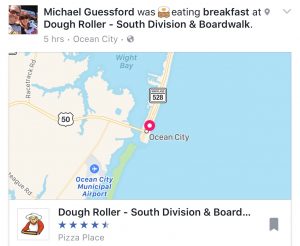 It's somewhat bizarre that Mike Guessford missed today's Board of Education meeting – a meeting that included important conversations about policy dealing with school fundraising, MABE assignments, the budget, school calendar issues, and more.
Interestingly enough, Guessford and Harshman (her whereabouts are still unknown, but my sources claim that she has been ill throughout the weekend) missed the vote on the mysterious "Opinion and Order, 01-2016." Incidentally, the "Opinion and Order" was a 4-1 vote; Melissa Williams casted the dissenting vote.


Typically when Melissa Williams votes in the minority, Karen Harshman and Mike Guessford follow her lead, deadlocking the Board at a 4-3 vote on the regular.
What, exactly, is the nature of the mysterious "Opinion and Order, 01-2016?"
Since the conclusion of today's Board business meeting, I contacted Richard Wright, Washington County Public Schools' Chief Information Officer, with a request for information about "Opinion and Order 01, 2016."
Herald-Mail reporter CJ Lovelace attended today's Board meeting, and shortly after the meeting concluded, Lovelace Tweeted:
Order must be signed by board members before anything can be made public, expecting to learn more later this afternoon. @HeraldMailNews

— C.J. Lovelace (@cj_lovelace) September 6, 2016
It seems odd that Guessford chose this meeting to play hooky, spending an extra day in Ocean City on an extended vacay. A friend noted to me earlier today: Guessford's job is to be present at Board meetings to vote on important agenda items. Is he really that incapable of doing the job voters elected him to do?
Are Washington County taxpayers getting their money's worth by having Mike Guessford on the Board of Education?
You decide.
Ryan Miner is the Editor in Chief, Founder, Senior Political Reporter and Publisher of A Miner Detail. He is the host of A Miner Detail Podcast.