By Ryan Miner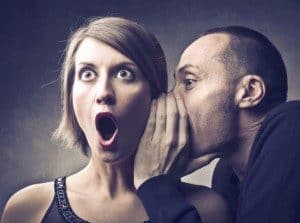 Warning: The following article is gossip. In no way whatsoever should this story be considered news. Sometimes we'll report political rumors that interest us and make us laugh. In fact, I urge you to consume this article as entertainment and digest it with a grain of salt. 
Occasionally A Miner Detail will hear a political rumor that piques our interest. In this case, we heard a rumor that we find interesting; therefore, we'll mention said rumor in passing – not as news but as pure speculation and gossip. Don't read into this at all. In fact, just stop reading now. Just kidding. Read on.
So here's the rumor: a couple of Maryland Republican political operatives apparently believe or have heard that Dan Bongino, a former Maryland U.S. Senate and congressional candidate, is planning to move back to Maryland sometime in April in preparation for a second congressional run in 2018 for Maryland's 6th Congressional District.
Does the rumor sound far-fetched? Yes, and I'll tell you why:
Mr. Bongino in July 2015 packed up his lovely family and moved to Florida.
Despite what some media have reported, Mr. Bongino and his family moved to Florida for reasons that were not political.
It's really none of our business why Mr. Bongino moved to Florida, but it is widely known in Maryland political circles that the reason he moved is because of personal family health reasons.
Mr. Bongino ran and lost in last year's Southwest Florida's 19th Congressional Republican primary. There is no need to rehash that contentious primary, but Mr. Bongino was defeated handily by Francis Rooney (now Congressman Rooney) and Chauncey Goss in a three-way Republican slugfest.
After suffering his third consecutive loss, on September 6 of last year, Mr. Bongino wrote in a Conservative Review article that "he is officially done with electoral politics."
Why would Mr. Bongino want to come back to Maryland to run again for Maryland's 6th Congressional District after committing he's finished with electoral politics? Dan Bongino is a man of his word. When he says he's out, I have no reason to believe he would change his mind.
Why would Dan Bongino want to run for federal office for a 4th consecutive time? That's a lot of time and commitment. I would imagine he's tired.
A connected Republican Frederick politico, who was as former Bongino staffer, wrote to me via Facebook that he just spoke to Mr. Bongino last Friday. Bongino apparently said nothing to him about moving back to Maryland. Said Frederick politico is a solid source with insider intel. I trust him.
Of course, I could have reached out to Mr. Bongino myself and asked him if the moving back to Maryland rumor is true. While I'm sure he would call me a coward and a "total zero" for not verifying with him personally whether the rumor had any merit, he doesn't particularly care for me, and I cannot imagine that a big-time radio host and conservative TV star would have time for a lowly Maryland blogger like myself.
I am, however, quite certain that Mr. Bongino would hang up the phone on me, or worse, he would shred me on the radio if I even dared to waste his time asking such a loser question. Then again, I'm so beneath Dan Bongino as a person, he wouldn't even expend one iota of a second talking about truly dopey Ryan Miner. That's how insignificant I am to Dan Bongino. That's why he blocked me (and most Maryland Republicans who were loyal to the end) on Twitter and trash talks me (and many others) to anyone willing to listen.
The one fact that I can verify in this article is that Amie Hoeber, the 2016 Republican congressional nominee in Maryland's 6th Congressional District, is considering a second run in Maryland's 6th Congressional District in 2018. I haven't heard any other interested Republican names tossed into the CD-6 primary mix, but I couldn't imagine any other Republican would have the built-in infrastructure and cash-on-hand starting out aside, of course, from Amie Hoeber.
Once again, 95% of this article is gossip. Before you shout "FAKE NEWS" from a rooftop holding a pitchfork, please understand and accept that this article is nothing more than a reported rumor, and it should be taken with a grain of salt.
Editor's note: 
My responsibility is to be honest and level with our readers, so I'll be 100% honest:
In 2011, I was hired by the Bongino U.S. Senate campaign as an aide and driver to Mr. Bongino. Dan had his former campaign manager fire me in December 2011 for several "unfortunate reasons," as Dan Bongino once Tweeted. I know the reasons – some are true, and most of them aren't. We'll get to that later. In May 2013, I drunkenly challenged Dan Bongino to a fight in the parking lot of the Anne Arundel County Republican Lincoln Day Dinner because he was talking trash about me. Where I grew up in Western Maryland, when a man challenges your character, you walk outside and talk like men. In retrospect, challenging Dan Bongino to a fight – a former Secret Service agent – would not have ended well for me. I freely admit that Bongino would have kicked my ass seven ways from Sunday, but my honor was a stake. 
Later in 2014, I thought Dan and I had patched up our relationship after a few long phone calls, but come to find out, he continued to trash talk me, going so far as to encourage a former boss not to hire me. When a man shakes your hand and looks you in the eye and tells you that the past is the past, you take him at his word and you move on. I took Mr. Bongino at his word. I apologized to him for the parking lot episode and he accepted my apology – or so I thought at the time. I was honest with him and admitted my mistake. I was a different person at that time, and I don't want to look back. 
I hold no ill will towards Mr. Bongino. He's a man with a vision doing his thing in Florida. I wish him the best, and I truly hope he finds the success he deserves. While I don't agree with some of his politics, he's unafraid to fight for his deeply-held principles. I admire that about him. In many ways, he's a talented person with a passion for some of the same issues I care about and advocate for. 
I spent countless hours with Mr. Bongino in 2011, driving him from event to event and learning who the real Dan Bongino is. I once considered him a mentor and close friend. I don't know what happened to the Dan Bongino I knew in 2011, but I wish he would come back. That guy was one hell of a great guy and mentor. The guy I see now I don't recognize. I wish I still knew the guy I first met in 2011. That guy was someone I would have followed anywhere. 
Ryan Miner is the Editor in Chief, Founder, Senior Political Reporter and Publisher of A Miner Detail. He is the host of A Miner Detail Podcast.