by Eric Beasley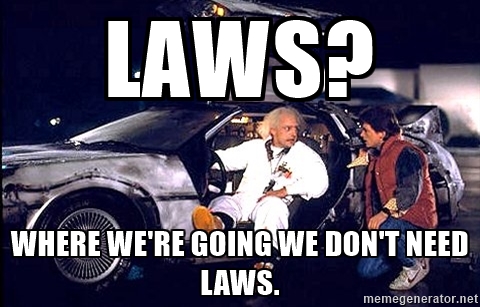 I really don't go out there looking for trouble. However, people like to send me their rabble-rousing information, stories, and my favorite, pictures of people violating their organizational bylaws.
Probably one of the most egregious offenders of this is Kory Boone, Chairman of the Maryland Young Republicans and literally the only person in Maryland Politics that has angered the Red Maryland Death Cult AND the Prince of Darkness Club at the same time. Quite an accomplishment, if you ask me.
So what's the latest? Well, Kory Boone, Chairman of the Maryland Young Republicans, has used his official title of "Chairman" to endorse a Republican candidate in the primary election cycle.
Do you need me to be a little more clear? Here's a closer look.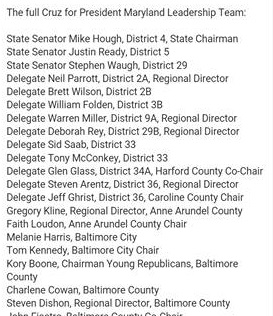 Kory Boone, Chairman Young Republicans
That's a name and a title. It seems that none of the other people on this list made the same mistake that Kory Boone did. For example, the following people are on some Republican Central Committee in their respective counties, but none of them mentioned their title of "Central Committee Member":
As a reminder, here is the text of the Maryland Young Republicans bylaws concerning endorsements:
ARTICLE VII – INTERACTION WITH PUBLIC

SECTION 4. Prohibited Endorsements: Neither the MYR Executive Board, nor any charted club, nor any officer of a chartered club or the MYR Executive Board in their official capacity shall endorse a candidate in any race in which more than one (1) Republican runs. The only exception to this rule is for those races for which the Republican Party has selected an official Republican nominee. Nothing in these By-laws shall prevent any officer of a club or of the MYR Executive Board from endorsing a candidate in their individual capacity.
It is clear as day that Kory Boone has used his official title to endorse a candidate in the Republican primary. It is doubtful that anyone on the MDYR board is going to actually do anything about it. Emperor Nero, ahem, I mean Kory Boone has been actively purging members who disagree with him. The sort of people that would actually hold him to some sort of standard.
Kory Boone has officially become Lil' Guy 2.0.
Sign up for the Daily Briefing