By Ryan Miner 
Karen Harshman's ejection from the Washington County Board of Education has set in motion a countywide nomination process that will ultimately be decided by the five Republican county commissioners.
Appointed by the radical, Trump-loving Washington County Republican Central Committee in 2016, Wayne Keefer, the fallback choice of Washington County Republicans after the late Vincent G. "Woody" Spong resigned from the Board of County Commissioners in January 2016, is, according to several Washington County political insiders and respected members of the community, courting Linda Murray as a potential replacement to fill Harshman's vacancy on the Board of Education and is rumored to be heralding her candidacy throughout the community.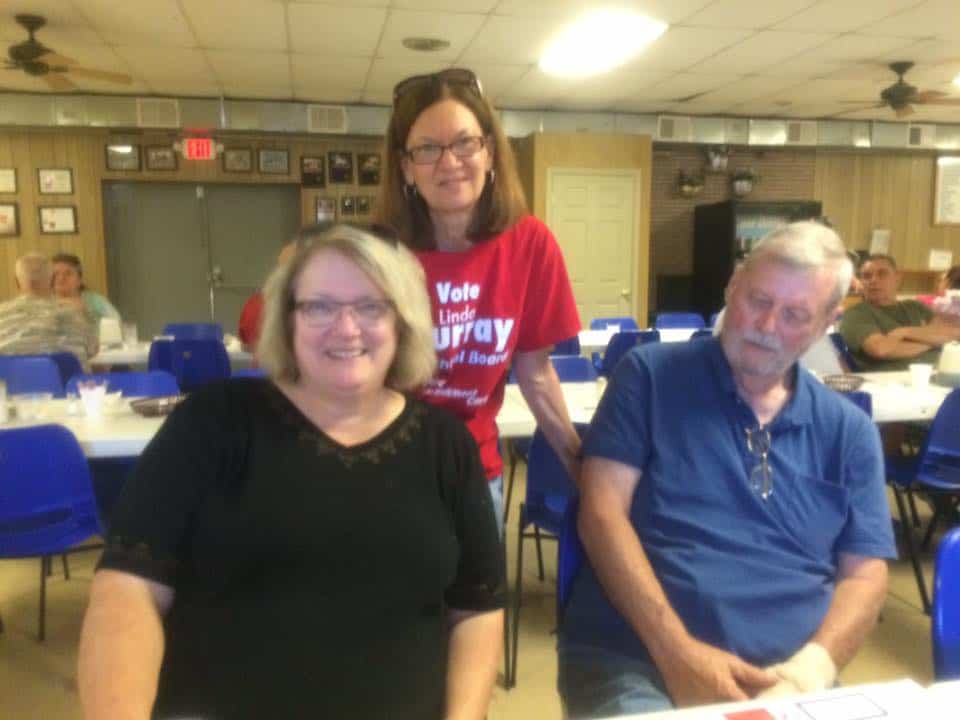 Linda Murray, a retired Washington County Public Schools paraprofessional, finished in sixth place – behind Donna Brightman, the former Board of Education president – in the 2016 Washington County Board of Education general election. Murray was an ally and key proponent for Karen Harshman's agenda; she would have likely joined the Williams, Stouffer, Guessford and Harshman voting bloc had she been elected as a board member, an unsavory and well-known obstructionist board faction with a reputation for a lack of transparency, unbridled corruption, political chess playing and an inability to govern.

Supported heavily by both Neil Parrott's radical and uncompromising wing of the Tea Party as well as the Washington County Teachers' Association, Mrs. Murry, who is currently serving in an executive leadership role with the Washington County Republican Club, is rumored to be both Commissioner Keefer and Commissioner's President Terry Baker's first – and only – choice to fill Harshman's vacancy.
The Washington County Republican Central Committee held its annual Republican Lincoln- Reagan Dinner at Fountain Head Country Club earlier this week on Wednesday, May 3. After the dinner concluded, one dinner attendee wrote to me about Keefer:
"He [Keefer] and Baker were pushing her [Murry] at the Lincoln-Reagan dinner, and it pissed some people off."
I emailed Keefer yesterday morning, asking him point-blank if he is pushing Murray's candidacy for the BOE vacancy.
Keefer pushed back against the rumor, flatly denying that Murray is his first choice and that he's pushing her candidacy. Below is the unabridged email I wrote to Keefer:
Good Morning, Commissioner Keefer, 

A series of rumors swirling suggest that you and Commissioner Baker are pushing former Washington County Board of Education candidate Linda Murray (should she apply) to fill the vacant seat on the Washington County Board of Education. I have heard from multiple community members that you have virtually promised Murray the seat. 

I am writing a story for AMinerDetail.com and am requesting a comment from you. 

Do you have a comment about the rumors percolating in the Washington County community about you committing to support Linda Murray for the Board of Education vacancy? Do you deny that you are pushing Murray for the appointment? And do you intend to fully weigh each applicant's merits before making a decision on whom to appoint? 

I look forward to you answering my questions. 
Keefer responded to my initial email yesterday afternoon at 4:00 p.m. Below is his complete and unedited response:
Hello Ryan,

As you might imagine will occur from time to time with major decisions which come before the BOCC, I am contacted by citizens who wish to express their support of, or objection to, proposed votes.  This decision is of particular interest to the community, and it goes without saying that I have been contacted by numerous people urging me to support a number of different candidates for the BOE vacancy, including Linda Murray, but several others as well and in equal numbers.  However, I have made no promises of support to any constituent or to any prospective applicant for the vacancy.  Either your sources have been misinformed, a political adversary is concocting a story for personal gain, or my sincerity to each constituent and offer to carefully consider their request has been misinterpreted as a definitive answer.

Ryan, we met once, back in 2014 when I was President of the Hancock Chamber of Commerce and invited all candidates (Republican and Democrat and non partisan office seekers) to Hancock for a Candidates Forum.  I made an effort during the forum to introduce myself to every candidate.  I pushed for and promoted a fair opportunity for each to have their voice be heard, and opinions shared, so that the community could benefit from listening to all of the candidates.  We gave everyone free speaking time….no questions so that we, the Chamber and Lions Club, weren't seen as partisan.  No gotch'a questions from the moderator.  I afforded each of my fellow sitting commissioners (unknown personally to me at the time) this opportunity, and their Democratic opponents, and they all attended.  Ryan, I gave you that opportunity as a BOE candidate.  I don't operate the way some have suggested to you, and have proven myself to be fair and honest in the past.  I hope you will agree that I have shown nothing but since then.

Ryan, I appreciate your enthusiasm for blogging and writing.  You often have interesting points of view worthy of consideration.  I have great respect for my fellow commissioners.  But, if there is any doubt in your mind of my independence from Commissioner Baker, I apologize and will take responsibility for not making myself available to you earlier.  When we last communicated after the announcement of my selection to the BOCC…through email/ fb / or text…. I offered for the two of us to meet and chat over lunch or coffee.  I never followed up in what was to become a hectic schedule during my first few months in office.  I'd like to meet soon, if possible.  The semester ends for me in two weeks.  Give me another week so I can score papers and submit grades.  Can we pick a day / location (Hagerstown area) after that?

Thank you,

Wayne Keefer
County Commissioner
Washington County, Maryland
I followed up with a second email to Keefer, pressing him again on the rumors that he is pushing Murray's candidacy, writing,
Commissioner,

Several people who saw your last evening at the Washington County Lincoln/Reagan dinner reported to me that you were actively pushing Linda Murray as a candidate. 

Do you deny this? Multiple people said they witnessed you and Commissioner Baker pushing Linda Murray's selection. 
I sent my second email to Keefer last evening at 8:05 p.m. If or when Keefer responds, I will post his full, unabridged response as a follow-up to this story.
Ryan Miner is the Editor in Chief, Founder, Senior Political Reporter and Publisher of A Miner Detail. He is the host of A Miner Detail Podcast.