By Ryan Miner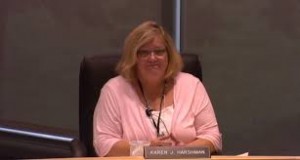 Karen Harshman on Monday took to Facebook – of all places – claiming that a sexual predator is still working in Washington County Public Schools and insinuated that the school system still harbors said predators. During the evening Board meeting on Tuesday, Dr. Justin Hartings, the school board vice president, blasted Harshman for her Facebook post, calling her remarks "irresponsible.'
After Tuesday's meeting concluded, Karen Harshman refused to provide Superintendent Clayton Wilcox with the names of Washington County Public Schools teachers who she says are having inappropriate sexual relations with students. Subsequently, a Washington County Sheriff's deputy visited Harshman's home where she told the deputy that she never reported any of the allegations to authorities.
Harshman, an employee of Washington County Public Schools, has a moral, legal and ethical obligation to come forward immediately and report any sexual misconduct between students and teachers to both the superintendent of schools and local authorities.
Why did Harshman not immediately hand over the names of the teachers she believes are having inappropriate sexual conduct with students? And why didn't Harshman come forward with the allegations the moment she learned of the alleged behavior?
Why did Mrs. Harshman seemingly change her story? She claimed – in present tense – that she knows of an active situation in Washington County Public Schools where a teacher is having inappropriate sexual relations with students? However, she then changes her story to claim that the alleged incident happened years ago and she believes the teacher may have been retired. Harshman's so-called details are now suddenly fuzzy.
How long has Mrs. Harshman kept these allegations to herself and why now, after several years, did she take to social media and claim that the school system simply moved these alleged sexual predators from one school to the next? That's a very serious allegation against the same school system – but Karen Harshman did nothing about it.
After the Herald-Mail Media released its article about Harshman's sexual allegations on its Facebook page, several Facebook users took Harshman to task under the link posted online.
Last evening, however, Harshman, took on her detractors, and she alleged that one of her own Board of Education colleagues is a sexual predator.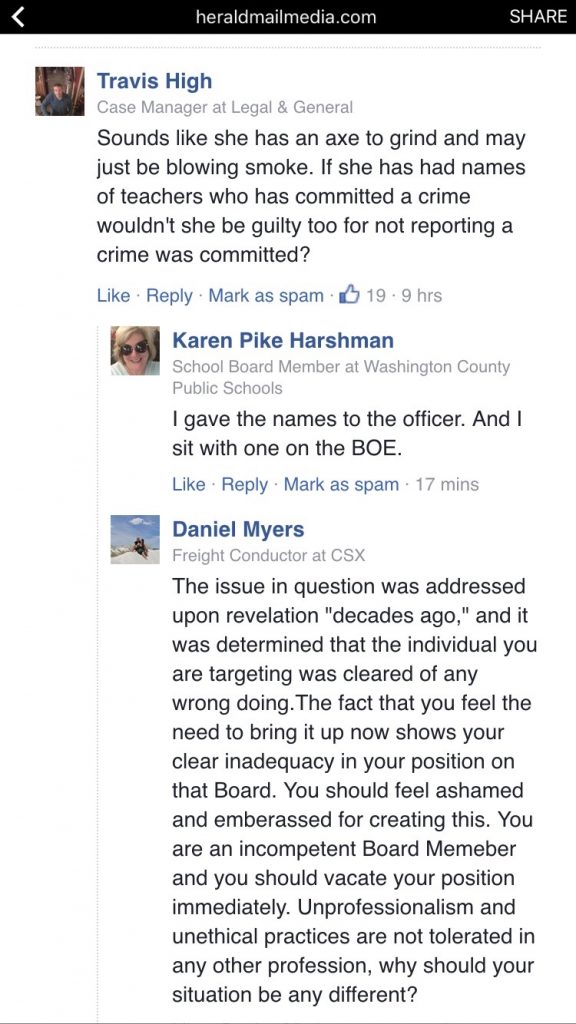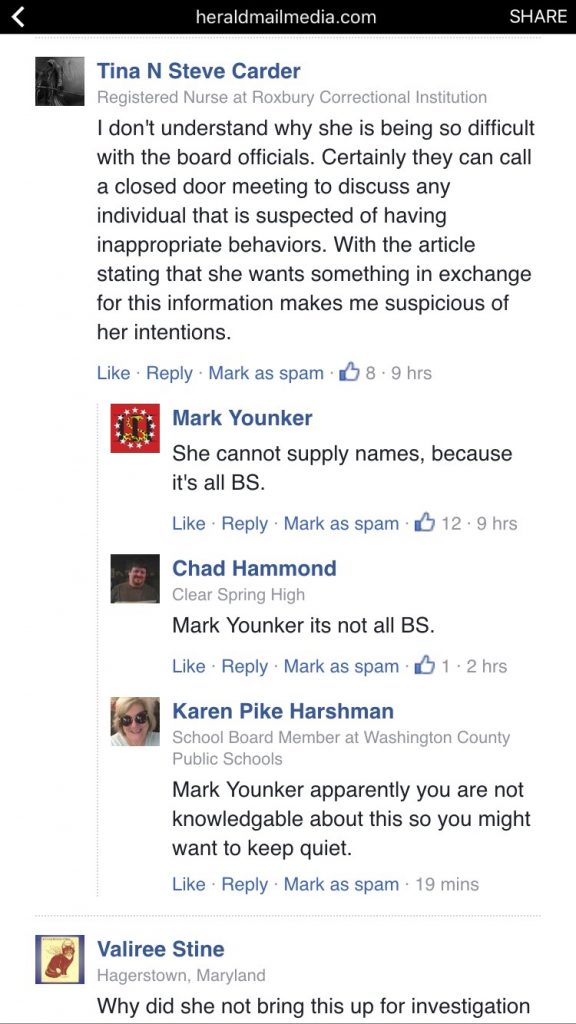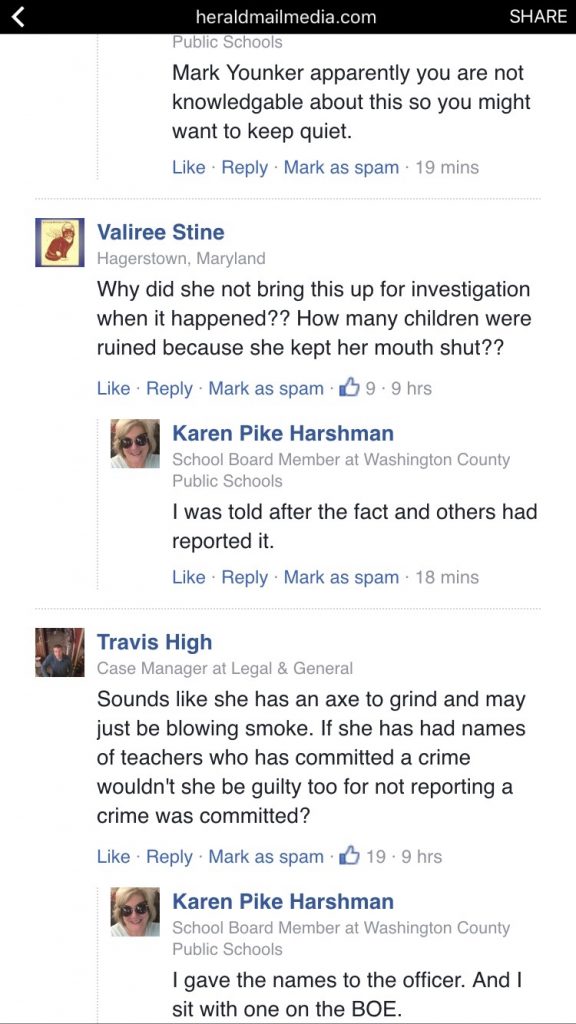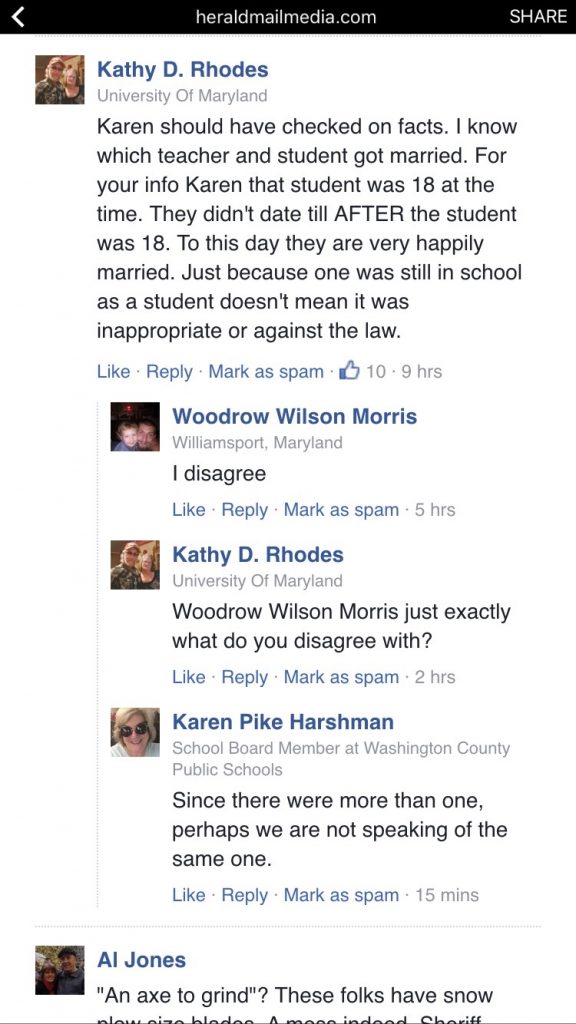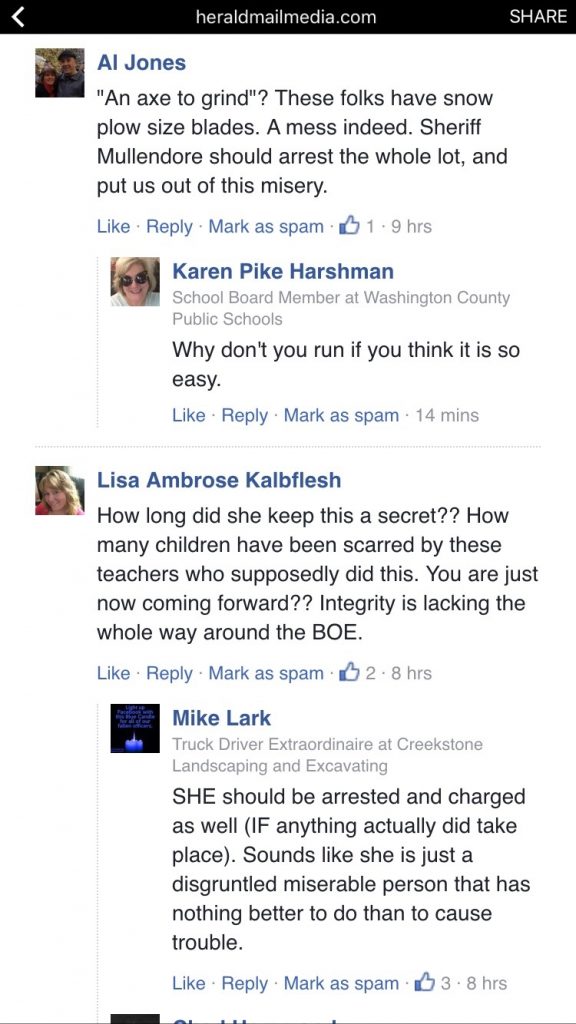 I have been in contact with officials at the Maryland State Board of Education.
There are grounds to remove Harshman from the Washington County Board of Education, so I am told.
Mrs. Harshman has betrayed the trust and confidence of Washington County by not reporting any allegations when she first knew about them and by not immediately rendering the names of teachers she believes are having inappropriate sexual relations with students unto the superintendent of schools when she was to do so multiple times.
Mrs. Harshman needs to resign.
Ryan Miner is the Editor in Chief, Founder, Senior Political Reporter and Publisher of A Miner Detail. He is the host of A Miner Detail Podcast.