By Ryan Miner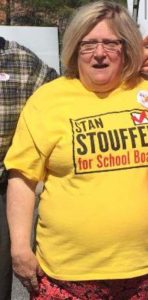 Embattled Washington County Board of Education member Karen Harshman is set to make history tomorrow: The Board of Education will consider Dr. Justin Hartings' resolution recommending that the Maryland State Board of Education remove Harshman from her Board of Education seat.
The Board is comprised of seven members: Board President Donna Brightman, Vice President Dr. Justin Hartings, Jackie Fischer, Wayne Ridenour, Melissa Williams, Michael Guessford and the embattled Harshman. Four votes are required to pass any resolution before the Board; undoubtedly, the Board has the votes required to send Harshman's name to Maryland's State Board of Education for removal.
Read below Hartings' letter that enumerates the reasons to remove Karen Harshman from the Board of Education:
Justin Hartings letter to remove Karen Harshman from Washington County BOE by Ryan Miner on Scribd
I suspect the resolution to remove Harshman will be introduced by Dr. Hartings. My hope is that Jackie Fischer gallantly raises her hand to second Hartings' motion. Superintendent Clayton Wilcox cannot vote on the resolution. Board members will have the opportunity to discuss Hartings resolution, making their sentiments known on the record.
I spent some time this past weekend researching the removal process and whether any Board of Education member in Washington County has been removed from public office. I was unable to find any other instance in which a Board of Education member in Washington County was removed by the State Board of Education.
Karen Harshman's impending removal from the Board will be unprecedented in Washington County history.
Keep a close eye on Melissa Williams tomorrow. She and Harshman are best friends and typically vote together alongside the ethically-encumbered Mike Guessford. With intense public pressure on Harshman to resign and/or be removed from the Board of Education, Melissa Williams may face serious consequences at the polls.
Williams could concoct an excuse to abstain from voting for Harshman's removal. Another scenario may occur in that Harshman, Williams and Guessford could boycott the meeting tomorrow altogether in protest. If Williams votes against the resolution to remove Harshman, I would expect her to provide a protracted soliloquy defending her decision and blaming the Board majority for playing politics or some other lame excuse.
If Williams does abstain or votes no on the resolution to remove Harshman, voters should ask her why she puts her own personal relationship with Harshman ahead of the school system she was elected to serve. The same also applies for Harshman's other two defenders – Stan Stouffer and Linda Murray.
The Board's business meeting begins tomorrow at 1:00 p.m.
Ryan Miner is the Editor in Chief, Founder, Senior Political Reporter and Publisher of A Miner Detail. He is the host of A Miner Detail Podcast.