By Ryan Miner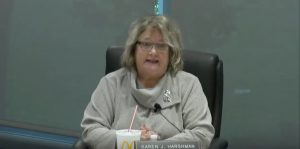 I make no apologies for my unabashed veneration for Hagerstown's local newspaper – The Herald-Mail. More often than not, I am impressed with the newspaper's esteemed journalism and fair coverage of local politics, nevertheless; I am a tad bit dismayed that the newspaper failed to write a more appropriate headline that summed up yesterday's Washington County Board of Education business meeting: Karen Harshman voted to remove herself from the Board of Education. 
Read the first paragraph of Dr. Hartings letter to his fellow Board members:
This letter is in follow up to the remarks I made at the October 18, 2016 business meeting. At this Tuesday's business meeting I intend to introduce a resolution calling for the removal of Mrs. Karen Harshman from theWashington County Board of Education for misconduct and willful neglect of duty. As I understand Maryland law, the State Board has the power to remove a member of this Board on those grounds. I hope this letter will provide you with the details of my thinking in advance so that you can make an informed vote on this matter next Tuesday.
According to BoardDocs, the recommended resolution found on yesterday's agenda (November 1) and put forth by Dr. Hartings reads as follows:
Recommended Motion: I move that the Washington County Board of Education approve a resolution that recommends to the Maryland State Board of Education the removal of Washington County Board Member Karen Harshman and such other action as stated in the resolution.
On the surface, it appears that Harshman did not and perhaps still doesn't comprehend the text and meaning of the resolution she voted for yesterday.
The Board unanimously and unequivocally voted yesterday to endorse Dr. Hartings' letter that calls for the State Board of Education to remove Karen Harshman from the Washington County Board of Education for wilful neglect of duty and misconduct.
Each of the seven Board members, including Harshman's two allies, Melissa Williams, Mike Guessford, and – stunningly – Karen Harshman herself, supported Hartings' resolution to remove Harshman from the Washington County Board of Education at the behest of Maryland's State Board of Education.
We know that Harshman has retained legal counsel and that said counsel is advising the embattled school board member not to admit wrongdoing. But why didn't Harshman's counsel advise her, in the very least, to offer an amendment to Hartings' resolution stating that she doesn't agree with the resolution or some other sort of resolution that would have added context to her position? As a Board member, Harshman has the authority to offer an amendment to any resolution. She could have virtually offered any amendment that may have mitigated the damage she was about to do to her own case.
Just imagine the reaction of the State Board during Harshman's hearing when they ask her why she voted for herself to be removed from the Board of Education. Why not just resign? She voted to remove herself! Instead of wasting countless taxpayer dollars for what is sure to be an inevitable outcome that will not favor Harshman, why doesn't she just resign? This is the logical way out for Harshman, but logic doesn't often penetrate Harshman's mind.
Harshman yesterday literally advocated for bypassing the resolution proposed by Hartings, circumventing legal procedure and moving directly to the State Board of Education (which is, incidentally, against the law).
Watch below:
Here are Harshman's exact words from the clip above:
"Though we don't need to take the vote. I'm willing to let the state determine it; certainly not the majority of four."
She clearly wants to bypass the local Board of Education and move directly to the State Board of Education. That's not how this works. That not how any of this works.
Mrs. Harshman ostensibly believes that the State Board of Education will only review the charges against her without outside influence. But in fact, she voted yesterday for her OWN REMOVAL from the Washington County Board of Education as proposed in Dr. Hartings' resolution. I presume, as I stated above, that Mrs. Harshman and her allies, Melissa Williams and Mike Guessford, did not fully grasp or understand the text enumerated within Hartings' resolution.
Which begs the question: What the hell did they think they were voting for yesterday?
There is no getting around this one for Karen Harshman. She voted for herself to be removed from the Washington County Board of Education. I look forward to Harshman's public hearing in front of Maryland's State Board of Education and her trying to wiggle her way out of the mess she created for herself.
Hartings' resolution authorizes the board's attorney and outside counsel to prepare a statement of charges against Harshman and to submit those charges to Maryland's State Board of Education by this Friday.
As written by The Herald-Mail,
The board attorney and outside counsel are "to pursue Mrs. Harshman's removal from the Board" on behalf of the local school board before the state school board, Washington County Circuit Court or any other entity with jurisdiction over the matter and to pursue that case until its "final disposition and any and all appeals available under law are exhausted."
AMinerDetail.com will keep you updated on Harshman's removal proceedings.
Ryan Miner is the Editor in Chief, Founder, Senior Political Reporter and Publisher of A Miner Detail. He is the host of A Miner Detail Podcast.