By Ryan Miner 
Karen Harshman has been a busy bee on social media as of late. On Monday afternoon, Harshman, in an incoherent grammatically-challenged jeremiad, took to her public Facebook page, Karen Harshman Washington County School Board Member, to express her displeasure with Board of Education candidates Wayne Ridenour and Pieter Bickford, the two top vote earners from the April 26 primary.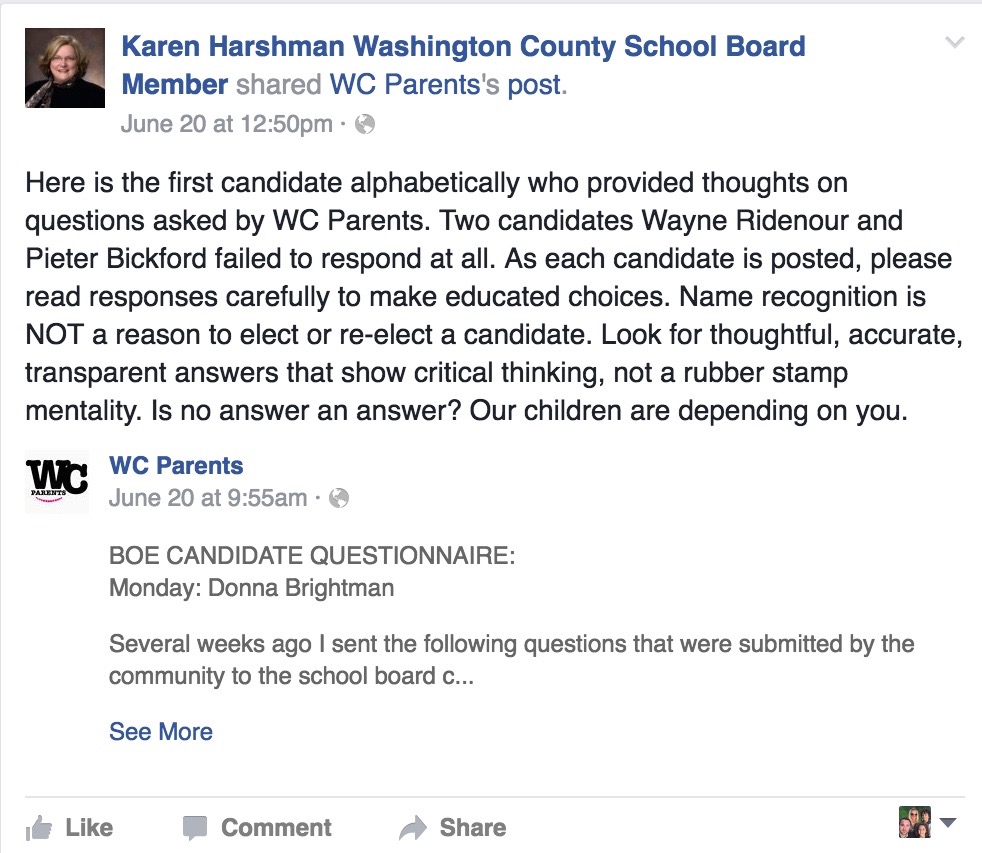 According to Harshman, Wayne Ridenour and Pieter Bickford –  both of whom are significantly respected and admired in the community, much more so than Karen Harshman, failed to respond to Dottie Gruhler's (WC Parents) "BOE Candidate Questionnaire." Gruhler, a former Board candidate and an undeniably biased surrogate on behalf of the obstructionist wing of the current Board (passive aggressive Melissa Williams, mentally unhinged Karen Harshman and illiterate Guessford), apparently emailed the seven Board of Education candidates a candidate questionnaire.
Why would Ridenour respond to Dottie Gruhler's candidate questionnaire when she has been outright hostile to him (and other Board members) over the last three to four years? The "WC Parents" Facebook page often revolves around blasting Ridenour, Brightman, Hartings and Wilcox.  So I sympathize with Ridenour (and Bickford). Gruhler pretends to be fair; however, she's demonstrably unfair.
However, Karen Harshman cannot claim a moral high ground or express her righteous indignation over Ridenour and Bickford not responding to Gruhler's candidate questionnaire. Running for re-election to the Board in 2014, Harshman, alongside Guessford and Stouffer, failed to appear at the October 8, 2014 Herald-Mail Media televised candidate forum. Only three candidates – Mrs. Fischer, Mr. Perini and myself – attended said Herald-Mail Media forum. I should be thanking the three for giving us more time to present a coherent policy agenda.
Harshman even once called the Herald-Mail newspaper "fledgling," and she inferred that columnist Tim Rowland had no business writing about the Washington County Board of Education because he lives in West Virginia. Yeah, her logic. It's… horrid.
In her Monday Facebook posting, Harshman wrote,
Look for thoughtful, accurate, transparent answers that show critical thinking, not a rubber stamp mentality. Is no answer an answer? Our children are depending on you."
Karen Harshman is the diametrical opposite of a "thoughtful, accurate and transparent" Board member. Harshman, Williams and Guessford, the obstructionist cabal is, however, a rubber stamp for the Washington County Teachers' Union – nothing more. Look at who the defunct union, under the leadership of embattled Neil Becker, endorsed in the last two elections (minus Al Martin and Peter Perini).
(Incidentally, Martin will be treated in the same vein as was Perini in 2014. The teachers' union ignored Perini and instead helped its reliable puppets – Harshman, Guessford, and Stan Stouffer. Al Martin will likely suffer the same cold shoulder from the union.)
When Karen Harshman uses words like "accurate" and "thoughtful," I need to laugh. I'm assuming that when Karen Harshman accuses the City of Hagerstown of being bankrupt while subsequently claiming that the streets in downtown Hagerstown, near the Arts and Entertainment District, are unsafe for students, she believes herself to be "accurate" and "thoughtful." Is hanging up the phone on Mayor Gysberts considered "thoughtful?" Is walking out of a Board meeting in a petulant tizzy considered "thoughtful?"
Harshman has the audacity to lament Ridenour and Bickford for a lack of transparency when, in the summer of 2014, Harshman was involved in secret meetings at Always Rons alongside Melissa Williams, Mike Guessford and Stan Stouffer.
Harshman's hypocrisy is nauseating.
Harshman is right: our children are depending on voters to elect "thoughtful," "accurate," and "transparent" school board members.
Thoughtful, accurate and transparent define Donna Brightman, Wayne Ridenour, Pieter Bickford and Al Martin. I urge you to support these candidates.
Karen – stop embarrassing yourself.
Ryan Miner is the Editor in Chief, Founder, Senior Political Reporter and Publisher of A Miner Detail. He is the host of A Miner Detail Podcast.