By Ryan Miner 
Disgraced former acting Washington County commissioner Vincent G. "Woody" Spong, who resigned in January after Gov. Larry Hogan publicly announced his opposition to the former elementary school principal, should seriously consider attending a "Social Media Anonomys" meeting, a would-be program designed for recovering social media users who blow promising, career-advancing opportunities using social media (e.g., sharing a racist meme on Facebook).
Since Spong's January resignation from the commissioner board, his political activity on social media only grew more aggressive – aggressively irrational.
When Spong wasn't accosting Donna Brightman, the president of the Board of Education, with Mad Med-era sexism, he spent most of his time trashing Washington County's popular superintendent, Dr. Clayton Wilcox.
Last year the Hagerstown Tea Party invited Spong to speak at its December meeting; that faithful gathering of Trump's best and brightest defenders was held at the now-defunct Corner Pub. I attended that meeting for the sole purpose of listening to Spong's speech. I used my iPhone to record Spong's remarks. Spong spent nearly fourteen minutes blasting Dr. Wilcox and Washington County Public Schools, claiming the school system spends too much money. Of course, that's abject fiction. Spong should learn the facts.
Listen below to the recording of Spong's remarks:
This past Tuesday, in a 4-3 vote, the Board of Education approved a new four-year contract for Dr. Wilcox that extends until July 1, 2020. Extending Dr. Wilcox's contract until 2020 was, without a doubt, an excellent decision – and the action was taken in accordance with state law. Wilcox has rightly earned a new contract; the support of the superintendent and his education vision is, by all accounts, at an all-time high within the Washington County community.
But Superintendent Wilcox is not without detractors. The merry band of naysayers and obstructionists include the functionally unstable and mentally unhinged Karen Harshman, the illiterate Mike Guessford, the passive aggressive unaccomplished bully Melissa Williams, and yes, the disgraced Woody Spong. Because nobody really takes Harshman and Spong seriously, they get their jollies using social media, using Facebook as their weapon to lament their unfounded grievances against Dr. Wilcox.
Because nobody really takes Harshman and Spong seriously, they get their jollies on social media, using Facebook as their weapon to lament their unfounded grievances against Dr. Wilcox and the school system. Because, of course, Karen and Woody, two former Washington County educators, always know best. Warning: I'm being facetious.
In yet another incoherent social media rant that wasn't, thank goodness, a racist meme, Mr. Spong shared his discontent with the Board voting to give Dr. Wilcox a new contract.
See the image below:
It should speak volumes that Karen Harshman is inappropriately and cowardly trashing the superintendent of Washington County Public Schools in a very public way. It should speak volumes that Harshman has not a single shred of decency. And it should speak volumes that Karen Harshman is an indecorous, ill-tempered reprobate whose nefarious contempt for Dr. Wilcox has become an impediment to doing her job as a school board member. Trashing the superintendent on Facebook is tacky, and it shows that Harshman is invariably willing to travel to the lowest common denominator to express herself.
But, sadly, there is more to this Facebook thread.
Read below: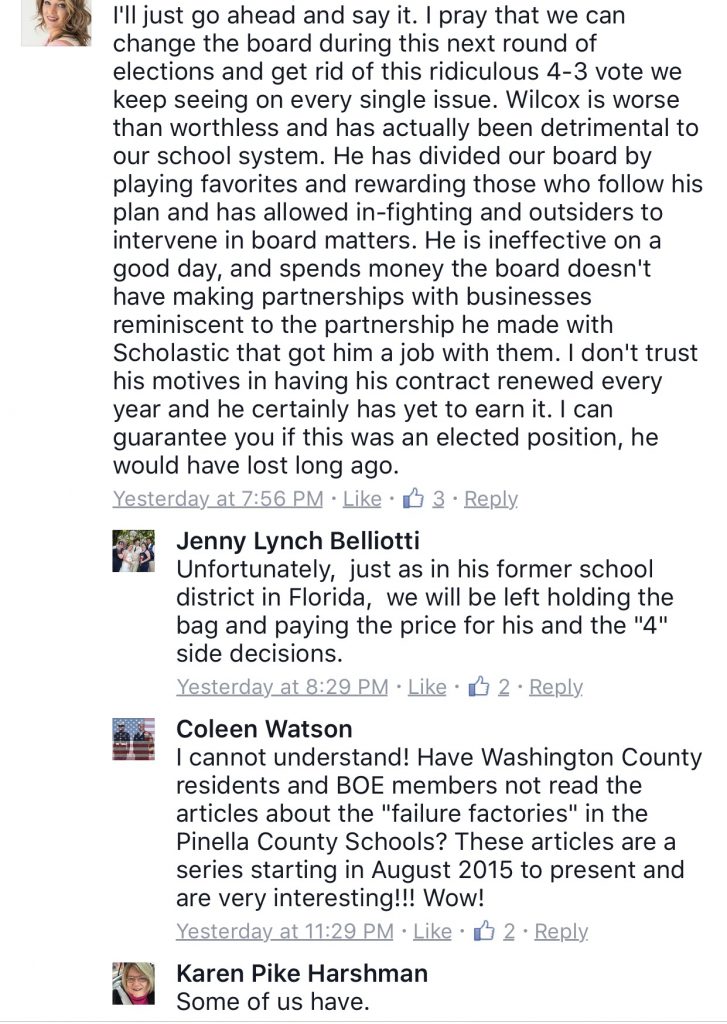 Except in "Pinella" – Coleen means Pinellas – County, Dr. Wilcox faced a similar Board dichotomy while he was the superintendent there; Mary Brown, a former Pinellas County Board of Education member during Dr. Wilcox's tenure with the Pinellas County school system, was the Karen Harshman of her Board. The stories about Brown would raise the hair on the back of your neck; she was that awful.
I had discussions with some of the former board of education members who worked with Dr. Wilcox while he was the superintendent of the Pinellas County school system. The board members I spoke with had nothing but praise for Wilcox, complimenting his work ethic, strategic goals, and visionary thinking. Former Pinellas County Board member Nancy Bostock offered high praise of Wilcox, saying that any school system would be lucky to have him as a superintendent.
Karen Harshman is certainly entitled to disagree with Clayton Wilcox and his decisions. Her disagreements, however, should be channeled professionally and within a setting appropriate and indicative of her role as a board member. Taking to social media to trash and undercut Dr. Wilcox is the opposite of professionalism.
Show some class, Mrs. Harshman. Don't take your marching orders from a disgraced former acting county commissioner who spent his nine months on the commissioner board defending himself from his own self-inflicted wounds.
Show some real courage, Mrs. Harshman. Speak openly during business meetings about whatever issues you may have with Dr. Wilcox's performance as the superintendent. Don't hide behind your Facebook account; take your issues directly to the public during Board business meetings. Use the power of the pen to professionally express your concerns with Dr. Wilcox. There is nothing courageous about hiding behind your computer screen when you have a microphone in front of you.
I might take Karen Harshman more seriously if she rose to the occasion and spoke publicly about her misgivings with Clayton Wilcox. But then again, look at the company she keeps. That speaks volumes.
Ryan Miner is the Editor in Chief, Founder, Senior Political Reporter and Publisher of A Miner Detail. He is the host of A Miner Detail Podcast.