By Ryan Miner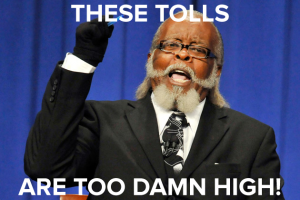 Liberal politicians from Montgomery and Frederick Counties appeared together today at a joint press conference in Germantown – actually, it was an election-season photo op – where they collectively called for traffic improvements to Interstate 270, a stretch of highway that subtracts years from the lives of daily commuters and one that created a boon for the Lexapro market.
Fixing and updating the stretch of Interstate 270 running through Frederick and Montgomery Counties has been a major priority of almost every Frederick and Montgomery politician and candidate in the last – oh, I don't know – ten or fifteen years. For commuters, traveling 270 during rush-hour traffic is comparable to staring into the abyss of hell. That's not even hyperbole.
In July, Gov. Larry Hogan announced a $229.6 million plan to ease traffic congestion along 270 and local roads in Montgomery County. However, $100 million of that money isn't dedicated to any project. The governor's office said the 35-mile, I-270 corridor carries up to 79,400 vehicles a day on the north end of I-270 to 261,200 vehicles a day near the Capital Beltway. By the year 2035, Hogan's office said these volumes will increase to 107,000 to 290,000 vehicles a day.
Today, however, politicians who are part of a newly-formed coalition, Fix 270 Now, made it a point to state the obvious: 270 traffic congestion is a quality of life issue, preventing commuters from spending more time with their families, doing the things they love before and after work, and causing businesses who might consider relocating to the D.C. suburbs to think twice. The only upside to 270's horrendous – and dangerous – traffic congestion issues is listening to an extra hour of the Howard Stern show.
Strategically planting himself front and center at today's press conference was none other than Maryland's own Lance Armstrong, the bicycling congressman of Potomac, John Delaney.
According to Bethesda Beat,
Delaney said any project would need to be financed with tolls, like those in place on the Intercounty Connector and I-495 express lanes on Virginia's portion of the Capital Beltway.
Yes, you read correctly – John Delaney's quick fix for 270's exhausting traffic problems is taxing Marylanders with more tolls. As serious as Delaney is with his proposal, it's the least serious idea he's presented thus far.
The Washington Post has more,
The coalition wants to revive dormant state studies that could lead to the addition of express toll lanes, which could manage traffic and provide lane space and financial support for a regional rapid bus system. The regional buses would provide a limited stop service between Frederick and Rock Spring Park in the North Bethesda area, offering connections along the way to other transit and bus services. The coalition also supports construction of a local rapid bus system, known as the Corridor Cities Transitway, to link centers of activity between Shady Grove and Clarksburg.
Larry Hogan's administration isn't exactly a big fan of using tolls to improve our infrastructure. In May, Governor Hogan announced that his administration would reduce and eliminate 155 fees, taxes and tolls, saving Marylanders over $60 million in the next five years.
More from The Post:
Stewart Schwartz, executive director of the Coalition for Smarter Growth, was skeptical of the express lanes approach for I-270. "Widened highways in metropolitan areas can fill up again in as little as five years," he said in a statement Monday.

Instead, Schwartz recommended extending the I-270 HOV lane to the American Legion Bridge, expanding MARC commuter train service from Frederick, enhancing commuter bus service in the I-270 corridor and encouraging development around transit centers.
According to one Bethesda Beat commentator:
While the Montgomery County Council blames the state for lack of action on I-270, they can blame themselves for failing to provide funding to complete the parallel eastern arterial linking the existing Mid-County Highway to the south and Snowden Farm Parkway to the north. The six-mile four-lane section has been on the master plans for a half-century while development has proceeded unabated. Build M-83 NOW on the Master Plan Route!
Alternatively, here's another opinion from an online commenter:
Yes, I want people to be able to go where they want to, when they want to. That's mobility. Unfortunately, the "Fix 270" people aren't talking about improving mobility, they're talking about adding lanes for cars on one area highway. I live in the upcounty near I-270, and adding highway lanes on 270 isn't going to improve my mobility. What would? Better Brunswick Line service, better bus connections, better bike connections, better pedestrian connections, so that I'm not forced to get into a car and drive anytime anybody in my family wants to go somewhere.
John Delaney has been in Congress now for almost four years, yet his most prolific solution to fix the 270 mess is to burden hardworking taxpayers with an increase in tolls. Upgrading our failing infrastructure is a serious issue that requires serious thought by serious leaders.
Here's what John Delaney's Republican congressional opponent, Amie Hoeber, has to say about 270:
Residents of the 6th District know that the traffic problems of I-81 and I-270 hurt economic growth and our quality of life.

Governor Hogan has plans to invest $40 million in these major transportation corridors.

He needs a partner in Congress to get federal help. The problem has only gotten worse over the last four years, and we cannot keep postponing action. That is why I want to be on the Congressional Transportation Committee — because our District needs leadership to fix our roads.

As your Congresswoman, I will work closely with Governor Hogan to solve the growing problem of highway transportation in the 6th District.
More tolls, Congressman? Go back to the drawing board and do better.