By Ryan Miner 
Karen Harshman is privately battling through some tough, personal issues that need not be published. Just understand that her private struggles are largely responsible for her dramatic shift in behavior, causing her to lash out at her colleagues on the Washington County Board of Education, Herald-Mail reporters and myself.
Her recent meltdown during a memorable Board of Education meeting;
Her public emotional breakdown;
Her wild accusations and unprepared remarks;
Her flagrant and deplorable abuse of our court system to settle a political dispute;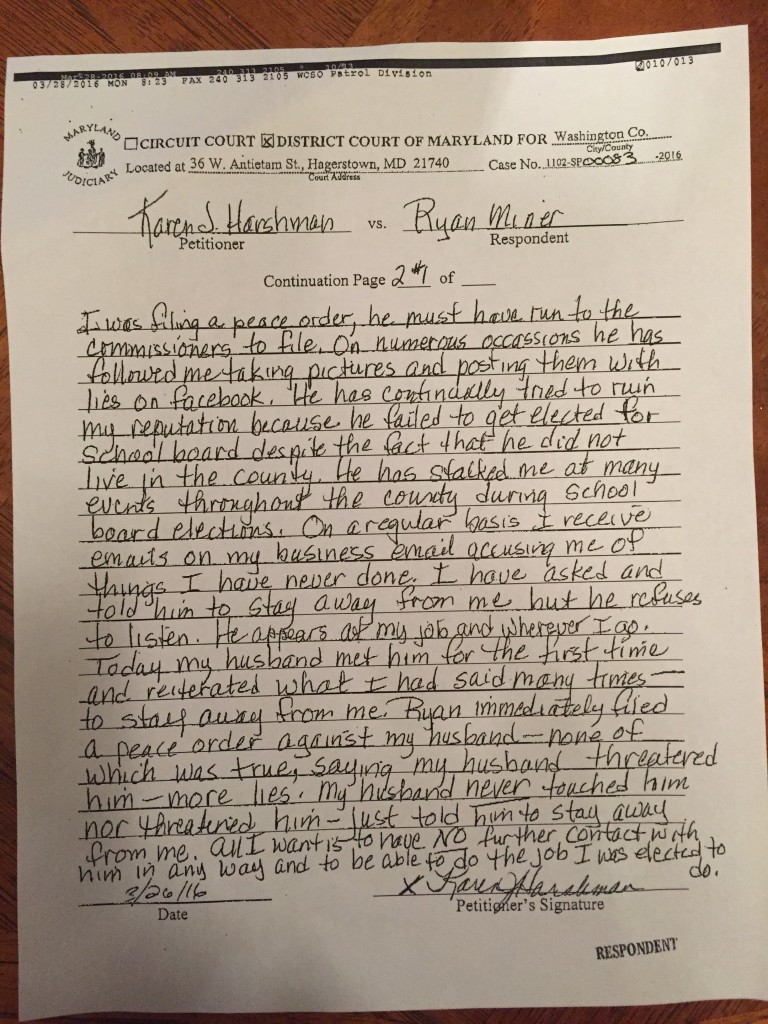 All of the above incidents I listed (and there are plenty more) show that Mrs. Harshman is fighting some internal demons. I truly hope Karen Harshman gets the help that she needs. This is not a laughing matter; Karen Harshman is clearly suffering from… what… I don't know.
Given Harshman's demonstrably estranged behavior lately, Kim and I have discussed at length our concerns about whether her anger would manifest beyond the routine keyboard bullying and grow to the level of… we don't know (God forbid). Harshman's well-documented irrational peculiarities cause us both considerable angst.
Just today, Harshman spent much of her free time crafting bizarre memes about me and sharing her finished work on her Facebook page.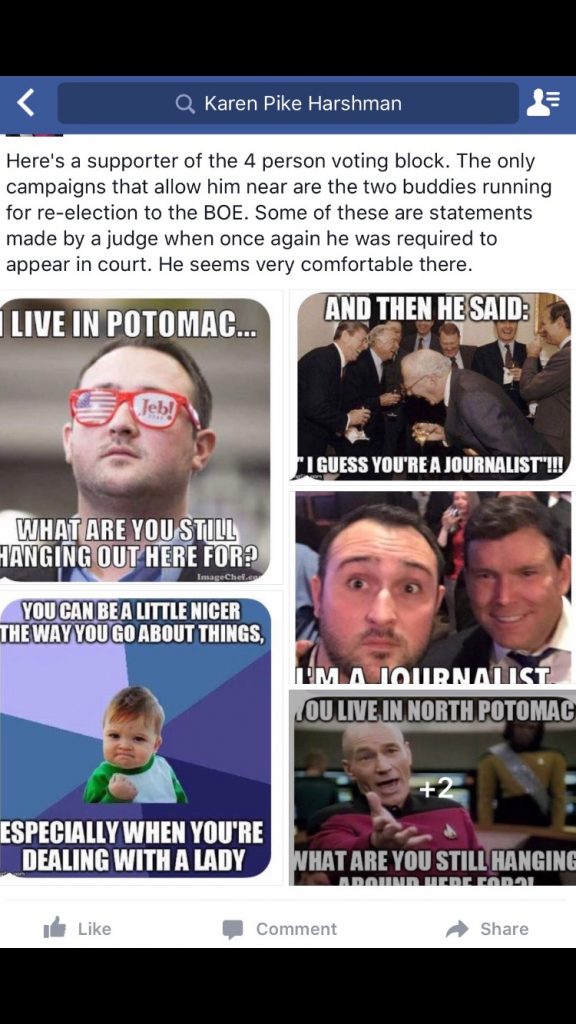 Creating goofy memes and sharing on Facebook: is this normal behavior for a 70-year-old former teacher and current member of a Board of Education? Is Karen Harshman someone students should look to as an example? Perhaps she's regressing – I don't know. I certainly don't take personally her petulant insults, because after all, just look at the source.
This is the same woman who wrote in a sworn affidavit:
"All I want is to have no further contact with him in any way and be able to do the job I was elected to do.
Bottom line: Kim and I are legitimately worried about what to expect next from Mrs. Harshman. We're looking at all of our available legal options at this stage. It's not a game for us.
It's clear that I am anathema to Karen Harshman. It's even more clear that Mrs. Harshman suffers from some sort of unhealthy and borderline obsession. If she detests me as much as she says does but continues to bring me up in conversation after conversation as well as stoop to creating childish Facebook memes about me, what, exactly, is going on with her? The problem has exacerbated beyond weird.
If I am so awful to Karen Harshman, and if she truly wants absolutely nothing to do with me as she said in her duplicitous court testimony that was thrown out of court, why not just ignore me and pretend as if I do not exist? It's not like she's forced to see me on a regular basis. My immediate family all reside in Hagerstown, and we often visit; however, we don't run into Karen Harshman and we certainly don't run in the same social circles. I don't even remember the last time I saw Ms. Harshman in public.
Kim and I both mean this when we say it: we do hope Karen Harshman gets the help that she apparently needs sooner rather than later. We pray that she overcomes her private struggles and finds solace in her work on behalf of Washington County Public Schools.
Ryan Miner is the Editor in Chief, Founder, Senior Political Reporter and Publisher of A Miner Detail. He is the host of A Miner Detail Podcast.