By Ryan Miner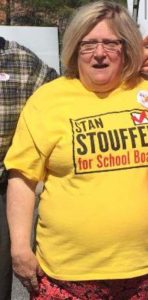 I'm lacking adjectives within my word arsenal to apply to The Herald-Mail's nuclear evisceration of Karen Harshman, written in the form of an editorial and released earlier this morning in both print and online.
Read the last two paragraphs of the editorial:
Also clear is that a person who is so lacking in judgment has no business sitting on a public board. No doubt Harshman's irresponsibility led some parents to genuinely fear for their children's safety, or to play guessing games as to who these alleged offenders might be.
For this, Harshman's track record on the board has crossed the line from the questionable to the despicable, and we can only conclude that she is neither worthy of public trust nor fit for public office.
Read The Herald-Mail's full editorial here:
And be sure to sign the petition that urges Maryland's State Board of Education to remove Karen Harshman from the Washington County Board of Education.
Ryan Miner is the Editor in Chief, Founder, Senior Political Reporter and Publisher of A Miner Detail. He is the host of A Miner Detail Podcast.