By Ryan Miner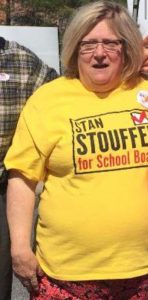 The Herald-Mail's stunning Saturday editorial aimed at Washington County Board of Education member Karen Harshman is written with unequivocal brevity: Harshman's school board gig is up and it's time to go.
A longtime skeptic of Harshman both as a candidate and a Board of Education member, the Herald-Mail seemingly has had it with her longtime circus act. Finally, after months of dragging the community through a protracted legal battle of grab ass – a battle, quite frankly, that Harshman cannot and will not win – the Herald-Mail called on the embattled school board member to "gracefully step aside."
Here's the snippet of the Herald-Mail editorial calling on Harshman to resign:
To date, she has cost county taxpayers $22,000 in legal fees, not to mention lost staff time, and the longer she holds on, the more tax money will continue to be wasted on this fight instead of invested in our children's education. If Harshman were thinking "about the kids," as school board candidates often promise to do, she would stop wasting our educational tax dollars on this self-centered battle.

Even if Harshman believes her own narrative, were she a statesman, she would understand that she is in a fight she cannot win, and gracefully step aside.
Yes, gracefully. Except, that's a word Karen Harshman doesn't comprehend. What is graceful about this?
Or this…
Or this…
Or even this…
What's most alarming about this entire horrific episode is that Karen Harshman is a retired educator; she spent years inside of Washington County classrooms, apparently "educating" public school children on God only knows what. Educators, especially public school teachers, often teach and lead by example. In Harshman's case, however, could you ever possibly fathom her teaching your children?
How did Harshman last thirty years as a classroom teacher in Washington County Public Schools? It sure did help that she was the teachers' association's Golden Girl. After all, the association endorsed her candidacy in her two races for school board.
The association's deafening silence on Harshman's actions, however, speaks volumes. You won't see Neil Becker or any of the association's leadership rushing to her defense. Not this time. They wouldn't dare ensnarl themselves with a sinking ship. It's bad for business, and it's even worse politics. For a membership-driven organization, Karen Harshman parading as the poster child for teachers' unions (sorry, associations) would be like OJ Simpson advertising for Swiss Army Knives.
What strikes me the most is that after thirty years of Harshman "teaching" students inside of our classrooms and being well-known throughout the county as a beleaguered teacher, how the – I won't curse – did Washington County voters elevate her into a position of overseeing education policy and budgets?
We warned voters in 2014. It was a small but vocal group reminding you about Mrs. Harshman, who was moved from school to school for bad behavior and poor performance. Perhaps it was Mrs. Harshman who was placed on a teacher performance improvement plan after years of poor performance. Perhaps it was Mrs. Harshman who bullied fellow classroom teachers, and, sickeningly, even her own students. Speaking of which, have you ever heard any of her former students compliment her as a teacher? Not at all; in fact, many of Harshman's former students have come forward publicly to acknowledge just how despicable she was and still is.
I'll give Mrs. Harshman credit for being pugnaciously persistent, but she and her crackpot attorney, Ira Cooke, are only delaying the inevitable. Harshman and Cooke are wasting time and money – not Harshman's money, but your money, the taxpayers. And that's a real shame, as my late and dearly departed friend, Maryland's Prince of Darkness, Joseph F. Steffen, was known for saying.
I am working with a few legal experts and local Washington County attornies on strategies to recoup the taxpayer dollars lost because Harshman wasn't willing to go, for the lack of a better word, "gracefully."
I'm not an attorney; I don't pretend to fully grasp all (or possibly none) of the legal pathways to rectify both Harshman's abuse of her position and your taxpayer dollars. I am, nevertheless, more than willing to exercise every method available to the general public to force Harshman to pay back the taxpayers for her public misdeeds. Taxpayers cannot be forced to pay for Harshman's mistakes.
I have one other question that I've been meaning to ask.
Why haven't we heard the so-called fiscally conservative Tea Party voices in Washington County calling for Harshman's resignation? Where is Neil Parrott, Terry Baker, Bill Wivell and the rest of the so-called fiscal conservatives calling on Harshman to step aside to save the taxpayers the expense of footing the bill for her legal troubles? Where has Robin Wivell been, you know, the once-interested school board candidate and the self-proclaimed champion of the taxpayer, hum? Where is Jerry DeWolf, the cowardly head of Washington County's Republican Central Committee, calling for Harshman to move on? Where is Ginger Bigelow, the head of the Washington County Republican Club, also the ultra-right Trump bootlicker who fancies herself as a fiscally conservative Republican, calling on Harshman to step down from her school board position?
All of the individuals I listed above have shied away from calling on Harshman to resign, refusing to stand up for the taxpayers of Washington County. All of them should be ashamed of themselves. Poltroons, all of them.
Back to the Herald-Mail's editorial.
Harshman, however, seems to have no understanding, or at least no acknowledgment, of her offense, which was that she took to social media to make unfounded statements about sexual predators in the school system. Then she refused to turn over names of alleged abusers when asked to do so by a school official. This from a mandatory reporter of child abuse.

Even Harshman's most ardent defenders must sense the grievous nature of this behavior, which incites fear and mistrust among parents, and stands to taint the reputation of every employee in the school system. This is not becoming of an elected official who is, above all, responsible for fostering a school environment in which everyone feels safe. Were there any doubt about these facts, an administrative judge hearing the case ruled that the situation clearly gave the county and state grounds to move for her dismissal. Still Harshman seems not to grasp the severity of the case against her.
Excellent writing, Herald-Mail.
My hope is that other thought leaders in Washington County rise to the occasion and speak out – if not for the taxpayers then for the kids.
Ryan Miner is the Editor in Chief, Founder, Senior Political Reporter and Publisher of A Miner Detail. He is the host of A Miner Detail Podcast.