By Ryan Miner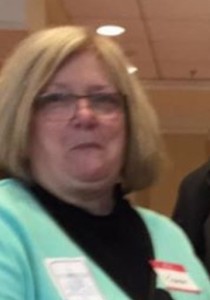 Roses are Red
Violets are Blue
Karen is sweet
Awee, boo! 
Today is Valentines Day! Karen Harshman would like to send her love to some of her Board of Education colleagues – we think. Karen has been busy posting a myriad of special Valentines Day grams on her personal Facebook page.
For example:
From: Karen
To: Ryan Miner

From: Karen
To: Donna Brightman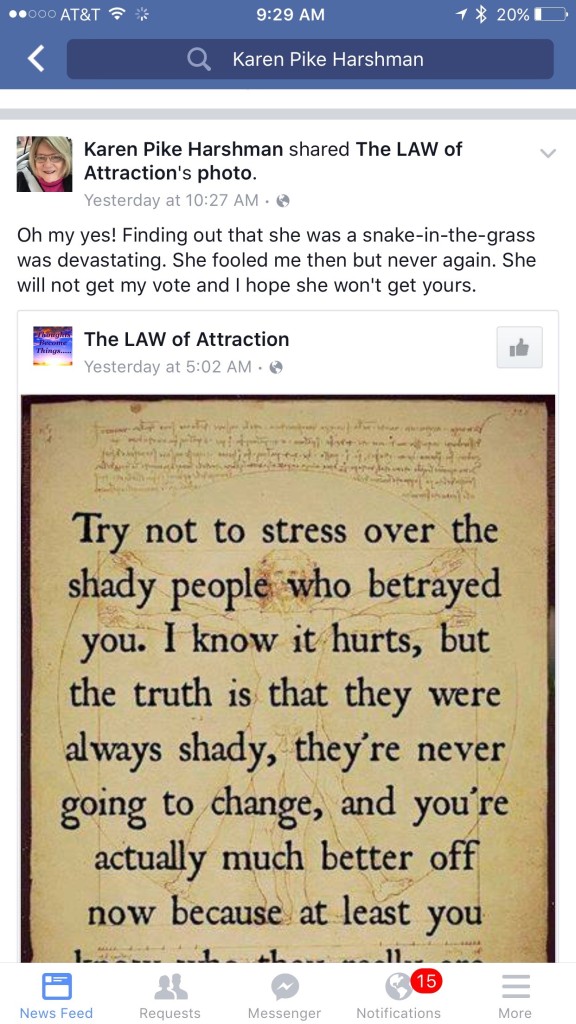 From: Karen
To: Dr. Hartings or Dr. Wilcox (take your pick)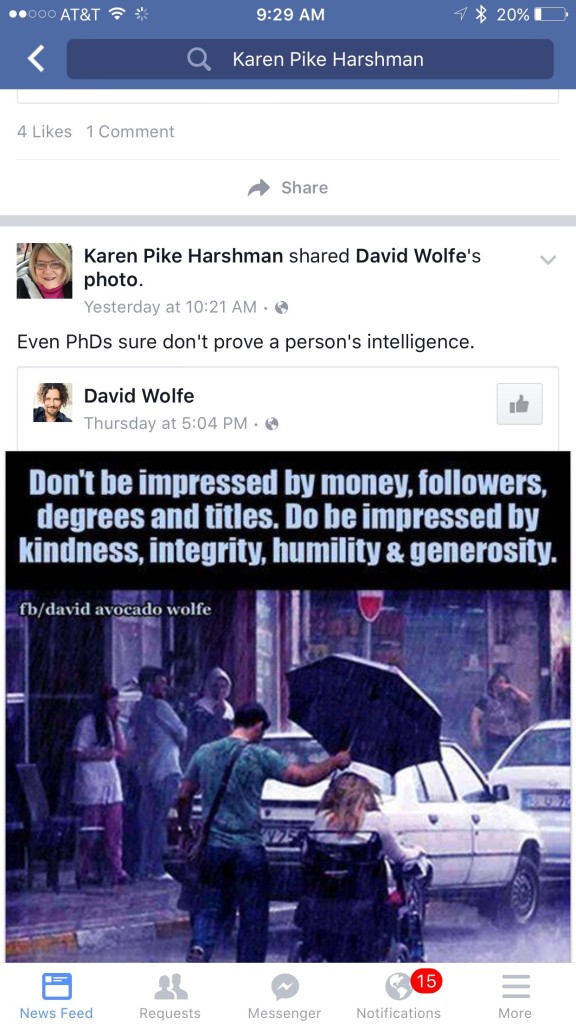 Karen's endearing comments about her fellow Board of Education colleagues are a manifestation of her seething antipathy for anyone who has ever dared to take an alternative opinion than Karen's own. It's no secret that Karen disdains Wayne Ridenour, Donna Brightman, Dr. Justin Hartings and Dr. Clyton Wilcox.
Karen Harshman has the subtlety equivalent to Pee-wee Herman in a movie theater. She certainly doesn't hide her contempt for her colleagues, and she doesn't care. There is no attempt on Karen's behalf to show even basic congeniality to her colleagues with whom she disagrees.
She doesn't care that her behavior adversely affects Washington County. She doesn't care that her constant negativity gives Washington County a bad rap in Annapolis. And Karen Harshman doesn't care how her intransigence is perceived or who it affects, including the students who attend Washington County Public School students. With any board, be it education or corporate, disagreement will inevitably occur among its members.
Karen Harshman is not interested in finding common ground; instead, she's interested in using social media to fling insults at her colleagues. It was only a few months ago that Karen Harshman (and Melissa Williams) lamented Wayne Ridenour and Jackie Fischer for sharing a blog article I wrote on their personal Facebook pages. She even went so far as to accuse Wayne Ridenour of feeding me information, which, of course, is a total lie. Yet it is Mrs. Harshman who takes to social media to write passive aggressive insults about her colleagues.
Harshman's life mantra: Do as I say and not as I do.
This is typical of Karen Harshman. With nothing to show for her five years on the Board, she resorts to tearing down her colleagues with innuendo and sideways accusations.  
I don't know Dr. Hartings well. I met with him briefly when I was a candidate for the Board of Education, just as I met with other members, including Karen Harshman (we shared a lunch at Always Rons). I have watched my fair share of Board of Education meetings over the last few years, and I know this: Dr. Hartings has never used his degree, his profession, or his education to intimidate other members, dismiss their ideas or belittle their service.    
I challenge Mrs. Harshman to find just one instance to prove me wrong. Hartings' interactions with his colleagues stand in stark contrast to Harshman's, who routinely uses her thirty years of substandard teaching to try to silence her colleagues and dismiss their opinions  – even the opinions of her colleagues who were teachers.  
Harshman has said that "business people" should not be allowed to serve in board leadership positions. She has said that "business people" should leave instructional questions to her. It is Harshman who uses her experience to try to silence her colleagues and dismiss the contributions they make to the board. Harshman has even tried to do the job of the superintendent and meddle in the operational affairs of Washington County Public Schools. 
I don't know if Dr. Hartings is smart or not. But a quick glance at his company's website tells me that there are plenty of smart people and institutions who think that he is smart. They think his work is important. Yale University accepted him to its graduate school and awarded him a Ph.D. I'm not a physicist, so I won't pretend to understand his patents or scientific publications. But I don't have to understand his work to know that his customers must think he is smart.
Centers for Disease Control, National Institutes of Health, Duke University, Oxford University, British Ministry of Defense, Department of Homeland Security, Korean Agency for Defense Development, University of Hong Kong, USAMRIID, Public Health England must think he's smart. I could go on and on, and on. 
Clearly they think Dr. Hartings is a pretty smart guy. And his customers use his equipment to find cures for influenza (that's "the flu," Mrs. Harshman – it's not a restaurant appetizer), tuberculosis, anthrax, plague, and smallpox. Karen Harshman had a little bird named Enza. She opened up the window and in flew Enza. Folks, I'm here all day. 
I don't know what Dr. Hartings' patents or research involve. But there are some pretty impressive institutions doing life-saving research who think that his work is pretty important. Perhaps the next time Karen Harshman gets a flu shot, she should send Dr. Hartings a thank you note. She wouldn't even have to acknowledge that he is smart.
I don't know for sure if Dr. Hartings is smarter than Karen Harshman or not (although the I do know where I would put my money – and it's not with Karen Harshman's financial advisor).  
But I do know and believe this for sure: Dr. Hartings is certainly more EDUCATED than Karen Harshman. And for a seat on the Board of EDUCATION, that somehow seems relevant.    
Thinking back to the last campaign, Karen Harshman spoke frequently about putting a stop to bullying in Washington County Public Schools. I agree with Karen.
Maybe Karen Harshman could show some real leadership and apply the same standards to herself.
Stop the bullying, Mrs. Harshman.
Read the board's bullying policy for which you agreed to uphold:
File: GBGA

POLICY PROHIBITING HARASSMENT, INTIMIDATION, AND BULLYING

I. Purpose

The purpose of this policy is to establish expectations for maintaining a safe and respectful educational setting in all of its facilities and grounds where harassment, intimidation, and bullying are not tolerated. School system employees, school volunteers, parents, visitors on school property, and individuals engaged in school activities are required to adhere to the requirements of this policy.

II. Background

The issues of harassment, intimidation, and bullying, and their negative and potentially lasting effects on individuals, have become better understood and appreciated and a matter of significant societal concern and focus. The Board of Education is committed to the prevention of harassment, intimidation, and bullying, and will foster educational settings and facilities where individuals are valued and respected and their safety and rights are protected.

III. Definitions

Within the context of this policy, the following definitions apply:

A. Bullying: Intentional conduct, including verbal, physical, or written conduct, or an intentional electronic communication that creates a hostile environment by substantially interfering with a staff member or student's performance, ability to perform the functions of his/her daily activities, or with his/her physical or psychological well-being and:

• is motivated by an actual or a perceived personal characteristic including race, national origin, marital status, sex, sexual orientation, gender identity, religion, ancestry, physical attributes, socioeconomic status, familial status; or

• is threatening or seriously intimidating; and

• occurs on school property, at a school-sponsored or school-related activity or event, or on a school bus; or,

• substantially disrupts the orderly operation of the educational setting.

B. Harassment: A sufficiently severe action or persistent, pervasive pattern of actions or statements, directed at an identifiable individual or group, that is intended to be, or which a reasonable person would perceive as ridiculing or demeaning.

C. Intimidation: Subjection to intentional action that seriously threatens and induces a sense of fear and/or inferiority which adversely affects one's ability to participate in and/or be productive within the educational setting.

D. Retaliation: The act or process of threatening or otherwise penalizing a person for reporting an alleged violation of policy or for participating in an investigation of an alleged violation.

IV. Policy Statement/Procedures

The Board of Education prohibits acts of harassment, intimidation, and bullying in the educational setting and prohibits retaliation for good faith reporting of such acts. The Board is committed to educational settings, including facilities and grounds, that are free from incidents of harassment, intimidation, and bullying. Such incidents, along with any retaliation against individuals who report an incident, will be investigated and addressed accordingly.

Consequences for policy violations will be a part of system-wide efforts to maintain positive and productive educational settings.

The Superintendent is authorized to promulgate administrative regulations to implement this policy.

See also: Accompanying administrative regulation to this policy;

Policy JFH – "Policy Prohibiting Bullying, Harassment or Intimidation;" and

Administrative Regulation JFH-R – "Administrative Regulation Prohibiting Bullying, Harassment or Intimidation"

Policy adopted: September 16, 2014.

Board of Education of Washington County
Ryan Miner is the Editor in Chief, Founder, Senior Political Reporter and Publisher of A Miner Detail. He is the host of A Miner Detail Podcast.