By Ryan Miner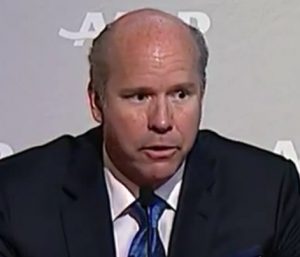 What has John Delaney accomplished in Congress on behalf of Maryland's 6th Congressional District? Drawing a blank? Yeah, us too.
Amie Hoeber, the Republican nominee in Maryland's 6th Congressional District, will, with vigor equal to Bongino's notably impressive campaign, take on do-nothing John Delaney in a general election matchup in a year where political insiders are on the outs and establishment hacks are on notice for perpetuating the politics-as-usual culture that is wreaking havoc on Maryland's middle class.
Instead of highlighting his record of accomplishment (because there is so little to highlight). do-nothing Delaney is already launching desperate attacks on Amie Hoeber, pejoratively connecting the Republican nominee with Donald Trump, the now-presumptive Republican presidential nominee.
Whatever you think about Donald Trump, the business mogul won over Republicans in all five encompassing counties within the 6th District. Say what you will about Trump and his unconventional style of campaigning, Hillary Clinton, however, doesn't have ever a tenth of the passion and energy infecting the Trump movement, especially in Western Maryland.
Did you see the number of people who showed up to Trump's Hagerstown rally the Sunday before Maryland's primary election? Yeah, it was massive. Clinton could only wish and hope for Trump's expansive numbers.
Here's the attack do-nothing John Delaney leveled at Hoeber in a late-night jeremiad:
"A faction of GOP voters have handed the nomination to one of the most extreme, radical and ill-qualified nominees in history, Donald Trump. Amie Hoeber has stated repeatedly she will support Trump as the nominee and that moment has arrived. When Donald Trump attacks entire religions, distinguished war heroes like John McCain, entire ethnicities, entire genders – I'll stand up to him, while Amie Hoeber will be standing at his side.

"The choice facing Maryland voters this fall is crystal clear – the Trump-Hoeber agenda will be disastrous for the Sixth District, for our state and for our country: running up our national debt, weakening our national security and global commitments, cutting us off from the global economy and creating division and strife. The only way we can strengthen the middle class is to look to the future, not the past. We need to create good jobs by investing rebuilding our roads and bridges, science and research, education and becoming a leader in the advanced energy economy instead of a climate change denying nation. Sixth District voters want someone in Congress who will fight back against the Trump Agenda, not blindly support it."
Do-nothing John Delaney's disdain for average middle-class Western Marylanders goes well beyond his scorn for Trump. John Delaney just indicted Western Marylanders in his typical political condescending attitude that the Trump movement despises and could soon put a halt to in November. Do-nothing Delaney's smug, government-knows-best mentality defeated his best buddy, Anthony Brown, in Maryland's 2014 gubernatorial election, electing – Thank God – Larry Hogan.
Maybe we should call Amie Hoeber a "Larry Hogan Republican." After all, Hoeber is already working to find jobs for Western Marylanders and meeting with her future constituents; she has been proposing solutions to get government out of the way of job creators and bring jobs back to Western Maryland.
Meanwhile, do-nothing John Delaney is a seasoned Maryland shill for Hillary Clinton's job-killing agenda. While John Delaney is hosting cocktail parties for Hillary and their liberal elitist friends, Amie Hoeber is spending her time talking with Western Marylanders and listening to their concerns.
John Delaney shouldn't pretend to understand anything about the people of the 6th District. It's insulting that do-nothing Delaney actually thinks he knows better than his own constituents. Whether you are for Trump or against Trump, Maryland's 6th District Republicans have spoken loud and clear – and they don't want Hillary Clinton's right-hand-Maryland shill, do-nothing John, parading around the district, advertising job-killing Hillary's radical leftist agenda.
John Delaney doesn't have a record to run on. Instead, he's overpaying his Mickey Mouse political insiders to insult the values of Western Marylanders, attacking Amie Hoeber in a nonsensical hit piece.
Who is advising do-nothing John? A hit piece in the first week against his Republican opponent? That's an amateur move, do-nothing John! The desperation is obvious.
John Delaney must have hired some real political lightweights. I've spoken with multiple Democrats in the last few days – Delaney supporters – who are questioning Delaney's attack strategy this early on. To go after Hoeber without a single shred of substance? Come on. Do-nothing John Delaney's overpriced D.C. consultants just don't get it. His political insider friends don't know the first damn thing about Maryland's 6th Congressional District. Most D.C.-hired consultants, for that matter, know absolutely nothing about the concerns and needs of Western Marylanders. And they don't even care.
John Delaney's overpaid D.C. consultants will need to explain away why do-nothing John Delaney voted for the "Iran Deal." They will need to explain why he's more interested in raising taxes to increase government's intervention in our education system. His spinmeisters will need to explain why do-nothing John champions crony capitalism. His high-priced staff will need to explain why he supports Hillary Clinton's war on coal. And John Delaney will need to muster up the courage to look Western Marylanders in the face and explain why he hasn't helped bring one single job back to the district.
The only job John Delaney is worried about is his own. For a guy who is typically skilled in strategy, do-nothing John showed his hand early on. We know your playbook, Mr. Delaney. It's not that great.
Ryan Miner is the Editor in Chief, Founder, Senior Political Reporter and Publisher of A Miner Detail. He is the host of A Miner Detail Podcast.