By Ryan Miner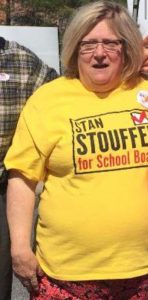 Two Fridays ago I attended – on an empty stomach, thankfully – Karen Harshman's administrative hearing at the Center for Education Services building in Washington County.
The hearing didn't go well for Harshman – mostly because her attorney, Ira Cooke, delivered a rambling, ill-prepared and at times incoherent legal defense. You just had to be there to witness the sad spectacle; it was a mess. Cooke also did Harshman no favors by repeatedly interrupting the judge.
At the February 10 hearing, Cooke's primary legal defense against a summary decision was deriding the process as a "rush to judgment" while contesting the statements written in the signed affidavits, claiming that said statements did not represent facts, only opinion.
The judge disagreed.
Maryland Administrative Judge Michael J. Wallace in a clear and convincing opinion affirmatively and unequivocally ruled against Harshman. His pointed ruling adopts the school board's statement of charges, agreeing that Harshman's actions are indeed resolute grounds for her removal from the Washington County Board of Education.
Read the Judge Wallace's decision in full:
Karen Harshman summary ruling by Ryan Miner on Scribd
The independent decision will now be forwarded to the Maryland State Board of Education.
Wallace's opinion leaves no wiggle room for ambiguity; his decision is earnest and straightforward. The facts, therefore, are indisputable.
Throughout his pervasively written opinion, Wallace trounces Harshman's fallacious logic and smashes to shreds the cockamamie defense she and her attorney embarrassingly put forth both during her recent hearing and in other court documents.
Since Judge Wallace released his opinion, Harshman and Cooke have been conspicuously mum, failing to return multiple phone calls and refusing to answer basic questions from Herald-Mail Media reporters. Harshman's options are limited and her next move remains unclear.
But what is clear is that Harshman's fate is now in the hands of the Maryland State Board of Education. It's been nine days since the opinion was released, and Harshman has until Friday, March 3 – 15 days total – to file an exception to Wallace's opinion. If Cooke files an exception on behalf of Harshman, the law allows them another 15 days to prepare rebuttals. The rebuttals would then be forwarded to the state school board; subsequent oral arguments would then be heard before Maryland's state school board.
I am not an attorney, but it's not hard to read the writing on the wall: Harshman's goose is Cooke'd (pun intended). This case a slam dunk, a precedent-setting example of what happens when shitty elected officials like Karen Harshman say and do unconscionably shitty things, offering no remorse, or, in the very least, a simple apology for the pain caused and the taxpayer dollars wasted.
Karen Harshman could do the decent thing; she could resign. But Harshman is incandescently indecent. She doesn't know how to do the right thing.
When the state school board inevitably accepts Judge Wallace's decision and orders Harshman to vacate her Board of Education seat, will she appeal the ruling, and is she willing to pay upwards of $15,000 for said appeal before Washington County's circuit court?
How is Harshman able to pony up the requisite cash for her legal fees, or is Ira Cooke doing her a solid, charging her the Mike Guessford friends and family discount? In other words, $Free99. Maybe we could organize a GoFundMe page for Karen Harshman's legal defense fund. I have some beachfront property in Nebraska, too – cozy, tranquil and going for a great price!
See you at the Catalina Wine Mixer, Karen. But for now, it's time to say goodbye.
Ryan Miner is the Editor in Chief, Founder, Senior Political Reporter and Publisher of A Miner Detail. He is the host of A Miner Detail Podcast.