By Ryan Miner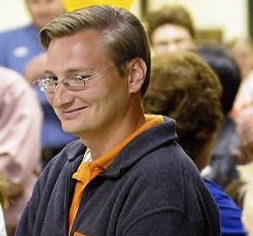 Since his 2014 election to the Maryland state senate, Michael Hough ostensibly believes he is Frederick County's new political Kingmaker – that whatever he says or whichever candidate(s) he throws his support to will be victorious.
That's a myth worth exploring.
Lately, however, Michael Hough is playing damage control down state in Annapolis. Mr. Hough's abrasively indecorous wife JoeyLynn – who, recently was, incidentally, defeated in her bid to remain the chairman of the Frederick County Republican Central Committee – has spent most of her "free" time trashing our ubiquitously popular Republican governor, Larry Hogan, for not supporting the morally contemptible Donald J. Trump for president.
JoeyLynn is actively involved with Donald Trump's piddly campaign apparatus in Maryland – whatever that may be.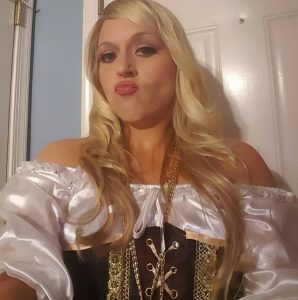 Mrs. Hough is currently in Cleveland, representing Maryland's 6th Congressional District as a Trump delegate. Lord help our Republican Party during this election.
I've heard plenty of reports from Annapolis that Hough and Company are not held in the highest regard among the Executive Branch. As popular as Larry Hogan is in Maryland, why would elected Republicans spend their time trashing the governor for not supporting the least popular Republican nominee in the history of the Republican Party? It makes little sense, but much of the Hough's political activities – like Donald Trump's own – make little sense to me.
But I digress.
Back home in Brunswick, Sen. Hough is inserting himself into the Brunswick City elections in typical Hough-like fashion. The grudge-filled senator is working up a sweat, exercising his vindictive side by trashing Eric Beasley's campaign for City Council.
Mr. Beasley – more than once – committed the mortal sin of challenging Hough and his viscerally emotional spouse on their political positions, abhorrent behaviors, and mostly, their overall unpleasantness and inherent hostility towards others who don't worship at the alter of Hough and Company.
Brunswick City residents and small business owners have reported to A Miner Detail that Sen. Hough is harassing supporters of Eric Beasley, demanding that they remove Mr. Beasley's campaign yard signs from their front yard and business properties.
I have also heard from Brunswick residents that Mr. Hough went so far as to slander Mr. Beasley, calling him a "stalker" and other slanderous pejoratives.
Sources have confirmed that Sen. Hough's efforts to recruit City Council candidates to run against Mr. Beasley have fallen short. My sources claim that Hough approached several local Republicans to run for City Council but each balked and emphatically rejected Hough's plea.
Hough, who has been described as being "obsessed with defeating Eric Beasley," is hosting a "Meet and Greet" event next Thursday, July 21, at the Smoketown Brewing Station in Brunswick – an event that will feature Brunswick City Councilwoman Angel White, councilman candidate Vaughn Ripley and councilman candidate and former City Councilman Tom Smith as "special guests."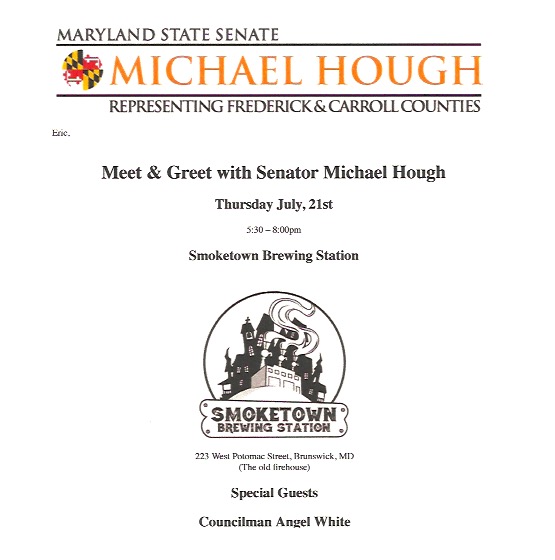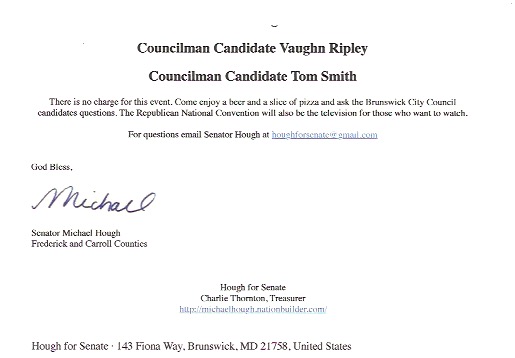 Yesterday I sent an invitation to each Brunswick City Council and mayoral candidate to join me on A Miner Detail's online radio show on BlogTalkRadio.com. My goal is to interview each Brunswick City Council candidate before the August 2 election.
Brunswick Mayor Karin Tome, who is running for re-election, responded to my invitation:
"No thank you, Mr. Miner – I'm incredibly busy with the work I have as Mayor and running a campaign."
Coincidentally, Councilwoman White and Mr. Ripley – two of Sen. Hough's "special guests" scheduled to appear at his upcoming "Meet and Greet" – responded to my invitation last evening; both declined my offer to be interviewed on A Miner Detail's online radio show.
It should be noted that Mr. Ripely appeared on Red Maryland's Radio program last Thursday, claiming, "I'm really open to just communicating with everybody; I love that. I would love to talk with folks."
Transparency is a critically important issue in this year's Brunswick City Council and mayoral election. It's unusual that Mr. Ripley pledged to support transparency during the Brunswick candidate forum yet declines my offer to appear on A Miner Detail's online radio show to exclusively discuss issues, as he did on Red Maryland's Radio program.
Hough's efforts to intervene in local elections is certainly not political taboo or outside of the mainstream of politics. Political figures, such as Hough, invariably attempt to influence the outcome of local elections, especially if said politician lives within the boundaries of the municipality holding the election.
However, Michael Hough has a longstanding grudge against Beasley – a seething grudge that grew because Beasley dared to challenge Hough and Company's actions, behaviors and political positions as elected officials. Senator Hough isn't impacting Brunswick's election with thoughtful dialogue; he isn't discussing the issues that matter, and he isn't contributing to the policy discussion central to Brunswick's local elections.
Sadly, Hough desperately trying to flex his political muscle to carry out a political vendetta against Eric Beasley, a candidate worthy of the elected office he seeks.
I've reached out to Hough via email on multiple occasions to ask for comment with regards to what sources have reported to me. My emails to Senator Hough continue to be ignored.
Given Hough's mounting unpopularity in state government and within the Frederick County district he represents, Vaughn Ripley, Angel White, and Tom Smith should strongly reconsider appearing with Hough next Thursday at a "Meet and Greet."
It is refreshing, however, to learn that Hough's underhanded tactics, aimed at Eric Beasley, have drawn strong rebuke among Brunswick City residents. Residents have told me they are concerned about fixing their sidewalks, clean water, a fiscally responsible budget and property rights; they aren't interested in silly political games being played by Hough and Company.
The City of Brunswick has a significant problem – A Hough problem.
Brunswick City elections will be held on Tuesday, August 2 from 8:00 a.m. to 8:00 p.m. at the Brunswick City Park Building.
Ryan Miner is the Editor in Chief, Founder, Senior Political Reporter and Publisher of A Miner Detail. He is the host of A Miner Detail Podcast.