By Ryan Miner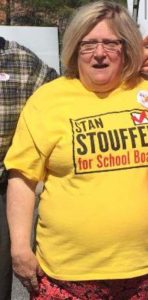 Today the Washington County Board of Education approved a resolution that recommends Board of Education member Karen Harshman be removed by the Maryland State Board of Education for willful neglect of duty and misconduct.
During the Board members comments section of today's business meeting, the frazzled and embattled Harshman responded to public comments, saying, "I am not lying. I do not apologize. It is what it is."
Dr. Hartings' letter below enumerates the reasons for Harshman's removal:
Justin Hartings letter to remove Karen Harshman from Washington County BOE by Ryan Miner on Scribd
Board members Dr. Justin Hartings, Jackie Fischer, Wayne Ridenour and Donna Brightman, Melissa Williams, Mike Guessford and Karen Harshman all voted yes to send the resolution to the state.
You read correctly: Harshman voted YES in support of Hartings' resolution. She stated today that the State Board of Education won't be manipulated by certain members of the Board – still taking no responsibility for her actions. Harshman has apparently lawyered up and believes that she'll beat the allegations against her.
Dr. Hartings introduced the motion today with Wayne Ridenour offering a motion for a second. Hartings spoke passionately to his motion, laying out the facts of Harshman's wrongdoings and stating emphatically that Harshman's claims that the matter is a way to score political points are nonsense.
Mike Guessford subsequently asked Anthony Trotta, Washington County Public Schools' Chief Legal Counsel, to articulate the timeline and process of Harshman's removal.
Jackie Fischer then spoke and called on Harshman to resign. Harshman responded to Fischer's claims, reiterating that the Board majority are playing politics and – wait for it – called herself a "statesman." Ridenour spoke and Guessford spoke once again, calling on the Board to settle its differences and start acting like adults.
The State Board of Education will now review the case against Harshman to determine her removal from the Washington County Board of Education.
Video coming soon.
Ryan Miner is the Editor in Chief, Founder, Senior Political Reporter and Publisher of A Miner Detail. He is the host of A Miner Detail Podcast.