A Baltimore County Republican Central Committee member recently shared a controversial Facebook meme that some are characterizing as racist.
Brian Scott Patrick or "B. Scott Patrick" is an elected member of the Baltimore County Republican Central Committee, representing Councilmanic District 3.
Patrick shared the meme below on his Facebook page.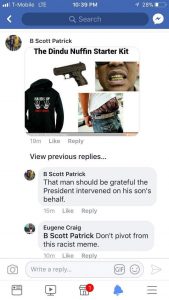 When reached for comment via Facebook Messenger, Patrick told A Miner Detail,
I do not trust you as an unbiased source of news, in fact I do not even consider you to be a journalist. I find it interesting that you unblocked me on here to reach out to me about this
When pressed again to respond to the shared meme, Patrick threatened legal action, writing,
Please refrain from contacting me again sir. I am currently dealing with a son who may need surgery on his hand. Any further attempts to do so will possibly be met with legal action, including a restraining order. Which from I understand you are no stranger to. Thank you.