A Baltimore County Republican Central Committee member who shared a racist Facebook meme is refusing to apologize.
Brian "B" Scott Patrick, who is elected to the Republican Central Committee in Baltimore County, says he won't apologize for the racist Facebook meme he shared, according to multiple Maryland GOP sources who are familiar with the incident.
Patrick shared the following meme on a Facebook thread earlier this week: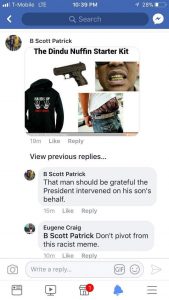 Patrick lashed out at A Miner Detail's Ryan Miner on Tuesday night when reached for comment via Facebook Messenger, telling Miner,
I do not trust you as an unbiased source of news, in fact I do not even consider you to be a journalist. I find it interesting that you unblocked me on here to reach out to me about this.
Patrick refused to comment on Miner's request for comment and when pressed again, Patrick threatened legal action.
Please refrain from contacting me again sir. I am currently dealing with a son who may need surgery on his hand. Any further attempts to do so will possibly be met with legal action, including a restraining order. Which from I understand you are no stranger to. Thank you.
On Wednesday, A Miner Detail contacted Baltimore County Republican Central Committee Chairman Al Mendelsohn via email with a request for comment on Patrick's meme.
Mendelsohn responded to A Miner Detail's emailed request for comment CC'ing Patrick and Eugene Craig – who also is an elected member of the Baltimore County GOP – writing,
Brian and Eugene are independently elected and represent their own constituencies. I will not be getting in the middle of an argument between two members nor will I attempt to limit their rights of self-expression.

It is unfortunate that this has spilled into the blogosphere instead of remaining a civil discussion between two Republicans on Facebook.
A Miner Detail followed up with Mendelsohn and requested a more direct response to Patrick's decision to share a racist meme on his personal Facebook page.
Mendelsohn responded saying "the reality of my problem is that I have a never Trumper in Eugene and a pro Trump guy in Brian and to me the issue is getting Republicans elected."
In the same email thread, Mendelsohn said he "saw it (Patrick's meme) ever so briefly a few days ago" but doesn't remember it. Mendelsohn subsequently requested Miner to send him Patrick's meme.
After viewing the meme, Mendelsohn responded again, writing,
It appears as if though he shared on his personal page a satirical meme that while attempting to be funny and timely (because the father of the shoplifter was excusing away his son's behavior while also pretending that his upbringing was not the cause of his son's actions) can certainly be seen as perpetuating stereotypes. I certainly never would have posted it for fear of offending or perpetuating a stereotype, I will not tell people what they should do on their own page. I would encourage Brian to unfriend Eugene so as Eugene's feelings are not hurt nor will he be able to share to the media Brian's intemperate posts.
Craig, still CC'd on Mendelsohn's response to A Miner Detail, replied all to Mendelsohn's previous email, writing,
Just a correction, Brian shared it on a thread of mine in response to something. This is not about hurt feelings, and it sure was not about satire. Theme was without doubt racist, and deserves universal condemnation. It also has nothing to do with someone being a trump supporter or not being a trump supporter, that has to do with decency. There should be no room for racism at any level of the GOP.
This wasn't Patrick's first time disparaging racial minorities.
In September, Patrick commented on a post Miner had shared on his personal Facebook page when Miner attended a Montgomery County Muslim Council candidate forum in Potomac, Md.
Patrick expressed vehement anti-Muslim sentiments on Miner's Facebook post. After which, Miner removed Patrick's comment and deleted Patrick from his personal Facebook page.
A Miner Detail will run any comments from Patrick unabridged.